With reports about hospitality firm OYO planning to raise up to $1.2 billion through an Initial Public Offering (IPO), expected to be filed as early as next week, a lot of market buzz has emerged as to what it would bring to the table for OYO. 

OYO has reportedly appointed investment banks such as JP Morgan, Citi and Kotak Mahindra Capital to manage its public issue. Market experts, however, say an IPO was the need of the hour for OYO as it had been battling COVID-related business slowdown and scores of complaints by property and hotel owners and different customer-related complaints even before the pandemic hit its business. Last week as per a regulatory filing the shareholders of Oravel Stays, the parent company of OYO had approved the conversion of the company from a private limited company to a public limited company.
The last year and a half has been a huge issue for the travel and hospitality industry. The entire ecosystem has been in a mess due to the pandemic and the travel regulations and OYO was no exception. "OYO being the poster boy in the sector after raising huge amounts of money was in deep trouble as well. In April 2020, the company invoked force majeure and suspended payments. We did see a host of hotels distancing themselves from the platform and claiming unpaid amounts and damages from OYO. OYO was pulled into NCLT as well and claims up to almost 250 crores were supposedly claimed. This left the poster boy in a deep mess," Sathya Pramod, CEO Kayess Square Consulting Private Limited, told THE WEEK.
This expert however feels that there seems to have been some respite with the whole news of them filing for an IPO.
"The money for sure will come in handy to lure the hotels back but what needs to be seen is how will the market look at this. There have been a spate of aggregators, platforms, new-age companies raising money challenging the very foundations of how the market ran for ages. I do not see OYO being any more different," added Pramod.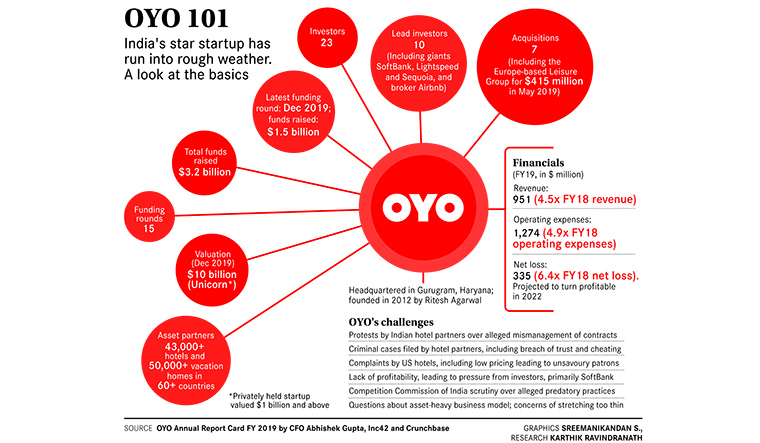 As THE WEEK reported last year, OYO's problems began much earlier--including the chinks in its business model, complaints by property owners, unsatisfied customers and the side effects of scaling up too quickly. There were also complaints regarding OYO manipulating prices and artificially controlling demand with fake bookings.
A few hotel owners had said OYO has been indulging in discounting hotel room rates without the permission of owners and had been charging below cost price and agreed rates. There had also been cases of illegal charging of hotel service fees that were not passed on to the hotels. Then there was manipulation of the micro-market rates that forced hoteliers to reduce room rates so that they could have more traffic on their platform. Many problems that OYO had faced were due to their expansion in foreign markets. It had also been facing many labour issues in China. Many hotel owners had exited the platform owing to payment issues.
"The unicorn was staring at a disaster before it took control of its costs and was able to keep some for the runway until recovery resumes. The innovator however re-discovered technology as its backbone, reaffirmed by a recent investment of Microsoft and has begun the journey to recapture heights it once attained. The IPO could be a huge booster for the enterprise and give it the required capital to grow more as its promoter stated in addition to stabilizing all services and regaining the confidence of vendors as well as customers who have both been at the receiving end during the pandemic. Given the success of Zomato in recent times, OYO will find it easy to raise capital particularly in times when the world is craving for leisure and travel," remarked Subramanyam Sreenivasaiah the CEO of Ascent HR.
Some experts point out that despite challenges some hoteliers were also unwilling to disengage with OYO because OYO could feed a steady stream of business for their properties. 
"As things have started getting better after the pandemic the hoteliers have started seeing the guest coming back, but this time directly, without the circuitous route of booking via OYO. Now that hoteliers have a new captive customer base and the volume of travel and tourism is still down, there is a lesser motivation to keep engaged with OYO," points out Alok Shende of Ascentius Consulting.