Reliance Industries's envious fundraising spree was the only aberration in a pandemic-hit world where businesses have been striving hard to survive. RIL's telecom arm Jio Platforms spearheaded the fundraises and bagged more than half of the investments in the telecom sector this year across the globe. 
However, Reliance Jio's dream of a user base of 500 million within the next three years will face the test of time as per the latest data in public domain. India's largest telecom company in terms of subscribers has seen a slide in the portion of active users in its subscriber base even as its total subscriber numbers have continued to grow, reported Financial Times citing a recent report by the Telecom Regulatory Authority of India (Trai). The Trai data shows Jio's share of active users fell in June this year to almost a three-year low of 78 per cent from 84 per cent a year earlier, even as the same figures for Bharti Airtel and Vodafone Idea rose to 98 per cent and 90 per cent.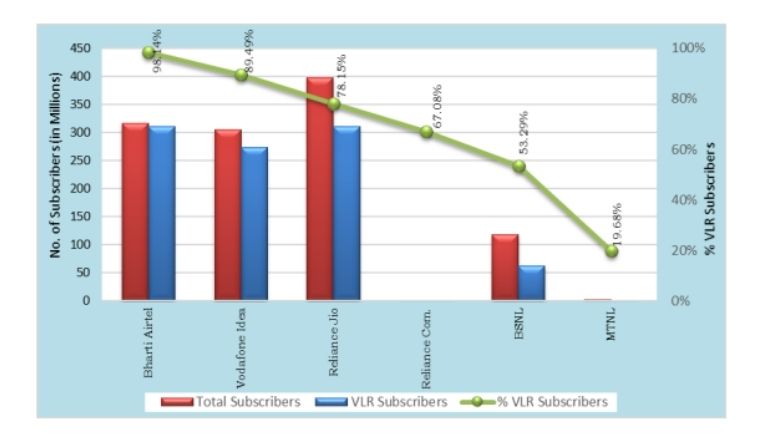 In terms of the number of active subscribers, Airtel was even with Jio at 310 million in June. Hence, according to Trai's data, 87 million of Jio's users were inactive at the time of TRAI's measurements. 
Active users are the peak number of subscribers connected to the network at a given time of a month. Hence, it can't be said conclusively that Jio has seen a massive erosion in its subscription base. Users accessing another telecom operator's SIM card and using Jio sparingly only for, perhaps, accessing the internet could be one reason for the large gap in the data. 
The June data captures the worst of the lockdown period in India when migrant workers flocked back to rural areas and people in general began to feel the pinch. This could also be the reason for the huge gap. 
The data assumes significance when compared with figures of Airtel and Vodafone Idea. It underscores that Airtel and Vodafone Idea are still formidable forces to keep a check on Jio's monopoly in the sector. 
Indian telecom companies take varied approaches in how they present those figures to their investors every quarter, though there is no suggestion any of the companies are misreporting. While Airtel and Vodafone Idea use narrower definitions of revenue-generating, active customers, which helps to boost their revenues per user, Jio gives its investors a broader figure based on the total that it reports to TRAI.
At the same time, the FT report says that analysts and industry observers have begun questioning how so many customers who are apparently not connected to the network can contribute to revenues. "The sheer magnitude of this absolute gap [of 87 million] is startling," the report quoted from Kotak Institutional Equities in October, calling it a "conundrum". "We are unable to comprehend why [Reliance] Jio's subscriber base would exhibit much different behaviour" when compared with Airtel, Kotak said.
However, in its response to the business daily, Reliance Jio stated that FT's queries displayed a "limited understanding of concepts or malicious intent to create controversy". "There are various reasons that a customer, especially data customers, may not be active on the network at a given point of time," it continued. Reliance added that it follows all regulatory guidelines. For that reason, "Jio reports a consistent number of customers across all reporting formats unlike some of the other operators".