Dr Sridhar Mitta, an IT veteran and the first employee of Wipro's IT business, recalls the day he presented a plan to Azim Premji, the legendary founder of Wipro, to take the company's Research and Development (R&D) global. Premji vetoed saying that it was not their charter. Dr Mitta persuaded Premji, telling him that the charter of a company can be amended, and presented the case. To his surprise, Premji finally agreed to go ahead with the global R&D.
Today, the same business constitutes about one third of Wipro's business. "One could argue with Premji in management review meetings and exhibit differences without worrying about any negative consequences. There was another instance was when I presented a plan for an interoperability business. I could not come with a clear cut business plan as to how much investment was required, what were the projected revenues and profits, how long it will take etc. So, I told him that I will do it without additional investments within Wipro's global R&D business. He agreed and today the interoperability business is a billion-dollar business for the company," said Dr Mitta.
As Wipro's baton passes on from Azim Premji to his son Rishad Premji, many experts and veterans recall the qualities and principles for which Wipro is known, and how Rishad is well set to take the journey forward. "Today many people ask me why did Wipro succeed in their IT business. I tell them that their strategy was simple: to have a set of good values well-articulated and followed and to hire the best people. Good values help attract best people and stay in the organisation. Also best people find solutions to all the problems," said Dr Mitta.
'Values' of unyielding focus on integrity, transparency, high quality governance and focus on people are the foundations which Premji has instilled in Wipro, and his son Rishad is rooted in 'Wipro Values' and will be a great ambassador to take these forward. "There are many lessons we had learnt from Premji. His detailed orientation, rigour with which he ran processes and the passion and commitment he brought to work were great lessons for any business manager. He made many entrepreneurs believe in the idea that they can build high quality enterprises built on a foundation of integrity, transparency and impeccable governance," remarked Krishnakumar Natarajan, the executive chairman and the co-founder of the IT services company Mindtree. Natarajan has had a long stint with Wipro and had held several key positions in the company including the role of the company's Chief Marketing Officer.
Rishad is expected to perfectly fit in his father's shoes as he takes over as the executive chairman of the company. "Rishad brings in deep knowledge of global business, understanding of emerging technologies and how they are impacting large enterprises. He has been a part of the system for a long time and is affable and friendly in nature with a sharp strategic mind. I do not see any transition issues and he will be able to run the company smoothly," Natarajan told THE WEEK.
Natarajan says that the IT industry is in a state of transition, and accelerating Wipro's response to the change will be one of main challenges for Rishad once he takes over. "Rishad understands the industry well and also the impact on business model and customer expectations changes which are being driven by the rapid adoption of digital technologies. Hence, I feel that Rishad will be able to bring in a new sense of urgency in this transition. His key focus areas will be to start becoming a trusted partner for global enterprises in their digital transition and consequently scale revenues from key customers. He has a very inclusive style of management and will not require any major change in style. His experience of working with global organisations such as GE and Bain will help him embrace diversity naturally and help him navigate the next orbit of Wipro more smoothly." added Natarajan.
Experts such as Dr Mitta see many challenges ahead for Rishad that can be turned into opportunities. "The single biggest danger and also, at the same time, opportunity for Wipro is the digital transformation taking place all over the world. The opportunity is clear and visible to all. But the problem is the friction of a large corporation of two lakh plus people organised into multiple layers of management. I feel the key to success is to have some structure that avoids the burden of today's management layers and move quickly to monetise those opportunities. There should be a system of identifying young, smart and energetic employees and put them into key positions. Today's businesses are unforgiving to mediocracy. Technology is developing rapidly as in the case of digital transformation. Existing managers who keep track of such technologies should be encouraged and others side-lined. Today's management structures are centralised like a mainframe. What is required is like an Internet. Multiple self-managing entities connected by a very low overhead corporate protocol (or overheads)." said Dr Mitta.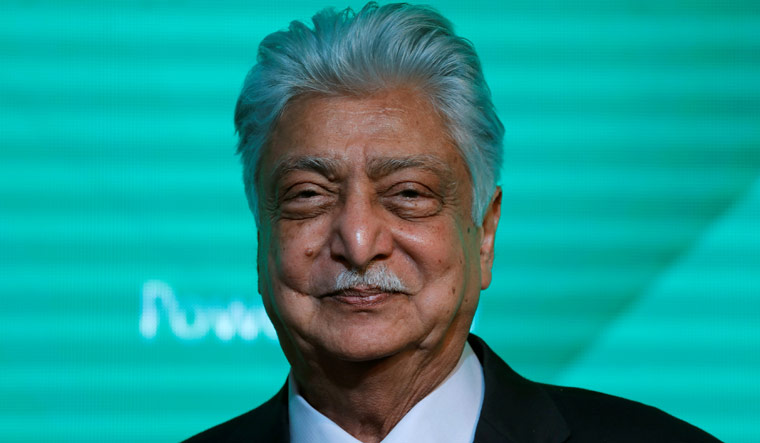 Harish Bijoor, founder of Harish Bijoor Consults Inc, feels that though the official transition is happening now, Rishad is not new to the company and is expected to smoothly run the organisation without any hassles. "Rishad is no newbie to Wipro. He has been around for a while, donning various hats, and clearly anointed to take the ultimate leadership of the company as the executive chairman. To an extent, his shoe size has been growing year on year, ultimately to be able to fit into the rather large-sized shoes of his father Azim Premji. Rishad is an insider and, therefore, his style of functioning will not see much of a jolt than it has already seen. One of his biggest responsibilities will be the philosophical leadership of the company. Fortunately, Wipro boasts of a deep heritage in this space of leadership. The key challenge ahead for Wipro under new reins will be the ability to grapple with stressed margins in the old model of business, even as the company invents newer models that will look at deeper margin verticals," Bijoor told THE WEEK.
Bijoor believes that Azim Premji has been a rooted businessman, not flamboyant, not showy, but totally rooted to very middle class values. "To a very large extent, the entire business ethos of Wipro has revolved around the simple lifestyle represented by its Chairman. I don't think that changes at all. The one key item that became the hallmark of Azim Premji was his uncanny ability to find the right man for the right business. He was totally hands on in this space. His, to that extent, was the final word on the final recruitment nod for the key profiles that would run the company. Now that is one trait that will be missing in Rishad. Totally unfair to expect that in him overnight," added Bijoor.
Industry experts feel that the company is facing challenges, but the succession at Wipro should get through much more smoothly than rival Infosys. "Wipro lost its no 3 slot just this year to HCL. It has to overcome the slump in growth through Mergers and Acquisitions (M&A) and going digital for quick wins. Having held the role of the chief strategy officer (CSO) at Wipro, Rishad is indeed stepping into big shoes. However, unlike Premji senior, who had to lead the company all of a sudden, Rishad has been groomed well for the top job. He also has his father as his counsel. He will be able to steer Wipro well and will also bring in fresh perspectives that might be the spark that the company needs to re-energise. The company under Azim Premji has stood out for integrity. The main reason for Wipro's success was that it quickly captured opportunities when IBM moved out of India in 1977 and post liberalisation in 1991. Being the CSO, Rishad has already got into the M&A mold and we can expect to see more M&As unlike under senior Premji who built the company more organically," said Chocko Valliappa, the CEO, of Vee Technologies an IT services company.
Accelerating growth is, however, expected to be a major challenge for Rishad. "The challenge that Rishad is likely to face is that Wipro is delivering uneven performance and the growth is subpar. These challenges are further exacerbated by the fact that in most vertical or service offering, Wipro is barely among the top five in terms of the vendor offerings. The key focus area for Rishad will be to get Wipro on the high growth bandwagon. In his attempt to do so, Rishad will attempt to work on key constrains that are holding Wipro back," said Alok Shende of Mumbai based Ascentius Consulting.