For 20-year-old Dhruv Patil, forests and national parks are a second home. The youngster, who is pursuing a hotel management and tourism degree from New York University, made headlines last month when he spotted and clicked a rare leucistic fawn in the forests of Kabini during a safari. However, this was not the first photography high for him; he had clicked a black panther in Kabini forest in 2020, after spending about 9,000 minutes in search of the panther in the forest area.

"The leucistic or albino deer is a very rare genetic mutation. I was in Kabini for a three-day safari when I spotted it with a herd of deer. It looked different from all of them. I immediately clicked a picture and shared it with my mother. She was quite excited to see the rare animal. It was an incredible moment for me," he says.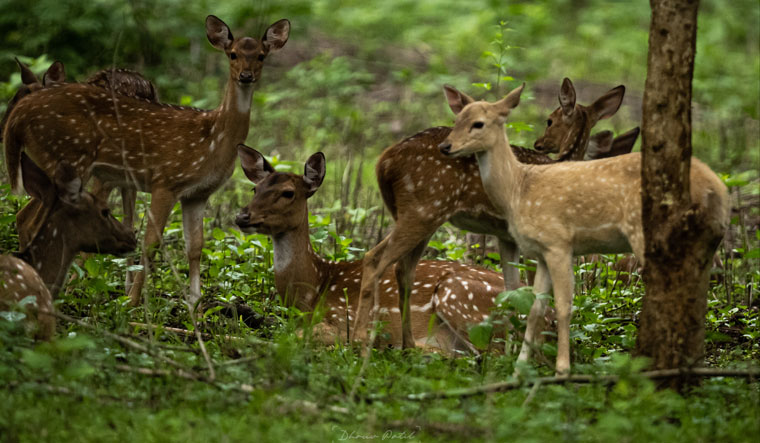 Once he finishes his degree, he plans to not only continue wildlife photography but make documentaries on rare sightings that he captures for creating awareness. "This will also help boost tourism. I also would keenly explore national parks in India to establish luxury but eco-friendly resorts which will be a treat for nature lovers and help tourism," he says.

He visits his hometown Karnataka every vacation and goes on wildlife photography excursions. He plans to go deeper into the jungles of Bandipur and Dandeli.

Patil is the son of Karnataka cabinet minister for large and medium industries and infrastructure development M.B. Patil. He first started exploring his passion for wildlife photography about 11 years ago and considers Shaaz Jung, a wildlife photographer whose unique style is 'environmental surrealism', his mentor and calls him his brother. "I follow all his work and he has been a teacher and a brother to me," he says. Patil adds that it is his love for animals that made him take up wildlife photography.

The youngster, who founded the NGO Society for Protection of Plants and Animals (SPPA) that takes up conservation and plantation projects, says the most important rule of wildlife photography is respecting the boundaries of animals and clicking from a distance, never disturbing them and always being on a jeep, never on foot. Patil plans to now click another black panther, a black jaguar in Brazil, and a spirit bear soon.