Some artists believe in working in silence, away from the exposure of the world, and creating for their own creative sensibilities. Bal Krishan Guru was one such artist. He passed away in 2022. While he was alive, he never quite got the recognition for his work. His sculptures have now been put on public display for the first time ever. His bronze and metallic sculptures adorn the walls of an art gallery in Delhi's Bikaner House. The magnetic sculptures, as if alive and interacting with the visitors, draw one to itself and bask in their chaotic perfection and contorted beauty. Such was the Guru's magic. His son, Pankaj Guru, also a sculptor, recalls that his father would work on his art in isolation, without accepting any help from anyone, be it for moulding the metals or giving life to his imagination. "He was a tough master and taught me the tough way as well," he smiles.
The exhibition - 'Shapes of Memories' - was curated by Georgina Maddox and inaugurated by Alphonsus Stoelinga, former ambassador of the Netherlands to India. Organised by his wife Pushpa Guru, the show was a posthumous attempt to reclaim some of the memories and give his work the exposure it deserves. Pushpa Guru recalls that since her husband was a migrant from Lahore, born in 1940, and settled in India post-partition, he began his journey from scratch, devoting his days to art. Due to his love for the art of casting bronze sculpture in the foundry, Bal Krishan, whose family name was 'Rajput', started to be known as 'Guru' and adopted the name as part of his identity.
A lecturer by profession, he was also a member of the Selection Board of Professors at Banaras Hindu University (BHU) in 1970 and from 1972, worked as head of sculpture department, Modern School in Delhi. Apart from bronze casting for his famed contemporaries like BC Sanyal, Shanku Chaudhary and Prodosh Das Gupta, Guru also undertook several commissioned works for the Indian government. He went on to win the Lalit Kala Akademi award (1963), and President of India Award (1964).
The week-long exhibition concludes today. His sculptures on display included 'Rhythm of Togetherness' (a bronze sculpture that depicts dancing together in perfect harmony), a powerful bronze abstract sculpture titled 'Womb' that speaks to the profound experience of motherhood and the complex interplay between creation, birth, and nurturing, another titled 'A Loving Embrace' that celebrates the beauty of intimacy. His 'The Caravan: A Monument to the Nomadic Spirit' is a bronze sculpture that depicts the timeless tale of a wandering caravan, displaying the nomadic lifestyle that is part of human history for centuries. The exhibition showcased as many as 40 sculptures and 14 murals, made of bronze, brass utensils, fiberglass and stainless steel.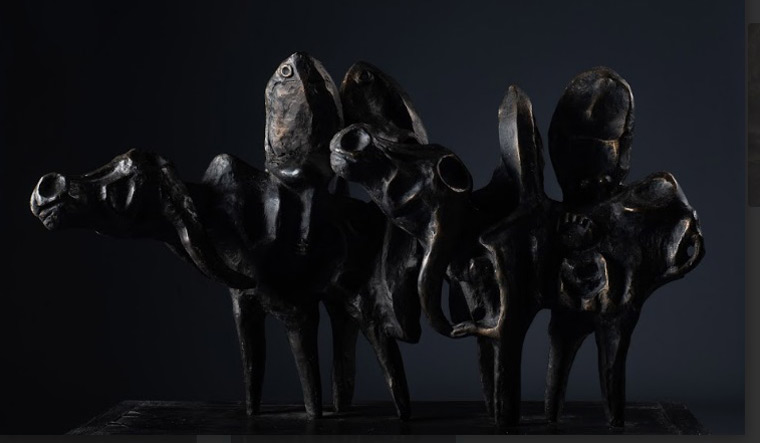 Guru leaves behind a rich legacy of art and ideology. Greatly inspired by the likes of Auguste Rodin, Ramkinkar Baij and Somenath Hore, he carved out his own style where he utilised a variety of techniques to create new relationships between material, theme and form, hinged between the Indian traditional sculpture and the eclectic modern and contemporary sculpture.