On January 27, the Air India Express's Boeing 737-800, with a painting featured on its tail, was unveiled at Thiruvananthapuram in Kerala. Artist Smitha GS's acrylic painting was selected to represent the Kochi-Muziris Biennale on the 25-foot-long tail of the aircraft.
The vibrant artwork depicts chameleons, grasshoppers, insects, and other tiny critters set against the enormous mountains and broad landscapes in which these creatures are placed in. The original artwork is currently on display at the Aspinwall House, the prime venue of the Kochi-Muziris Biennale 2022.
A self-taught artist from Kozhikode, Smitha's paintings were initially displayed at the 'Lokame Tharavadu' exhibition curated by Kochi Biennale Foundation (KBF) president Bose Krishnamachari. Her unique perspective on species that typically go unseen drew a lot of attention. Soon after, her meticulously detailed depictions of landscapes and creatures earned her a spot at this year's Biennale. 
"Painting has always been a passion of mine. My father encouraged me to paint, and I enjoyed it over studying. My house was surrounded by lush green forests, and I enjoyed going for walks and admiring the scenery. The setting in which I grew up has been a major source of inspiration for my works," Smitha said.
She painted a lot throughout the pandemic lockdown, and it became more fun for her as she began using vibrant colours and delving deeper into the subjects she was passionate about. It took multiple layers of bright colours and meticulous detailing on the paintings before she was finally satisfied with her work.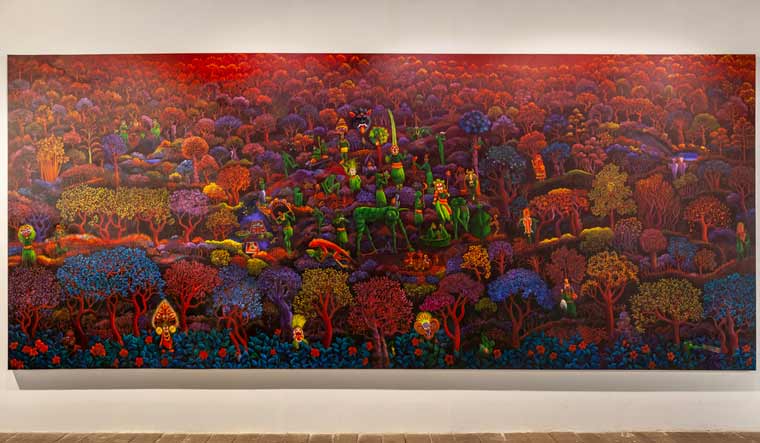 Speaking of her inventiveness, she attributes it to the picturesque surroundings she grew up in, as well as her father. "He crafted toys for me with coconut leaves in my younger days, I would imagine them coming to life. As a tribute to my father, I paint my images in green. Spending time in the forest allowed me to intentionally examine the life and creatures that sometimes appear inconsequential. All of this immensely enhanced my imagination," the artist said.
Her paintings are all tied directly to her own life, making them highly personal to her. She chose superstitions as the subject of another painting, which is also displayed at the Kochi-Muziris Biennale. The artwork features many images or creatures that were deemed terrifying or harmful in Indian culture, and she believes that the painting would create a genuine impact and change in the people who view it.
"I have a lot more to do since I have so many more paintings in my mind that I want to paint. I feel art requires a clear vision, mental preparation, and time. A journey alone or a stroll helps me prepare to paint the picture that I have formed in my thoughts," Smitha said.