About NSHM Knowledge Campus
Founded in 1996, NSHM Knowledge Campus is a premier education institute with 26 years of excellence in education. It is one of Eastern India's leading educational institutes and a pioneer of professional degree courses aligned with industry needs. NSHM has been involved in offering quality education and training in the areas of Business & Management, Health Sciences, Computing & Analytics, Media, Design, Engineering & Technology and Hotel & Tourism Management in the state of West Bengal. NSHM has state-of-art campuses in Kolkata and Durgapur and presently has over 6,000 students enrolled.
The programmes offered by NSHM are affiliated to MAKAUT (formerly known as WBUT) and approved by AICTE (as applicable). NSHM Knowledge Campus is NAAC accredited.
Why NSHM
Gateway to more than 600 career opportunities.
NSHM has emerged as the leader in professional degree courses. With changing times, new avenues are opening up, so the students need to explore various options before making the career choice. NSHM offers the freedom and the bandwidth of a variety of courses ranging from BBA to Optometry, Hotel Management to Robotics, Psychology to Sports Management and more.
Industry Interface
Renowned for its cutting-edge knowledge imparting techniques using lateral thinking, lifestyle education, cross-domain exposure, the institute is the prime choice for hundreds of recruiters. All through the year, workshops and training sessions with industry experts are facilitated to inculcate professional outlook in our students and to make them industry ready. The recent placements of students have been with brands like – SAP, TCS, Amazon, Cognizant, Jaro Education, Byju's, Bandhan Bank, HDFC Bank, ITC, Godrej, Taj, Oberoi, Infosys, JW Mariott, Westin, Thomas Cook, Cipla, Abbott, GSK Healthcare, Lenskart, Apollo, Titan Eye Plus, Macleods Pharma, Johnson & Johnson Vison Care, OMICS, Times of India, NDTV, O&M, DNA, ICICI, Extramarks Education, Calvin Klein, Star Union Dai-chi Life Insurance, etc.
Knowledge Partners
NSHM has partnered with apex bodies and knowledge pioneers in Vision Science, Computing, Data Analytics, Tourism, Media Studies and other domains to keep students up to date on latest industry trends & practices and also to build their skill sets. India Vision Institute (IVI), Optometry Council of India (OCI), World Council of Optometry (WCO), IATA, Amadeus, Quick Heal Academy, Indian Navy, Toonz Academy, WACOM, ELIA, Subex, National Cyber Safety & Security Standards, Analytical Society of India, Kolkata Chapter, Amazon Web Services Educate, CDAC, Shamiana are among our esteemed Knowledge Partners.
Centres of Excellence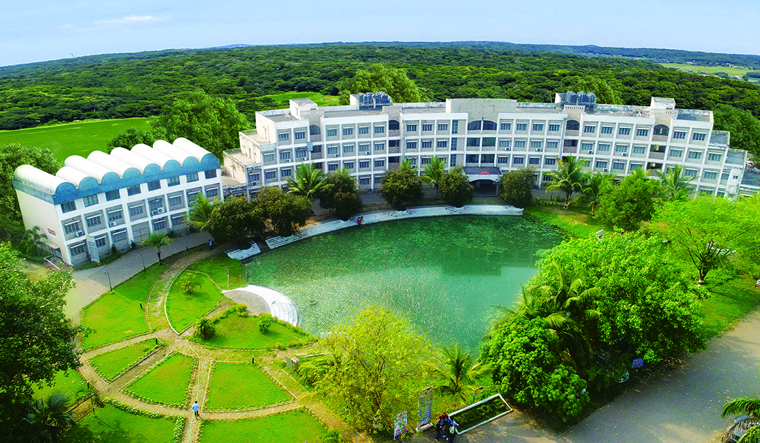 Committed to the holistic development of its students, the Centres of Excellence at NSHM Knowledge Campus look to contribute to their respective fields by nurturing their talent through unique programmes and initiatives which are devised and carried out by experts. These span five different fields in the form of –
·   NSHM Centre of Creative & Performing Arts – Aangan
·   NSHM Centre for Language & Communication – C.L.C
·  NSHM Centre for Innovation & Incubation – T.A.G
·  NSHM Centre for Sports & Wellness – UDAY
·   NSHM Centre for Social Change - Outreach
Intellectual Capital
NSHM has over 360 full-time and 75 visiting faculty members. It also has its own ISSN journals, regularly hosts conferences (both National & International) and annually 500 odd research papers get published in refereed journals.
Alumni Network
NSHM has over 30,000 alumni working all across the globe. There are networking opportunities for existing students which allow them to benefit from the skills and experiences of our graduates who willingly offer their expertise. Often alumni members support students in work placements and help in launching their careers.
Youth Connect Initiatives
NSHM hosts eminent personalities to create youth connect through various initiatives like Y-Factor, Y-Times, Y-Comm and Login Astitwa. Former Indian Cricket captain and the current coach of the Indian Cricket team, Ravi Shastri has been NSHM's brand ambassador and legendary personalities like Pele, Shashi Tharoor, Ravinder Singh has been hosted in the campus to inspire the students. NSHM is also among the few educational institutions in India to have a fully functional Community Radio 91.2Y FM in Kolkata which airs socially relevant content aimed at building youth perceptions and broadening their outlook.
Awards & Accolades
Recently, we have received multiple accolades including; NSHM Business School ranked among the top 50 Business Schools in India & top 10 in East by Times B-school 2023; NSHM Institute of Hotel & Tourism Management, Durgapur ranked Number 1 in Eastern India &12th All India by The Week 2022, NSHM Media School, Kolkata Ranked 26th All India by The Week 2022, NSHM Institute of Engineering & Technology, Durgapur ranked No. 10 in Eastern Zone & Ranked 59 All India by The Week 2022; NSHM Institute of Computing & Analytics, Kolkata has made it to the list of 20 Best On Campus PG Data Science Courses In India 2022 by Analytics India Magazine (AIM).