The infusion of money and the complicity of design with business changed the tenor of buildings. But not the attitude of people in them
The Punjabi is a born architect. He is a strict believer in the dictum, 'Form follows function', and yet he never lets function get in the way of his design. As a result, much of his architecture also includes elements that express function without actually performing it.
For instance, a balcony on the second floor of a house is presumably designed to allow people to sit outside and enjoy the view. Yet in a Punjabi baroque house, there is no door leading onto it. At the edge of this balcony, a classical balustrade is provided to protect people from falling off. It is a balustrade designed to protect people from falling off a balcony that cannot be used anyway. This is architecture Punjabi baroque style.
Punjabi baroque happened 25 years ago, at a time when I had little work, and spent afternoons sighting new houses in Greater Kailash. The absence of building on my resume was my licence to play the amateur historian. To spoof houses as Bania Gothic or Early Halwai and to write with a malicious—but I hoped, good-humoured—intent about people who were exactly like myself: boorish and hollow, pretentious and confused.
Punjabi baroque was the middle-class break from the past, away from the colourless homogeneity of colonialism: peeling bungalows, monsoon-stained walls, and beige Ambassadors. It spelt the coming of age of people who had no ideas but had the brazen confidence to attempt some serious imitation and mimicry. To take other people's history—Bavarian castles, French chateaus, Italian villas that sprawled in European country estates—compress them onto small family plots in Greater Kailash, then claim them as their own. Complete and shameless.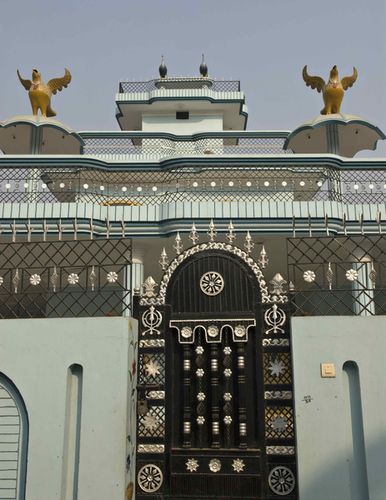 The commission to copy and not ask questions had also come to me when a Punjabi businessman, with whom I shared the same last name, had approached me for a duplication of Monticello—Thomas Jefferson's house—for his plot in DLF Qutub Enclave. He had pushed a journal displaying the building into my face and said, "I want it, ditto".
I couldn't quite comprehend the seriousness of the intent. After all, there he was, a grown man sitting in the office, beseeching me to build for him an archaic product out of a foreign magazine. Was he serious?
When I looked at him, I saw a garment exporter who wore a thick corduroy suit in the June sun, and his desire spoke of a kind of bilingual multicultural longing. So disdainful was he of his agrarian Punjabi roots, that his search had led him to something as distantly remote in culture, history and architecture as was possible. Besides, he was even willing to pay professional fees for a simple act of plagiarism. It hardly seemed right to point out the ridiculousness of his vision.
At the time, I had hoped that Punjabi baroque was a minor medical condition that had temporarily erupted over the skin of the city—a rich person's disease, an irritating rash that would quietly fall away, and things would be whole again. But no. Stylistic repeats of Punjabi baroque grew, and now exist everywhere.
In the 20 years that it has taken Gurgaon to travel from a sleepy village of buffaloes and mud huts and old men on charpais, to a bloated hotbed of multinational tower blocks and apartments, the idea of Punjabi baroque has acquired grand respectability, and at the monumental scale of a city. The builders of Gurgaon, now a formidable majority of urban practitioners, all seek to align their work with the idea of India as an industrial power. Even the quality of architecture has the adrenalin rush of instantaneous seduction and gratification: 30-storeyed gated communities topped by Greek pediments and Tuscan colonnades.
The infusion of money, the transfer of technology, and indeed the complicity of design with business changed the tenor of buildings altogether. But not the attitude of people in them. Within the gated quadrangle of a sun-bleached bevelled glass complex, the prejudiced segregation of the high and low life was worked in the clinical way of class distinctions: we live like kings; our serfs are invisible.
Valets, cleaning staff, pool maintenance men, traders, home cleaners, drivers, car washers, ground sweepers, hedge trimmers, road crew, the multitude of the decrepit, entered the gate at a given time to give support to the life of plenty. And like the dirt they washed out of the sewers, they departed unseen to their neighbouring villages—the protection of high walls all the more essential in a place surrounded by blight and despair. But it didn't matter.
Measured against the pull of the jewellery store, the Audi showroom and the Greek restaurant, the noxious fumes of industrial pollution, traffic jams, crowded, overrun streets and diseased water supply, had all become tolerable; the passage through the despair was all the more worthwhile when a warm Jacuzzi lay waiting at the other end.... Hypocrisy was the Punjabi baroque way.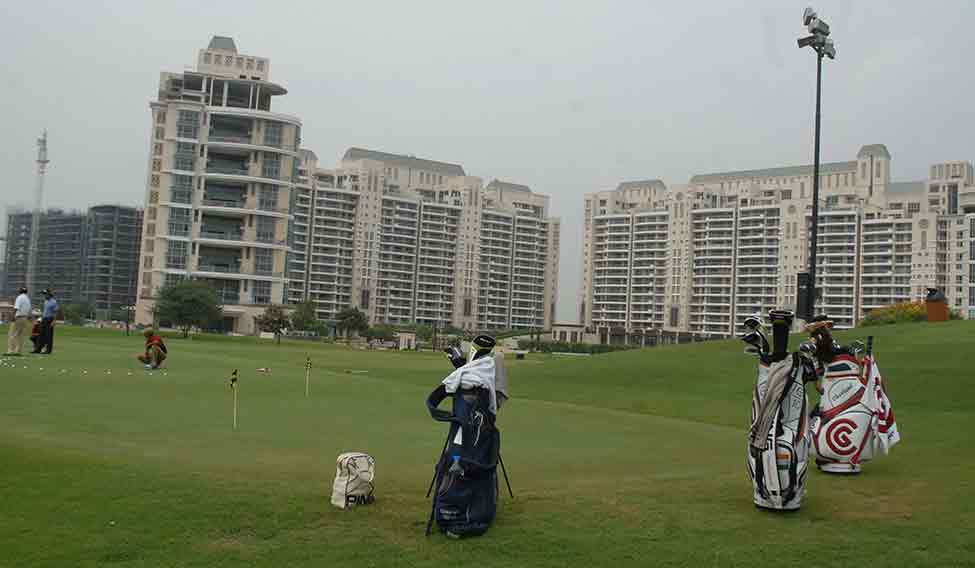 At a Delhi farmhouse recently, the place gave off mysterious hints of the city's gruelling farm life: after you entered the steel rimmed electrical fence on a high boundary with a gate manned much like the gun towers at Auschwitz, you became immediately aware of the farm's agricultural output to the national GDP. For there, before you, lay an asphalt parking lot, and an artificial landscape of Bonsai and plastic shrubs spread unevenly on synthetic volcanic rock procured by Aggarwal Rockeries of Alwar, Rajasthan (est. 1996).
Across a Japanese bamboo bridge made of steel girders was the farmhouse. Four acres of architectural sprawl, clothed in Chettinad colonnades and Roman arches—stretching the gruelling life of farming into guest wings, galleries, loggias, pools, water bodies and far-off gazebos.
It was early evening and the family was busily engaged with the tedium of farming chores: the host at the electric barbecue, his wife arranging the tulips on the outdoor dinner tables and the kids splashing aimlessly in the pool. With water resources scarce and the surrounding village in drought, I learnt that the pool water was to be changed only once a week, and car washing limited to twice in the day. A social conscience had moved the family into collective action and personal sacrifice.
Obviously, Punjabi baroque had changed from a style to an attitude. But its basic theme—as a method to keep the viewer in a state of visual enthral—remained. No longer just confined to the façade, it was now a complete experience: a design record of a house—from landscape, to architecture, to interiors, to even the cuisine.
The house had to have the most expensive range: Italian kitchens, bath showers that rotated, oscillated and withdrew like a tortoise, even elongated to spray underarms, lighting devices that kept a room under computer-set daylight conditions, roof-top pools and barbecue dens with a Spanish chef on rent. The idea was to keep the visitor in such a state of unfamiliar and alien suspension, that he would be forced to ask who the architect was. And when given the name, only to keep it at the back of his mind, to never use his services.
Gautam Bhatia is a Delhi-based architect, writer and artist. He is a recipient of several awards for his buildings.