The Rajasthan sector is the least acknowledged among the theatres of war. At the commencement of the 1965 war, border states of Rajasthan and Gujarat were divided into two sectors of operation. Rajasthan fell between two stools, being the responsibility of different formations—Delhi Area and Southern Command.
The 11 Infantry Division prosecuted the war in Rajasthan (Barmer) sector. Its track record was bizarre. This formation had been freshly raised in April 1965 in the Himachal hills as a Mountaineering Division. In July, it was converted to an Infantry Division, relocated at Ahmedabad and within weeks sent to war in Pakistan's Thar Desert. Troops in the division, commanded by Major General N.C. Rawlley, had no desert warfare training, no desert gear, no combat vehicles, no artillery, no armour and no air support. 17 Madras Regiment, in which I was a second lieutenant, was part of this division.
At the start of the war, 17 Madras was in the peace station of Madukkarai in Tamil Nadu and was rushed to Ahmedabad. When the movement took place, I was at the School of Signals, Mhow, undergoing the Regimental Signalling Officer's Course. The course was wound up and I rushed to the battalion camping at Ahmedabad.
Just before I reached there, the battalion had left for the battle zone. When the unit moved into the battle zone, they had no air, anti-aircraft, tank or artillery cover. As the troops were alighting from the train at the Uttarlai station near Barmer, Pakistan air force planes returning from a bombing mission to Jodhpur spotted them. What followed was a massacre in broad daylight. The battalion was shattered even before they commenced operation.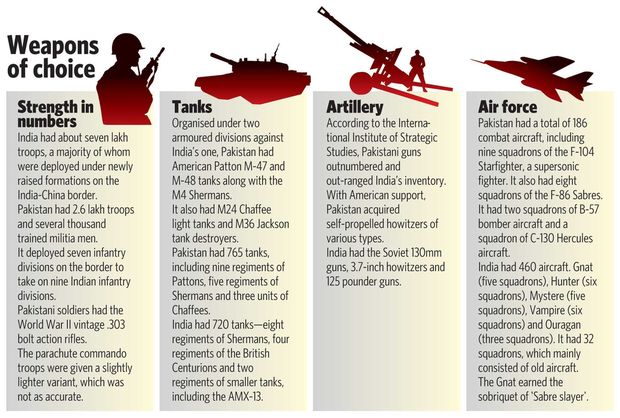 Graphics: N.V. Jose; Research: Ajit K. Dubey
Instead of applying the balm and facilitating the unit to pull together, Gen Rawlley acted as a mercenary and ordered the battalion to be cannibalised. One rifle company and mortar platoon were detached from 17 Madras and attached to a different regiment. Another company was deployed to defend the small border town of Gadra, which was captured earlier. Balance of the battalion formed part of the brigade group and advanced against heavy odds with unaccustomed weapons, alongside unknown troops in unfamiliar terrain without a battle plan. Yet they did well and secured the strategic Dali village on the Barmer-Gadra-Hyderabad (Sindh) axis.
As they were digging in to form firm base for further advance, came the ruthless counter attack from Pakistani forces. The battle was fierce with several fatal casualties. The remnant of the battalion retreated to Jesse-Ka-Par; some jawans sneaked through and landed at Gadra Road railway station. This infuriated Rawlley and the perverse general condemned the 'Madrasi' soldiers as cowards, stripped the commanding officer of his command and confined him to the rear-base at Barmer.
This left the battalion without a commanding officer. The second-in-command, being a low medical category major, was incapable of combat. Officers senior to me were holding their own companies tight and in fighting form. So, the onerous responsibility of mobilising the dispersed soldiers into a fighting force fell upon me.
I along with a small team quickly put together a company-plus at Gadra. We reached Jesse-Ke-Par early September 24, this time with artillery support. As we were forming up to launch an offensive to recapture Dali, news of ceasefire reached us. Since the momentum could not be contained, we attacked and captured strategic points of Kinra and Point-413 and then halted.
The battalion then settled down on the dreary sand dunes 25km inside Pakistan, with their forces just across the dune. Soon we were joined by Lt Col T. Sudarsanam, a dynamic commanding officer, and things started moving. Being the only officer in the battalion trained in signals and 8mm mortar, I was put in charge of support company, commanding mortar, signals and MMG platoons. We were in open wilderness with sky above and sand below and some make-shift bunkers to keep our equipment. Climate was extreme; we lived on one water-bottle a day and when we were out on reconnaissance patrol we had to survive on watermelons sprouting from creepers. In the trenches, boredom was broken by intermittent exchange of artillery and mortar fire, which promptly got reported to UN peace-keepers.
Meanwhile, I happened to visit Bombay briefly on duty. Walking around Marine Drive, I found the city full of vibrancy and its youth living with abandon, blissfully uncaring of what was happening on the borders. This touched a chord in me and I scribbled this lyric to salute The Solitary Soldier:
Look yonder, what you see,
Under the shade of the farthest tree;
It's a solitary soldier on duty,
A sentinel for India's immortal beauty.
Standing solo in the thick of the night,
His mind hovers around his heart's delight;
Sweet thoughts fill his heart,
As he dreams of his beloved sweetheart.
Looking up he sees the stars,
Shining smartly from skies afar;
Drops of tears trickle down his eyes,
Touching his heart heaving up a sigh.
Are these tears of lament or joy?
What is in the mind of this youthful boy?
Passing the prime of flowery youth,
Guarding the land of Freedom and Truth.
Answer he mutters softly aside,
These are tears of supreme pride;
For it is great to give one's life,
To save the nation of war and strife.
And so it goes in the 'Book of Gold,'
The pain and pride of the soldier untold;
Pain he forgets, but the pride is his bounty,
For it is glory to die doing one's duty.
This is the motto of Indian Army's oldest Infantry—the Madras Regiment. This also is every soldier's honour in the midst of all-pervading dishonesty!
The writer is a former Army and IAS officer.