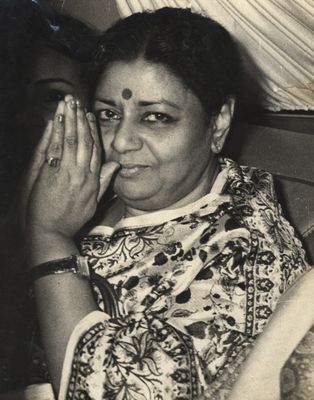 V.N. Janaki, in her early teens, was part of Natyakalaseva, a dance troupe that was well known all over the country. Janaki's father Rajagopala Iyer, a native of Vaikom in central Kerala, was the brother of the famous composer and lyricist Papanasam Sivam.
Janaki, essentially a dancer, got a break in films in Jupiter's Manmatha Vijayam in 1939. Her first picture with MGR was Jupiter's Mohini in 1948 which was on the lines of Thief of Baghdad. It was followed by Rajamukthi; her co-star was Thyagaraja Bhagavathar (he had been acquitted in the famous Lakshmikanthan case in which he and actor N.S. Krishnan were accused of murder). She then starred with MGR in Maruthanattu Ilavarasi and later in Naam. That was the last film in which Janaki acted opposite MGR. Her biggest hit is said to be Aayiram Thalaivaanki Apoorva Singaamani produced by Modern Theatres.
After that Janaki did act in several films, the most famous being Velaikari, Then she slowly faded out of the film scene. Janaki had been married at an early age to Ganapathy Bhat who was also in the film field. It was during the shooting of Maruthanattu Ilavarasi that MGR is said to have developed a crush on Janaki. Before this film's shooting began, MGR had already lost his first wife and the second was ill. Film sources say that when he chanced upon a still of Janaki, he felt that the young girl very much resembled his second wife. He had then no inkling that the girl had been signed to star opposite him in Maruthanattu Ilavarasi.
After the second wife's death, Janaki moved into his house which he shared with his brother Chakrapani's family in Madras. Her husband Bhat was left out in the cold. Such was MGR's love for Janaki that he named the photo studio run by her brother as J.R. Studio, short for Janaki Ramachandran. MGR even adopted Appu, her son by her first husband.
Strangely, all through his later film career and much of his political life, MGR did not allow Janaki to be with him in the public eye. Close friends say that she was content to be a house wife. Janaki, who was very possessive and fond of her husband, never took kindly to MGR's relationship with Jayalalitha – she would flare up at the mere mention of Jayalalitha's name.
A close friend relates how Janaki made it clear that she would, on no account, allow Jayalalitha to be anywhere near MGR when he fell sick in 1984. In fact Janaki became even more close to MGR after he fell ill. She was his nurse, supporter, wife and friend. In fact she became MGR's chaperon ever since he returned from treatment in the US.
However, Janaki, who underwent a simple bypass surgery in the US during MGR's last trip there, was not seen with MGR at major public functions after their return.
Close friends say that she is a firm believer in astrology; she so blindly believed in her astrologer that she never expected MGR to pass away so suddenly.