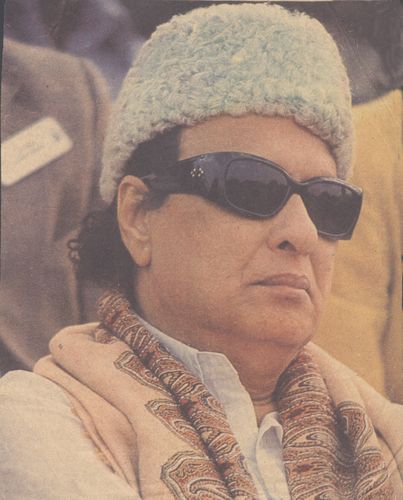 Salem town, it is said, had never seen such crowds at a public meeting. The huge maidan where Jayalalitha, the propaganda secretary of the ruling AIADMK party, was scheduled to address the meeting that evening was packed with nearly one lakh people. And they were talking of Jayalalitha as the successor to MGR already. It was not so long ago that she was just a pretty girl gyrating on the silver screen with MGR, the evergreen hero of the rural masses. But her presence in Salem on May 1, 1983 had another significance for them. She was coming as MGR's representative, as one closest to his heart who, to quote MGR himself, has always been part of his own blood. The hero of their own filmy dreams had sent his first lady to reinforce his hold over the masses and subsequently to take over power when the man himself is gone. The idea seemed acceptable to the people of Salem. For when the lady paid a second visit to Salem seven months later the crowds had swelled to twice the earlier number. More had turned up this time and they had converged at the maidan three hours before her scheduled arrival.
Not far away from Salem, Aruppukottai town witnessed a similar upsurge. Jayalalitha was to address a meeting there for about an hour but had to hastily wind up in less than 10 minutes. Police had advised her to do so, as surging crowds who sought entry into the medium sized playground stepped over power lines and plunged the area into darkness. Some people fainted and there was a stampede. So she had to leave hurriedly. "Next time they want to hold a meeting at Aruppukottai, they must find me a much bigger venue, perhaps outside the town itself," said Jayalalitha. There was little effort to hide the pride in her voice. She knew she was in total command, that she represented the master's voice, and that she had come to stay in Tamil Nadu politics.
Reports of the success of Jayalalitha's meetings kept pouring in from all parts of the state after the massive AIADMK conference at Cuddalore in the middle of June, 1982 when she had been inducted into the party. She had then been taken in a colourful procession in a chariot and one upcountry journalist had labelled the event as 'the Cuddalore cabaret'. But skepticism soon gave way to grudging acceptance as the former film star proved time and again that she had become a hit with the audience in her new role as well.
But few people know that the heroine of 100-plus films in five languages, including one in English, had to undergo a fresh 'screen test' before being accepted by MGR as his first lady in the biggest political party of the state. It happened during the annual handloom exhibition at Egmore in Madras city, sometime in April 1982. Jayalalitha was one of the speakers and she had been given about 15 minutes, though she was not a member of the AIADMK then. She spoke of the MGR government's achievements, about the problems of the weavers and so on. There were giggles when she took the mike but soon they were replaced with attention and perhaps a little curiosity too at what this ex-heroine was going to say.
It turned out to be an impressive performance and the lone representative of MGR tucked away in audience, Kamatchi Somasundaram, better known as Solai, the editor of the AIADMK party organ Anna, went back to the leader with a smile of satisfaction and the tape of Jayalalitha's speech. MGR listened to the tape again and again, then nodded his approval. The woman had passed voice test. She spoke the way it should be done, and, besides, she was good looking. Jayalalitha had won the first round.
The next step was to see if she could draw crowds like the party leader. That too was proved when Jayalalitha addressed her first public meeting at Madurai a couple of months later. Since then, she has been a star attraction in the Tamil Nadu political scene, with each engagement being a greater crowdpuller than the previous one. In the ruling AIADMK, Jayalalitha now commands 'star billing' with her audience next only to that of her mentor and the party boss, Chief Minister M.G. Ramachandran. Of late, reports have come in that she is drawing bigger crowds than what even the redoubtable MGR is capable of. The district and town secretaries of the party are rather worried about it as they have to find ways to put up an equally big show when MGR himself pays a visit to their areas.
Not all, however, are willing to accept that the success of Jayalalitha's public meetings is an indication of her acceptance by the people as a political leader in her own right. The opposition and the conservative elite, a section of the media included, dismiss this phenomenon as a natural fall-out of film glamour. The Tamil Nadu people, who set the precedent of electing a celluloid hero to head the state government, are only exhibiting their curiosity about MGR's former heroine, these people feel. But these sceptics are unable to explain why, in that case, Jayalalitha draws bigger crowds with each trip to a place. As she herself puts it, "if it is just film glamour that is drawing the crowds, would they come back a second time and a third time too, when I visit them? And why should they sit for over an hour just to satisfy their curiosity of how a film star would speak politics? They have accepted me as a political leader and there is no doubt about it."
But the more pertinent question is why MGR picked Jayalalitha as the most suitable person to carry on his legacy rather than one of his old lieutenants or some other star. Unlike other political leaders in the country who have been promoting their sons, MGR has no children; he has also publicly disowned the children of his brother Chakrapani. But he has always had his heroines and MGR was sure that whoever was chosen by him would be accepted by his party workers and the public at large who have stood by him unflinchingly in all the six years he had been in power. In deciding on Jayalalitha, MGR was confident that with his backing she could pull it off. "He could have put of political display a trussed up doll or even a hollow wooden horse and people would accept them", said a prominent AIADMK leader. "But then, Jayalalitha is neither a doll nor a wooden horse. She is very clever and good looking too. So you can well imagine how our people would react to her."
But Jayalalitha's success on the public platform and her meteoric rise in the party have brought certain problems in the wake. If MGR is satisfied at his ward's performance so far some of his cabinet colleagues seem none too happy at the development. Though the hard feelings generated in the early days of her entry into the party now seem to have subsided, it is evident that many AIADMK men have not liked the woman's sudden elevation to the powerful propaganda secretary's post within seven months of her joining the party. And with reason too. There are men like party general secretary P.U. Shanmugham, and senior ministers like R.M. Veerappan, S.D. Somasundaram and Kalimuthu and of course the house speaker Rajaram, who may feel that the presence of Jayalalitha on the scene might hamper their attempts to get closer to their enigmatic leader. Understandably, they do not show their displeasure, for they very well realise that it is unlikely to impress MGR who is known for his adamant attitudes and independent judgement. Nor can these front-rankers contemplate quitting the party in protest at being superceded by a woman who is a novice to politics. They know only too well that there is little future for them without MGR. S.D. Somasundaram does have a fairly good following in Madurai, and Kalimuthu can impress the audience with his rhetoric, often bordering on the age-old Dravidian hatred for the rulers in Delhi. But neither can ever hope to be a serious rival to MGR.
The man closest to MGR in the cabinet was Information Minister R.M. Veerappan who has been associated with MGR right from the latter's film days, graduating to the position of a manager of MGR's Sathya Movies. Veerappan enjoyed a further boost when the AIADMK won the elections in 1977 and was inducted in the very first cabinet. Veerappan had grumbled when Jayalalitha was first inducted into the party and began her quick climb in the party hierarchy. But, since then, Veerappan has kept quiet. Somasundaram and Kalimuthu appear to have resigned themselves to the inevitable. So have others and most harbor mixed feelings of hatred and fear about the newcomer. The newcomer on her part is fast stabilising her position within the party and is now next only to MGR.
It is perhaps a little too premature to ask, after MGR who? But as things are now, there is nobody around who can prevent Jayalalitha from occupying MGR's throne when the man is gone. The state lacks a strong opposition, the presence of the never-say-die DMK leader Karunanidhi notwithstanding. It is, however, difficult to say with any degree of certainty whether Jayalalitha would continue to enjoy the public support she has now when MGR is not on the scene. Her rise has been only due to the special relationship with MGR, and consistency has never been one of his virtues. MGR is known to have changed preferences and loyalties at short notice. And he is only too aware of his pre-eminence in the AIADMK when it comes to winning elections. He knows that his colleagues in the party cannot by themselves keep the party in power. Jayalalitha appears to have filled the bill in terms of public acceptance. But what effect a fall from MGR's favour would have is anybody's guess. Mass defection from AIADMK to Karunanidhi at a crucial time cannot also be ruled out and if it happens, the voters might well blame the lady for the desertion.
But at the moment all that seems wishful thinking on the part of Jayalalitha's detractors. MGR abandoning Jayalalitha seems as remote a possibility as the woman herself suddenly deciding to opt out of politics. It is difficult to imagine that MGR may ditch her after giving her such a build-up in the face of opposition from many of his top lieutenants. MGR has tutored her well and has now handed over the task of preparing her public speeches and guiding her meetings to Solai. Solai was the man who had done the same thing for MGR during the AIADMK's formative years. Moreover, Jayalalitha seems to have gained considerable popularity among the party cadre. While the senior leaders call her 'Amma' with respect, genuine or otherwise, the lower echelons refer to her as their china anni (junior sister-in-law). Town and panchayat party leaders are particularly pleased at her crowd-pulling power. With so much going for her, it is difficult to imagine MGR would suddenly discard her.
MGR was probably counting on the basic anxiety of all politicians to hang on to power regardless, and his colleagues' lack of a mass following, to tide over the inevitable unpleasantness over Jayalalitha's induction into the party and her subsequent appointment as propaganda secretary. The only AIADMK leader with some following is Revenue Minister S.D. Somasundaram. And even in his case, it is said that his men were active in organizing Jayalalitha's meetings during her recent tours of Thanjavur, Tiruchirapalli and Madurai districts. But that bad blood has been created within the party because of Jayalalitha's entry and promotion is a fact that even MGR could not be unaware of. Obviously, the former film hero feels that only another film heroine could establish a hold over the Tamil masses similar to his.
In MGR's style of politics, public meetings have always been the main mode of contact with the rural youths who have been staunch MGR supporters. Consequently, MGR needs to travel a lot to keep in touch with his mass base. The party is yet to develop a fully trained cadre capable of telling the people in a convincing manner what the AIADMK government has done for them. But even if the party does develop a cadre capable of doing this, it is unlikely to have the same impact that even a glimpse of MGR has.
But the veteran actor-politician is not getting any younger. He is 65 plus, and the induction of Jayalalitha and her quick promotion in the party hierarchy were obviously intended to relieve him of the campaigning in the interior Tamil Nadu. The plan is to have MGR confining his attention to major cities and towns in the state, besides a few trouble spots in the interior, while Jayalalitha tours the other areas. And so far at least, she has drawn bigger crowds than even senior ministers.
Another reason for bringing in Jayalalitha could be that MGR fears an erosion in his charisma, having gained it in the first place through the silver screen. MGR has always placed great reliance on the power of the silver screen to win votes and Jayalalitha fills the bill adequately. He has also roped in today's superstar in Tamil cinema, K Bhagyaraj, and his mentor Bharatiraja to resurrect his young, debonair and do-gooder image through film functions.
The induction and promotion of Jayalalitha was meticulously planned. She joined the party on June 4, 1982 and the announcement from the general secretary P.U. Shanmugham came on the sixth. Within a fortnight came the big event, the Cuddalore AIADMK conference, where she first came into contact with the party ranks. There seemed to be no adverse reactions, and MGR's fan clubs were only too happy at her inclusion in the party. On July 7, she addressed the MGR youth wing members in the city and within a few days addressed her first public meeting in Madurai.
Meanwhile, Jayalalitha began going around the slums and noon meal centres, met the residents and spoke to the children. She also began asking officials why this was done and why that was not done. When her right to do what she was doing was questioned by the opposition and the media, MGR made her a member of the state advisory committee to oversee his ambitious Rs. 150 crore noon meal scheme. This was on August 18, and two days later she took a party of pressmen to some noon meal centres in Chingleput district. And when on September 15, C.N. Annadurai's birthday, MGR inaugurated a further extension of the scheme to cover more children and the old in Madurai, Jayalalitha graced the function at Gopalapuram, not far from the residence of Karunanidhi.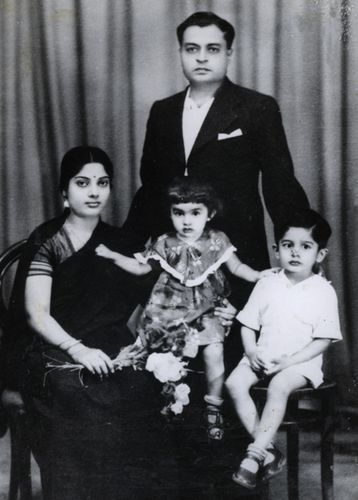 Then MGR announced a new policy for the AIADMK whereby no person in the party can hold two posts. Consequently, the party whip in the assembly, Tiruppur Manimaran, had to give up the post of the party's propaganda secretary. On January 28, 1983, the party general secretary P.U. Shanmugham announced the appointment of Jayalalitha, less than eight months old in the party, to the propaganda secretary's post, thus formalising the hitherto unwritten law of succession in AIADMK. Amidst much fanfare, with the party women's wing volunteers lining up to welcome her with sandal paste, Jayalalitha entered the party office to occupy her chamber on February 12. She soon took charge and it was evident before long that getting orders from her meant getting orders from the boss himself.
AIADMK general secretary P.U. Shanmugham was apparently the most cut up after she took up office. Inside sources said that in the party executive meetings held recently, Jayalalitha and Shankugham had clashed. At one of those stormy sessions, MGR himself had to intervene to control his pet pupil. Not long after, Jayalalitha openly expressed her displeasure at the way the party was being run, the lack of discipline and so on – all this obviously reflecting on the performance of the general secretary. Who eventually won in this confrontation became clear when THE WEEK approached Shanmugham for his views on the working of the party and the changes within it. He declined to comment beyond saying, "Whatever she has told you, you can take it as said by me. I have nothing to add. Don't involve me in any controversy". Other senior party leaders also refused to comment on the matter.
One thing must, however, be admitted. Since Jayalalitha's appointment, feverish activity has been going on in the party headquarters in Madras. Partymen are arriving regularly from all over the state with progress reports about the number of meetings they had held in their areas and the number of new members they were able to enroll in the party – which actually means the number of DMK scalps they could procure for MGR. There was a small group of such men waiting in the large pandal by the side of Jayalalitha's white Toyota. They had come from the Pandyan Transport Corporation, Madurai, where they lead the AIADMK workers' union. They had brought alongewith them a list of 150-odd DMK union men who had crossed over to the AIADMK. "Many more are still coming and we came here today to meet Amma and let her know about this. Soon we will become the only recognized union in the Pandyan Corporations, which is the biggest in the state, having 1,200 workmen," said Chinnamuthu, the union general secretary.
But why did they choose to come and meet only Amma? Why not some other party functionary? "We know she is taking a lot of interest in party matters. Besides, if we tell her, she will tell the chief minister and he will be happy," he said.
Says Dorai, manager of the party headquarters; "This office has become very active after Amma's entry. Partymen come in large numbers and from far-off places to discuss their problems and programmes with her. They think it is as good as meeting the chief minister. S.D. Somasundaram was the first propaganda secretary and Manimaran, MLA, succeeded him. Neither could come to the office everyday whereas Amma attends office on all days when she is in Madras. She has activised all the party wings."
Solai goes one step further. "This is a second upsurge in the AIADMK after the first one when MGR left the DMK and started his own party", he says. "That is why we now call her puratchi selvi (revolutionary woman leader). She was called chinthanai selvi (thinker) earlier due to her many published works. As one who is accompanying her on all her tours and public meetings, I can say without any hesitation that she is drawing as much crowd as the chief minister does and in some places even more than him. MGR knows this. She is a success and there is no turning back now."
Solai was confident that she would be an advantage to the CM at the polls, since people had already accepted her and little else really mattered. "First the Tamil Nadu press ignored her, then came the criticizing stage – about the arrangements being made for her meetings, etc. Now finally they have started taking her seriously. Her speeches are now reported and opposition papers spend all their energy replying to her charges against Karunanidhi and his rule," he added.
However, it may be a long time before she contests an election, though she is very likely to be a minister in MGR's next cabinet, nominated through the state legislative council. "Why should we waste such a potential propagandist in a single constituency while she could be of enormous use in all the constituencies?" asked a prominent AIADMK man close to MGR.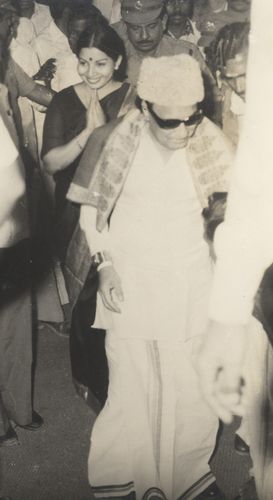 Not all are so charitable in their comments about Jayalalitha. She has been described as cunning and arrogant, self-centred and not very intelligent. What is she but just his film heroine, asked a Dravida Kazhagam leader, who preferred anonymity. "I am not safe if you print my name," he said, but went on: "She has become a wedge between MGR and his trusted men. Earlier, they used to have nightmares of only MGR but now the woman too disturbs their sleep. What is her link with the party, anyway, except the relationship with MGR? Even a lady like Satyavani Muthu (MP and a former Union minister) can say she had gone to jail with her child in arms during the Hindi agitation. What has Jayalalitha got to show as proof for her interest and involvement in the party? Her old MGR films"? he asked indignantly.
But Jayalalitha argues that even through those 'old MGR films' she had helped her leader to propagate Anna's principles among the masses. Besides, she says she had collected several lakhs of rupees for the DMK party fund – MGR was also in the DMK at that time – through her dance performances.
And what do the other camps feel about her emergence on the political scene? Former state Congress(I) president MP Subramaniam says her entry into AIADMK has brought about a welcome change in the party's outlook to national problems. "She is more nationalistic in her outlook than any other AIADMK leader and this is a welcome thing. If her speeches reflect MGR's mind, then I must say, it is for the better. She is intelligent too, no doubt, but it is to be seen how long she would sustain her leader's attention, as everything depends on that."
But to Cho Ramaswamy, Janata Party leader, "she is just one amongst the lakhs of matriculates in Madras city today. Nothing more than that."
Amidst all the din and dust raised over Jayalalitha's activities, the most important change in the party has been little noticed. The AIADMK had never been as chauvinistic as the DMK or the Dravida Kazhagam of Periyar. MGR rarely attacked the Centre, the Hindi language only occasionally, seldom talked stridently of state autonomy, though like all non-Congress(I) chief ministers he has been asking for more powers for the states and more money for his schemes. Nevertheless, MGR has been careful not to deviate widely from the known main plank of Dravidan thinking that the Tamils should have an identity of their own and that the northerner has always been discriminating against the southerner. He has been rather indifferent towards the anti-Centre, anti-Hindi slogans raised by the other parties. This, despite many of his cabinet colleagues being former DMK men with a strong anti-Centre, anti-Hindi bias.
It is in this context that Jayalalitha's new role in the party takes on an added dimension. The old style of personal attacks and slanderous speeches against the opponent and the Centre is now being replaced with printed material which tells partymen what they should say and even what they should think. Jayalalitha talks of nationalism and attacks vehemently Farooq Abdullah's anti-national activities." She does not want imposition of Hindi but at the same time does not advocate Tamil as the sole alternative, advocating the use of English at all levels. She talks of a united India and ridicules the very concept of a separate Tamil state. In short, she is undoing all that the chauvinistic Dravidan movement had stood for.
What about the people at large? Do they see her as a future chief minister material? Said K Srinivasan, manager of a bank in Madras, "When any dirty fellow can enter this field (politics) and try to dominate you and me, why not Jayalaitha? Why do you keep on reminding yourself she had been a film star once? Aren't there many ministers and chief ministers today in this country who had burnt buses in student agitations, assaulted their teachers and done all that can be the most rotten of human behaviour? It is just that the general public knows little about such leaders who suddenly become respectable when they assume power. Jayalalitha is good. She is educated. I think she is able to think straight; so what is wrong if she becomes the chief minister in future why are we so allergic to that thought?"