Beyond its touristy camel fair lies Pushkar's best-kept secret—the smorgasbord of flavours characterised by innumerable eateries dotting every nook and corner of the temple town. When we landed here on a foggy December morning, little did we know we'd find ourselves in food heaven.
Pushkar's charm not only lies in its hippie vibe, but also in the people who love to cook and feed. Walking through the lanes and bylanes of this old town, dodging cows and worshippers, we made friends with halwais, parathewalas and unassuming folks whose lives revolve around the kitchen. If you ask them for a recipe, they will happily share it and insist you eat more. That's the beauty of this ancient town.
Some of my favourites from Pushkar are:
Pushkar Raj for khasta kachoris
If you are in Rajasthan, you cannot not eat kachoris for breakfast. These puff pastry-like snacks stuffed with moong dal are available all over the town on hand-held carts and sweet shops. But we headed to Pushkar Raj, a hole-in-the-wall joint (they have samosas too) to grab a plate of this ubiquitous snack. The kachoris are typically smashed into pieces and served with a sweet as well as spicy chutney, and make for a hearty breakfast on cold winter mornings.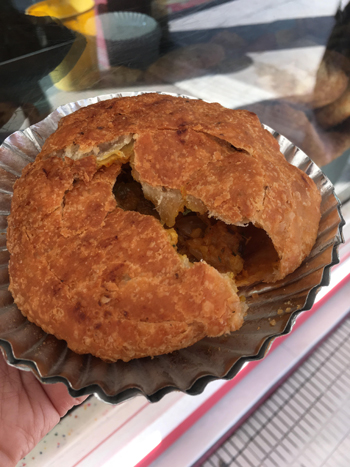 Price: Rs 20
Address: Near Maheshwari Dharamshala
Laxmi Mishtan Bhandar for malpuas
Pushkar is famous for its legendary rabdi malpuas. Made with thickened milk or rabdi and mawa, they are adequately sweet and mildly crunchy. On our two-day stay here, we stopped by at Laxmi Mishtan Bhandar several times and had our fill of this saccharine delight. You can watch the men pour the batter in the fattiest oil and eat them as soon as they are taken off the cardamom-scented sugar syrup. You cannot stop at one for sure.
Price: Rs 20 per piece
Address: Gau Ghat, Main Market
Sanskar for Vaishno thali
You cannot leave Pushkar without sampling its Vaishno cuisine i.e. food cooked without onion and garlic. Although hardcore meat eaters, when we stumbled upon 'Sanskar' way past lunchtime, all we wanted was to fill our growling stomachs. Once seated overlooking a busy street, we were served the most honest meal of our lives comprising daal, aloo gobhi, dahi, rotis and rice. The rotis were hot and the plates were clean. Who thought food cooked without onion and garlic would be soul satisfying?
Price: Rs 50 for a thali
Address: Near Sikh Temple, Choti Basti
Sunset Café for coffee
Sunsets are a thing to watch in Pushkar. You can spend hours sitting on the ghat waiting for the sky to change its colour to shades of glorious orange and feeling the cool breeze on your face. You can also watch the sunset from Sunset Cafe overlooking the lake while sipping on your favourite cuppa with a side of freshly-baked goodies from their bakery. The café also serves pizzas and pastas apart from local specialities for you to come back at dinner time.
Address: Parikrama Marg, Near Sun Set Point, Choti Basti, Pushkar Lake
Lala ji for parathas
Once the sun sets in the Pushkar lake, a frail man with a hand-drawn stall walks around the busy market square looking for hungry souls. Known as Lala ji, his parathas are the stuff of legend. When we asked the paratha man of Pushkar to make us his signature paratha, he happily obliged. Standing on a busy street, we found Lala ji roll the dough followed by stuffing it with a variety of veggies—onions, cabbage, beetroot, carrots, capsicum, potatoes—that almost resembled a mountain. If that was not enough, he grated half a block of Amul cheese on top of it. The sight got us asking him how he planned to roll the paratha. He casually told us to watch him. We watched him in awe, and in less than a minute, the paratha was on the hot tawa with its stuffing perfectly intact. Once done, Lala ji served it with a side of raita, onion salad and green chutney. The paratha was so filling that we skipped the malpuas on our way back to our hostel.
Price: Rs 100
Address: Main Market Road, close to Nagar Palika Ghat
Laffa and Falafel for falafels
This Middle-Eastern speciality is extremely popular in Pushkar, and you will find two remarkably busy falafel joints in the main market road with menus written in Hebrew. You cannot miss them for the owners will politely nudge you to take a seat as you walk past them. Their falafels come in the most unusual combinations. We tried the one with fried eggplants, avocado and paneer as well as green olives, potato chips and garlic mayo and found them both interesting. There is complimentary chai too.
Price: Rs 80 to Rs 120
Address: Main Market Rd, Choti Basti
Out of the blue for noodles and pancakes
Out of the Blue is a cheery place with a hippie vibe that serves Italian food apart from noodles, momos and pancakes. The interiors are beautiful and once seated you can take in the views of the serene lake and the city. The café also serves some good expresso and latte, which you can enjoy watching the sunset. The gnocchi and ravioli are nice and could be your saviour if you are craving Western food on the trip.
Price: Coffees from Rs 80 to 100
Address: Main Market Rd, Badi Basti