In fast-paced Mumbai, overlooking the Bandra-Worli Sea Link, lies a unique building called Sportsfield, which is home to a group of legendary Indian sportsmen who have done yeoman service for the country. Over the years, the residents of the nine-storeyed building have included 12 Test cricketers, six of them former captains, a former Mumbai cricketer, a world billiards champion, a former captain of the national hockey team, and three international tennis and badminton stars.
Ajit Wadekar spearheaded the idea of getting likeminded sportsmen from diverse backgrounds under one roof (the building came up in 1987). He led the bunch the same way he captained India to its first ever series win against the mighty West Indies and a win against England in 1971. With his measured demeanour, and with few expressions, he commands instant respect. He stammers through his firm decisions calmly, much like he did against the West Indies in Kingston, Jamaica. In the first Test, after India had secured a lead of 170 runs, he went to the opposition's dressing room and told the great Garfield Sobers that he was enforcing a follow-on. The loud and jovial West Indians were stunned. Ajit knew the laws of the game and, as a day's play had been lost because of rain, a team could enforce a follow-on if it had a lead of 150 runs (as opposed to the regular lead of 200 runs). Though the West Indies drew the game, India had gained a psychological advantage. India later won the series, and this tactical move was credited as one of the factors that led to the victory.
In Ajit's team, Sunil Gavaskar batted ahead of him. At Sportsfield, however, he was pushed down the batting order—Ajit stays on the top floor, Gavaskar lives below him. Ajit still feels he needs to nurse him, liked he did when he selected Gavaskar to be part of the 1971 Indian team. The young prodigy scored a remarkable 774 runs in the series.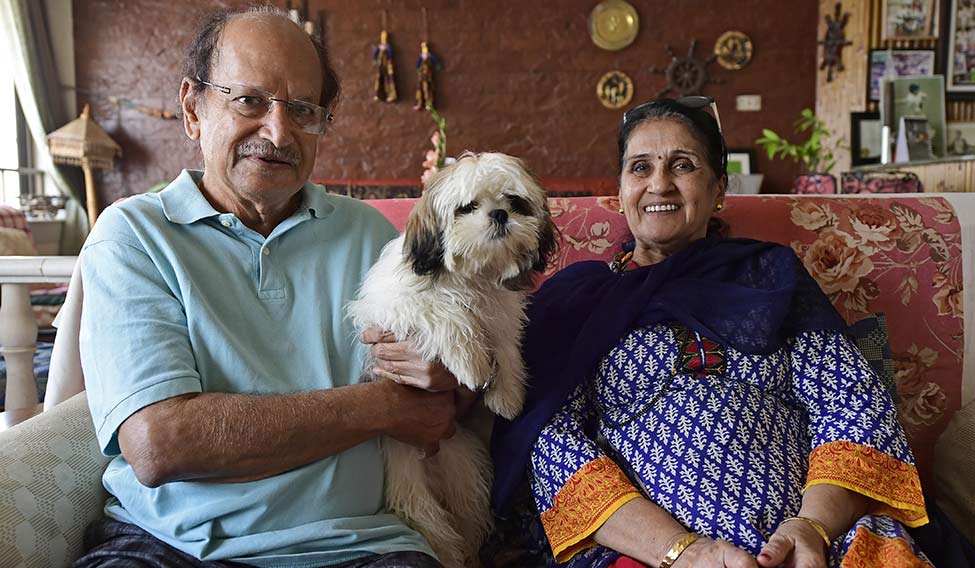 Gavaskar is an immaculate planner; every word and action has meaning. That is perhaps why he played those long innings and scored 34 hundreds. His acting skills are also good and, had he not been a cricketer, he would have given Rajesh Khanna and Amitabh Bachchan a run for their money.
On the floor below lived G.S. Ramchand, the man who led India to its first victory against Australia in 1959. Ramchand (who died in 2003) was one of India's great all-rounders and I still remember one of his emotional and proud moments at an awards function, many years ago. Wanting to collect autographs for his nephew, he had approached a few Indian cricketers who, ironically, did not recognise him. Seeing this, the then Australian captain Mark Taylor walked up to him. "Sir," he said, "can I shake the hand of the captain who beat us for the first time. I would be honoured if you could sit beside me for dinner as well." A warm smile of appreciation spread across Ramchand's face.
In the flat opposite to his lived Ashok—the son of Vinoo Mankad, one of India's greatest cricketers—and his wife, the tennis superstar of yore, Nirupama Vasant Mankad. Ashok was part of the Indian team in 1971 and had a phenomenal cricketing brain. Indian cricket would have benefited immensely had he led India (he died in 2008). His wife ruled Indian women's tennis for more than a decade and even played a mixed doubles match with Anand Amritraj at Wimbledon. Her partnership with Ashok produced another Indian tennis star—their son Harsh Mankad.
On the sixth floor, below the Mankads, lived two of India's more popular cricketers of the 1950s and 1960s. The tall Parsi opener P.R. Umrigar, Polly to his friends, was a gentle giant off the field but a tyrant on it. At Sportsfield, he played the calm, mature role and subdued any tensions that flared up (Umrigar died in 2006). His floor partner in the building was R.G. Nadkarni, or Bapu, who bowled 21 consecutive maiden overs against England—a record that still stands. He used to look after the accounts of the building with the same precision, and he had an immaculate, tidy ledger. Bapu listens more than he speaks, and so seemed to remember issues most of us didn't.
Below them lives Dilip Vengsarkar, the lord of Lord's, who scored three scintillating centuries at the mecca of cricket. I first met him in 1975, during the Irani Trophy match in Nagpur, in which he scored a breathtaking 110. The way he played reminded me of the great colonel C.K. Nayudu, India's first Test captain. Vengsarkar was bestowed with the title "colonel", led the Indian team and successfully battled the fastest bowlers in the world. Currently, he is the society's president and runs it as successfully as his many cricket academies in Maharashtra.
Over the years, there have been many humorous incidents at the society. One morning, for instance, we were told that the music system in Dilip Vengsarkar's car had been stolen and, looking down, I saw him agitated and annoyed. We all decided that he needed consoling and so came down to lend him a shoulder. To our surprise, all our cars were also missing their music systems. Total mayhem ensued. The police were called, but they were busy taking autographs. While we were all ruing the disaster, Sunil Gavaskar broke the gloom with a punchline. He said that his music system had just recently broken down and that he had insured it adequately. The robbers had done him a favour by removing it as he could now claim a new one. With Sunil, you never know whether it was true or false as, like his commentary, he knew what to say when. On our way back, we were smiling and we understood why Sunil was always a winner.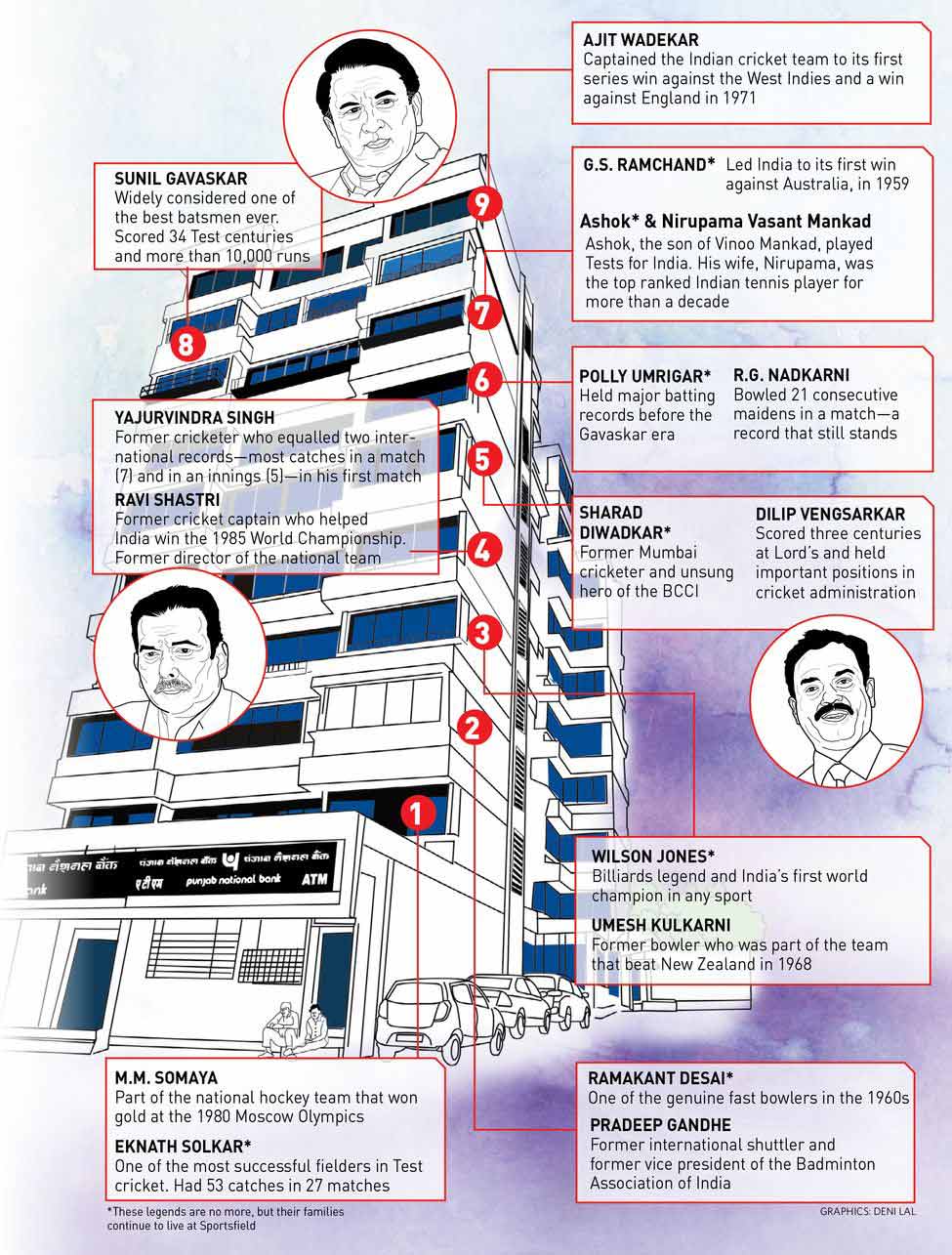 Vengsarkar shares the fifth floor with Sharad Diwadkar, who was one of the unsung heroes of Mumbai and the BCCI (he died in 2005). He was a shrewd off-spinner, whose variations were legendary and who used the crease tactfully. And, as he was a senior officer in the State Bank of India, he was given the task of managing finances during the construction of Sportsfield.
The fourth floor is the party floor. The flamboyant Ravi Shastri and yours truly make up for the silence that prevails among the rest. Ravi, as one sees on television, is straightforward and to the point. His confidence is uncanny and the current positive attitude of the Indian team can be, to a great extent, attributed to him. He towers over the rest in style and generosity, and is always there to lend a hand whenever any society issue needs sorting. He was a fighting cricketer, whose phenomenal success in 1985 won India the World Championship and him the famous Audi car, which was for many years the showcase of the society.
The floor below us has Umesh Kulkarni, the fast bowler who was part of the Indian side that won the first ever series overseas, against New Zealand. He is a simple, straightforward individual but, as a bowler, he could be wily, swinging the ball both ways.
Billiards legend Wilson Jones lived on the same floor. The two-time world amateur champion was one of the most wonderful human beings I have ever met. He was a thorough gentleman and did not have an ounce of malice or jealousy. He was a father figure in the society and a mentor who ensured that India remained on top in the world of billiards and snooker (he died in 2003).
On the second floor lived Ramakant Desai, the fast bowler who made the great (Pakistani cricketer) Hanif Mohammad's life a misery in 1961. At five-foot six inches, "Tiny" was the only true Indian fast bowler in those days and he also had a lethal bouncer (he died in 1998). His immediate neighbour was badminton star Pradeep Gandhe, who won several medals for India and was a doubles specialist. He was an engineering graduate, and his angles and placements were always well structured. He has a never-say-die attitude and still plays in veteran tournaments. And, along with Sunil Gavaskar, he could have made a great badminton pair. Their schedules, however, did not permit it.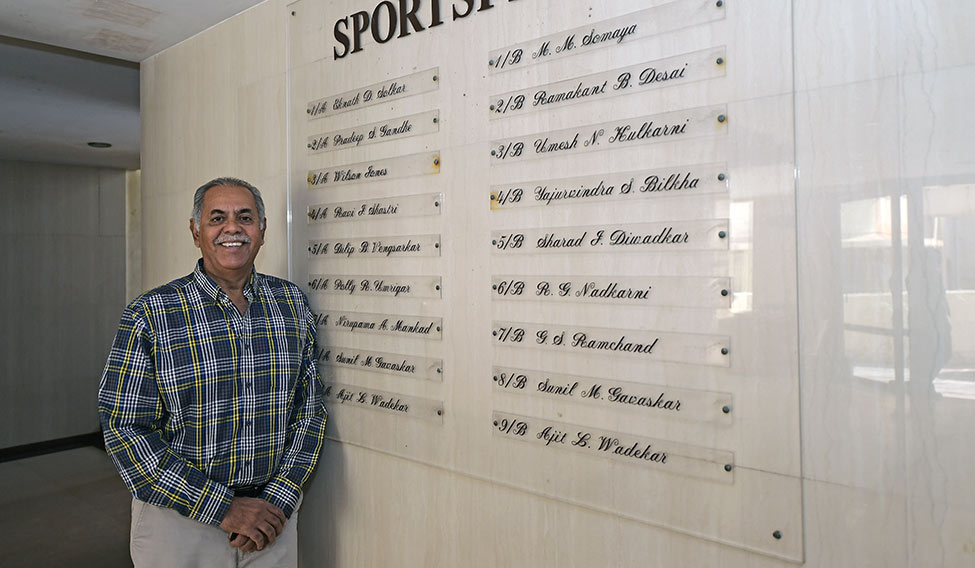 On the first floor lives M.M. Somaya, the former captain of the Indian hockey team. He was part of the team that won the gold medal at the Moscow Olympics in 1980. Somaya was known for his precise passes and was an important part of the centre line, which made the Indian forwards dangerous. The hills of Coorg blessed him with a lean and fit physique, and a cool and quiet temperament. He is a director at Bharat Petroleum and his corporate inputs have been of immense value during the huddles at Sportsfield.
The great all-rounder Eknath Solkar lived across his landing (he died in 2005). Ekky was easily India's best fielder. He could be positioned anywhere, and his agility and safe hands made him a phenomenon. One of the stories he relayed was the way he caught Alan Knott at the Oval in England in 1971. He and off-spinner S. Venkataraghavan had hatched a plan. Knott loved to play the off-spinner towards leg slip for a single. The duo decided to leave the gap for him to do so. The plan was to make him play the shot and then Solkar would move in that direction as soon as the delivery was bowled. The plan was put into action and because of the momentum that Solkar had already initiated, he could dive full length to catch the ball inches off the ground. "A big thud, a few sore ribs and chin was worth the pain for the country," he said. He was a true frontline hero who took umpteen blows on his legs, chest, back and even on his head.
During the 1992-93 Mumbai riots, which truly brought us all together, there was a lot of tension. One morning, we saw an unruly crowd near our building. An intercom alert was promptly conveyed to each flat. At the time, we did not realise that the reason for the assembly was that a driver and his family, belonging to a particular religion, were to pass by shortly. The crowd seemed to know about this and, on seeing the car, pelted it and managed to stop it in front of our building. There were frightened women and children inside, pleading for mercy. Sunil Gavaskar immediately ran down, instructing us to come down as well. The brave Gavaskar and the agile Solkar were already in the melee when we reached. The reliable partnership, which had saved India and Mumbai on numerous occasions on the field, was now doing the same for a petrified family. Gavaskar challenged the crowd by saying that before they harmed any of the occupants, they should first hit him. Seeing the legend and a troop of celebrity sportsmen protecting the helpless family, sanity prevailed and the situation was diffused. The team of sportsmen with a bat, tennis racket and a hockey stick was a sight to see.
In my career, 40 years ago, there was an unbelievable success. I equalled two world records—seven catches in a Test match and five in an innings—in my first match. It was like a dream. It was an achievement that will always be a part of me. I am so blessed to live among these legends and one hopes that more sportsmen get together to live a life that leaves memories so enchanting.