They say all empires end, eventually. And what was true of Rome and Babylon, and of course the British, is very much the stuff of sports today.
There are two continental football championships in full swing just now. Brazil's fall in the Americas was confirmed with indecent haste when the once almighty team of beauty failed even to get beyond the group phase of the Copa America Centenario—the centennial tournament of South America being staged, this time, in North America.
In Europe, meantime, a hint of resurrection is in the air. Of all the teams playing in the Euro 2016, the one that has impressed the most in round one has definitely been Spain.
Maybe it was premature to write off Spain after it surrendered its world crown so meekly in Brazil in 2014. Rebooted and rebuilt, and marvellously led by that wonderful gentleman-footballer Andrés Iniesta, the Spanish look to have pieced together their broken team, replacing the parts that simply grew too old.
I'm biased because to my eye, Saint Andrés, as his countrymen call him, is the epitome of what sport should be. He plays for the team. He distributes the ball with magical invention. He proves, at 1.71 metres, that it is not the size of man, but the reach of his imagination, that leads the way.
A Turkish rival kicked him brutally in a Euro game, but Iniesta took retribution where it hurt. He orchestrated Spain's 3-0 win with passing and movement that came close to what the Brazilians called Joga Bonito—the beautiful game.
Time may suggest that this was an illusion, though a glance at Iniesta's record is that of a serial winner. In his 12 seasons, Iniesta has won 8 Spanish league titles, 4 Champions Leagues, 2 Euros, and one World Cup.
He wears them all so modestly that one almost wishes to shout at Cristiano Ronaldo and Zlatan Ibrahimovic that a little quiet, a little humility, and some performance of which they are enormously capable would be appreciated.
Their careers are defined by the fact that one man never made a team. Iniesta, on the other hand, appreciates that he is lucky to be at the heart of a gifted generation of Spaniards, even after the retirement of his best friend Xavi Hernandez, and even with his Barcelona pals Lionel Messi, Neymar and Luis Suarez on the other side of the globe, at the Copa.
Actually, only Messi still is. Neymar did not attend because he prioritised the Rio Games where he hopes to lead Brazil to the one thing it has never won, Olympic soccer gold. And Suarez's country, Uruguay, did not last any longer than Brazil at the Centenario.
But there is no given right to win just because your nation expects. Sport would not be worth watching if dynasties like Brazil in football, India in field hockey, China in badminton and table tennis, or Australia and the West Indies in cricket simply kept their domination.
There are reasons for every decline. Historians have observed that the fall of empires is not for lack of power, but sometimes the opposite. Power leads to comfort, and comfort to complacency.
It is probably no bad thing that the West Indians, particularly Jamaicans, dream right now of growing up to be Usain Bolt rather than, say, Chris Gayle or (from their fathers' time perhaps) Sir Garfield Sobers or Sir Vivian Richards.
And, because we are so globally connected these days, what is to stop Neymar Junior from looking in awe at the great Pelé, who started at the same club, Santos, as he did? Neymar admitted that he cannot wait to see Bolt run in Rio de Janeiro. And he is counting the days to when both are in the Olympic Village in August.
When they are all back with their clubs, Neymar gets to share the field with Iniesta, with Messi and Suarez and whoever next FC Barcelona manages to buy this summer.
And right away, we see that the great players are not as bound by nationalism as they once were. Neymar has multiple choices. He has money, fame, homes across the oceans, and surely a better team to play for than any one country provides for itself.
Times change, the world moves on. If we narrowed down the discussion on falling sporting empires to just two—India with hockey and Brazil with football —it is complex enough.
You will have thoughts deeper than mine concerning the drying up of Olympic hockey gold, or the lack of medals of any kind, in "your" game.
From where I stand, the name Sachin Tendulkar means more than those magical hockey players Dhyan Chand and Balbir Singh. That is primarily conditioned by time and distance, and by the media. If there is anybody in the world who does not know of Tendulkar's achievements with a bat in his hand, then they probably have no eye for sport, full stop.
To appreciate what Chand and Singh did with a stick is handed down, not simply from those who saw them on the hockey fields, but from the obviously limited, grainy evidence on film. There was no instant television replay in their day, no Instagram or whatever technological aid we have at our fingertips today. India is playing catch-up on global technology, or more appropriately on the affordability of such gadgets.
I read that Balbir Singh, who like Chand won gold medals at hockey in three consecutive Olympics, refused to accept that the intervention of new technology (of artificial hockey pitches) explains why their countrymen lost what they had in their day.
Singh apparently believed that plastic turf, a level playing field, should enhance the dexterity of a hockey player's stick work. Blaming the pitch, or lack of access to it, he regarded as an excuse.
Clearly things were very different in Singh's heyday, the Olympics of 1948, 1952 and 1956. Even more so when Chand was the wizard of the dribble (like Stanley Matthews in England) because Chand's golden Games were 1928, 1932 and 1936.
Before your time? Very much before mine as well.
But I understand what they were saying when Chand spoke of practising by sprinting down railway tracks, balancing a ball on the rails, to improve his ball control. And what Chand said about sleeping with his stick at his side, and honing his reflexes by hitting a tennis ball against sharp angles in a narrow passageway. Whatever is under your feet, the dedication put into sport gives you the better chance of getting something back. Like life, again.
I know Brazil rather better, having been to the favelas, the urban slums where many a football star begins life. The similarity is time spent, cramped space, not too many opportunities. Just the boy (or increasingly the girl), a ball of some description, and the will (the obsession) to master that moving object and anyone who tries to prevent you doing so.
So where, if expensive artificial pitches that India could not or did not invest in, did India's hockey prowess dry up after 1976? What, unless cricket gets played in the Olympic arena, will bring you gold again?
The last Games in London suggested that shooting, wrestling, badminton and maybe boxing are cause for hope. But, even with the world's second largest population and its largest democracy, who can argue that there are not greater needs, like housing and education and decent jobs, for governments and local communities to prioritise.
There have been states—the former German Democratic Republic and Cuba for example—that gave priority to winning gold. Russia, and progressively China, has the same idea now, seeking to promote the image of the state through games people play.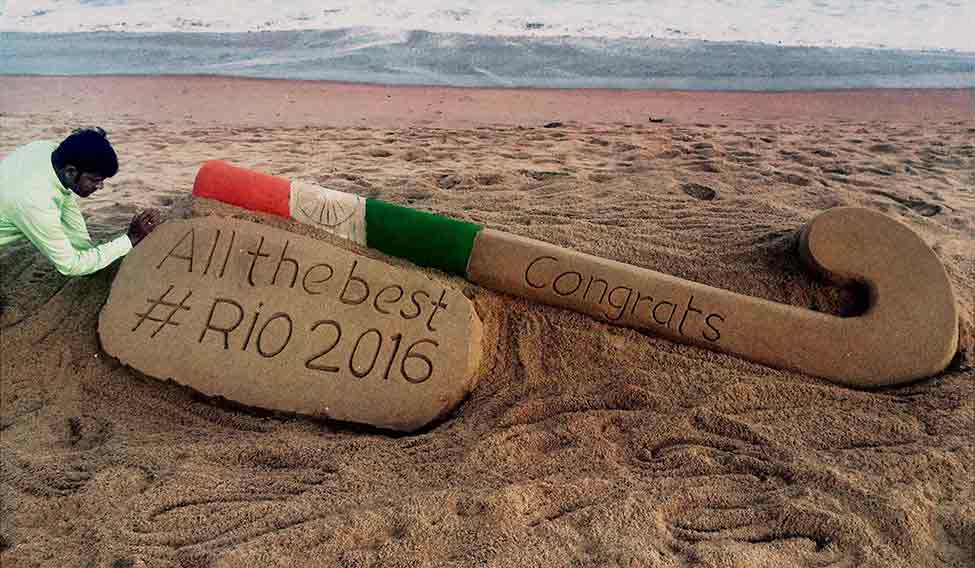 And Brazil? Its boom to bust economy, and the levels of corruption both allegedly in government and in football administration, makes it anything but the envy of the world that Joga Bonito appeared to make it.
I'm fortunate to have witnessed the 1970 Brazilians in the flesh, and to have known some of the players personally. Since that time, despite a thrilling return to freedom of expression under Telê Santana in 1982, Brazil has tried to play the game like Europeans.
Thus, we had a coach like Carlos Dunga who, until he was fired following this month's failure at the Copa Centenario, was too rigid, too much of a systems man to allow talent to flow in the national team.
Twice, Dunga has been the national selector. Twice it has failed. And seldom has it been enjoyable.
That is not to blame one man for the failure of a generation. Apart from Ayrton Senna's legacy as a motor racer, Brazil has never lost its love affair with soccer. But it has lost the hearts and minds, and the power of the bank balance, of countless players.
At last count, there were some 3,271 Brazilians playing overseas. They make so much more money with clubs in Europe, and these days with clubs in the Gulf and in China, that they lose touch with their roots.
Until the border dispute between Russia and Ukraine, there were more top Brazilians turning out for Shakhtar Dontesk, the club bankrolled by a billionaire oligarch who made his pile through mining coal (and some say through involvement with organised crime).
A few months ago, Alex Teixeira, one of the best Brazilians, left Donetsk to join the burgeoning exodus of players from his country going on the gold-rush that is becoming China's Super League.
From the very top, from Xi Jinping, the football fan who is president of China, there is a drive to recruit the best available football talent on earth. The best, individually if not now in the yellow shirts of the seleção, Brazil's national eleven, cost copious amounts of money.
China, unlike the Major League Soccer in the US, has the will and the cash to persuade young men in their prime to leave their clubs and join the new bandwagon. It is not just the proven players—like Teixeira, Chelsea's Ramires and too many to name—who are going Chinese.
It is the younger players, almost half the Corinthians team that recently won the Brazil championship, who have been lured to the Chinese league where the coaches include the 2002 World Cup winning manager Luiz Felipe Scolari.
Even more disruptive for Brazil, it is losing players in their formative years. Throughout the past week, Manchester City and Barcelona have been competing to buy Gabriel Jesus, a 19-year-old pacy winger from Palmeiras. He has had just one season in Brazil, and this is where identity is lost. So many even younger players are tempted abroad in their teens, and become shaped and developed outside the Brazil culture.
The money everyone can understand, given the instability of Brazil's economy, especially in the national game. But if the players leave the nest before they are weaned at home, what chance does the country have of being different to the rest of the world?
The gravy train leaves Brazil too early. The plastic fields are so numerous abroad and so relatively few in India. The "empires" may not rise again while so much is stacked against them at home.