Elza Soares, one of the most iconic faces of world music, died of natural causes at 91 at her home in Rio de Janeiro, Brazil.

One of Brazil's most successful and beloved artists, Soares's songs took samba music to the world in the 1960s. She released 34 albums in a career spanning six decades.

"The beloved and eternal Elza has gone to rest but she will forever remain in musical history and in our hearts and those of thousands of fans all around the world," said her family in a statement. "Just as Elza Soares had wished, she sung until the end."

Soares and Tina Turner were jointly named the Singers of the Millenium by BBC Radio in 1999.

The singer had a turbulent childhood. She was in Moca Bonita, a favela in Rio in 1930, to an impoverished family. Her father forced her to marry at 12 and she had her first child at just 13. She lost a second child to hunger when she was 15.

Rest in Power and Peace, Elza Soares (June 23, 1930 – January 20, 2022). Soares was an Afro-Brazilian samba singer. In 1999, she was named Singer of the Millennium by BBC Radio.

📸: Elza Soares in April 1972. Arquivo Nacional. Fundo Correio da Manhã. pic.twitter.com/iAsBF8EaUx

— Black Women Radicals (@blkwomenradical) January 20, 2022
At 21, her husband died of tuberculosis and she was left to provide for five children. But that was when her career as a musician picked up.

Two years later, she began dating Brazilian superstar footballer Garrincha. They got married in 1968, and she supported him through his alcoholism until they separated in 1977. Garrincha died of cirrhosis in 1983, and it left Soares devasted.

Between 1964 to 1985, she was blacklisted by the Brazilian dictatorial government for being vocal about black emancipation. This led her to exile in Italy.

Following Soares's death, Brazil's former president Luiz Inacio Lula da Silva said the country had lost not only one of its most potent voices "but also a great woman, who always defended democracy and good causes".

The music icon was an activist as well, using music to champion racial justice and women's rights. One of her most popular songs since the turn of the millennium was titled 'A Carne', which translates to 'The Meat'. In it, she sang: "The cheapest cut on the market is black meat."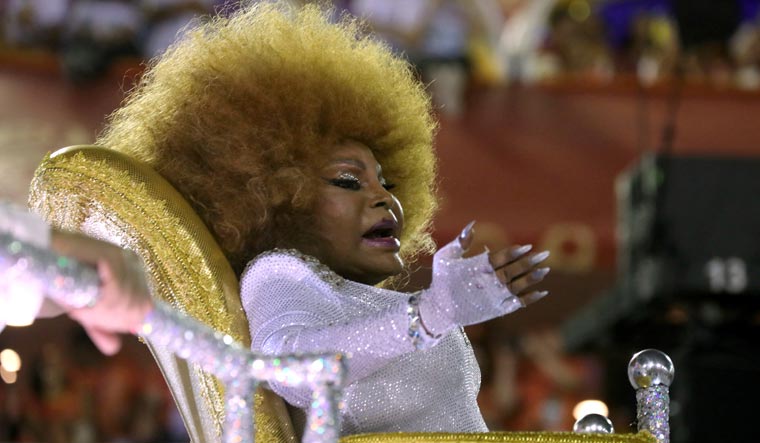 "Brazil is the most racist country," she told Globo.com in 2019. "Things here are awful, it's an illness with no cure, an absurd situation. It is my race that I'm watching be destroyed and we have to speak out and say enough's enough."

Soares died months away from the release of a new album. In the last few years, she sang at events seated in a chair because of a back injury she sustained when she fell from a stage in 1999.

Though primarily a samba singer, Soares's songs would flow between samba, jazz, hip-hop, Brazilian funk and electronica.

Footballer Pele, who played with Garrincha, said that Soares was a "legend of our music, historic, genuine, unique and unparalleled" in his tribute to her.

"Today she leaves us, but in the heart, she will always be eternal."