Sports buffs would know they are living in interesting times when they hear curses in Chinese on a badminton court. It is rare for players from China to give vent to their frustration if a match is not going their way. Rarer still, to let out cries of desperation after losing a match. But, at the Badminton World Championship in Guangzhou last August, P.V. Sindhu of Andhra Pradesh had two top Chinese players at their wits' end. She defeated second seed Wang Yihan in the third round and seventh seed Wang Shixian in the quarterfinal to become the first Indian to win bronze in the women's singles event in the tournament.
Almost overnight, the "kid" at Pullela Gopichand Badminton Academy in Hyderabad became badminton's wonderkid. "Let us not forget that she is still a very young girl," says Gopichand, who has been Sindhu's coach for the past several years. "At 18, she has her share of attractions and distractions to deal with. I give her two years to turn into a true world-beater. She has proved that she has the ability to beat big names. But I'm looking for consistency. That will come with time."
If last year was Sindhu's breakout year, 2014 could see her scaling bigger heights. Her year is packed with the Commonwealth Games, the Asian Games, the BWF Superseries and a host of domestic events. Although she began on a disappointing note with her second-round defeat at the Maybank Malaysia Open in January, she more than made up by reaching the final of the Syed Modi Indian Grand Prix in Lucknow, where she lost to world no.7 Saina Nehwal, and winning the Manorama Indian Open in Kochi. On January 30, she rose a notch to become no. 10 in the women's singles rankings of the Badminton World Federation.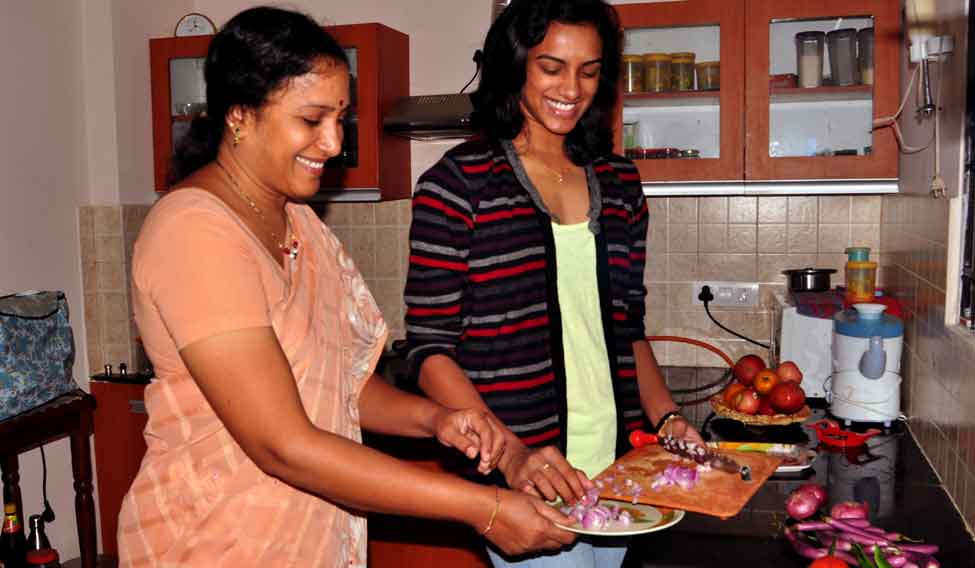 HER RISE HAS been meteoric, but it has certainly not happened overnight. Sindhu started playing badminton when she was a small child. Her parents, P.V. Ramana and Vijaya, played volleyball for the Indian Railways. Ramana, who was captain of the national volleyball team, won the Arjuna Award in 2000, when he was 39 years old. He could never have thought that his daughter would bag the same honour 13 years later, at half that age.
"Once, during a felicitation programme, we met Gopichand," he says. "Sindhu drew inspiration from him. This must have been in 2003-2004. Since then, she seemed so keen to play that I took her to the IRISET ground [in Secunderabad]. Mr Mehboob Ali was the coach and she played there for one year. She was eight then."
Sindhu later joined Gopichand's academy at Gachibowli. "From then on, every day, I would bring Sindhu to the academy at 5.30 a.m. from Maredpally [about 25km away] and bring her back at 3 p.m.," says Ramana.
The effort paid off. By the time Sindhu turned 14, she had won several national titles and was on her way to the international circuit. In 2009, she won bronze at the Sub-Junior Asian Badminton Championship in Colombo and represented India at the 2010 Uber Cup. The following year, she won silver at the Iran Fajir International Badminton Challenge in Teheran.
BY 2012, SINDHU had proved to be the best in her age group. But her defeat to Germany's Juliane Schenk at the Indonesia Open in June showed that she still had a long way to go. Since then, Sindhu had been fine-tuning her skills and learning new ones.
Her strategy has paid dividends. Days after her Guangzhou triumph, she beat Schenk and Tine Baun of Denmark at the Indian Badminton League. "I think my game has improved a lot," she says. "I have also gained a lot of confidence."
Badminton players peak at around age 27, which means Sindhu has the advantage of age. She is making most of her time, learning from her mistakes and adding weapons to her arsenal. More importantly, she understands her strengths and weaknesses and is developing her distinct style of play. At 5ft 11in., Sindhu knows that her smashes can be lethal, but she also realises that it makes playing low shots difficult. Unlike Saina, who is more aggressive, Sindhu likes to slog away rather than go for the kill. Gopichand says she will be more aggressive two years from now.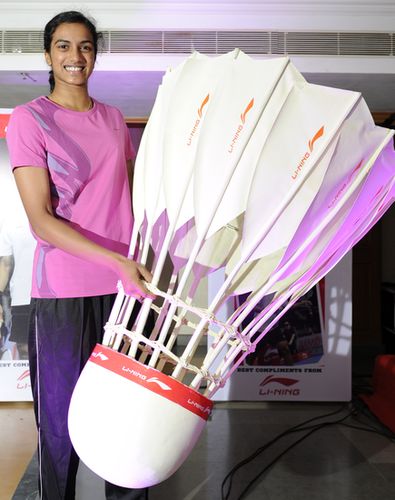 At the moment, she and Gopichand are focusing on maintaining consistency. "I know there are quite a few errors in my game, and I'm trying to improve," she told THE WEEK after her quarterfinal match in the Manorama Indian Open in Kochi. Her rival, Saili Rane of Maharashtra, had almost turned the tables by clinching the second set, but Sindhu rebounded just in time and went on to win the tournament.
SINDHU KNOWS THAT those kind of slips would cost her dear at the Asian Games or the Commonwealth Games, so she is training harder than ever. Her practice starts at 4.30 in the morning and ends at 6 p.m.
The punishing schedule means she has to miss out on her BCom classes and the movies she loves. "I like [actors] Prabhas and Mahesh Babu. I didn't get to watch Mahesh Babu's latest, though. I was in Malaysia [when it was released] and they said it was a flop," she rues.
Her regret, however, is just momentary. More than watching films and listening to music, Sindhu likes to spend time on court, improving her game and helping junior players. "I have all my friends on court with whom I can talk. This is also one way of enjoying," she says.
She shrugs off talk about her rivalry with Saina, who recently said it was tough to be friends with foes, when a newspaper asked about her relationship with Sindhu. "It doesn't matter whether we are friends or not," says Sindhu. "On court, friendship doesn't count. You just have to overcome your opponent."
Experts say that the rivalry, if it exists at all, is good news, as it would help India counter the Chinese hegemony in badminton. Though they are legends in their own right, players from China do not have a worldwide following, thanks to their apparent indifference to fans and the media. The match-fixing scandal involving four Chinese players at the 2012 London Olympics has earned them more disapproval. It is one reason that Saina has a huge following in Indonesia and Chinese Taipei's Tai Tzu-Ying was cheered on by the crowd while she beat Wang Shixian at the World Superseries Finals in Kuala Lumpur. With her exploits in Guangzhou, Sindhu, too, has caught the attention of the world.
Sindhu, perhaps, knows it when she says she is trying to match up to the "endurance level" of Chinese players. Her workout sessions, she says, now focus on increasing her agility and stamina-two qualities the Chinese are known for. "I'm only starting," she says. "I have been improving my game every year. And I hope 2014 would be as interesting as 2013."