"If my life was the plot of a Bollywood film, my father would play the role of the hero fighting villains" - Malala Yousafzai

On graduating, Ziauddin set about building a school. Malala often says she grew up in a school—her father founded his first school only three years before she was born and they lived in rooms above.

"Our daughter was like a universe for me.... When I heard she had been attacked, it was like when a computer has been hacked and doesn't work...." - Ziauddin Yousafzai
Wherever Malala Yousafzai goes—whether reminding world leaders at the United Nations in New York about education, chatting to Syrian refugees in Jordan, meeting the Queen, or posing with David Beckham for his Instagram account—close by is always a short, dapper man, with a neat moustache and an occasional stutter. Once well known as a campaigner in his own right in his home town in the Pakistani valley of Swat, Ziauddin Yousafzai, 46, is now recognised everywhere as the father of the most famous schoolgirl on earth. "I used to be known as Ziauddin the activist," he says. "Now everyone knows me as Malala's father. Or if I want to claim credit, I say I am the youngest-ever father of a Nobel Prize winner!"
That might be about to change, as he's about to star alongside her in a documentary, He Named Me Malala. An intimate portrait of his family's new home life in Birmingham, the film shows Malala juggling school work, bickering with her two younger brothers and blushing over photos of her favourite tennis  star, Roger Federer, in between meeting world leaders and picking up that Nobel Peace Prize. Above all, it is the story of an incredible bond between a father and daughter.
When I was getting to know the family in 2013 to help Malala write her memoir, it soon became clear that she is what she is because of her father. "He gave me wings," she says. So when the Oscar-winning American documentary-maker of An Inconvenient Truth, Davis Guggenheim, started following the 17-year-old and her family to film a movie of her life, it was no surprise that he ended up focusing on that relationship.
"As a father of two daughters who are often a mystery to me, I decided to take a more personal approach," he says. "I wanted to find out the nature of the relationship between this girl and her father."
It's a wonderful, teasing relationship that has played a huge part in helping keep Malala down to earth, amid all the attention as the girl shot in the head by the Taliban. Ziauddin is a warm, funny man. Like all Pashtuns, he is so hospitable, it is impossible to visit his home without being given a meal. He's also highly emotional—he often cried in our interviews for the book—and fiercely proud. "If my life was the plot of a Bollywood film, my father would play the role of the hero fighting villains," Malala laughs.
The teasing goes both ways. Malala would tease Ziauddin that he talked of women's rights, but he expected his wife to make all the meals. Ziauddin loves to talk, often cutting in on our interviews with his own stories, so that sometimes she would joke in mock exasperation: "Whose book is this?" Ziauddin's own story is, in many senses, as remarkable as hers—from a poor boy in a remote village going to school outdoors, to running his own school in the main city of Swat for 1,100 girls and boys.
Today, he feels as if he's a million miles from that little shack in a large, airy house in a leafy and affluent suburb of Birmingham. Now he spends half his time travelling, consorting with world leaders and attending conferences as adviser to Gordon Brown, who is the UN's special envoy on global education. But it's a life turned upside down, and he says there isn't a day when he doesn't yearn for his old life.
"People think I am now enjoying a very good life and I would be extremely happy," he says. "But I tell them that people in life have dreams, some to be very rich, famous or a doctor or engineer. Mine was to run a school, and I made that a reality. But now my realities have turned into dreams and I am struggling to turn those dreams back to realities."
His family, he points out, are refugees. "I sometimes think, how many people have lost their lives, their happiness, in this global terrorism?"
Of course, he is immensely proud of what his daughter has achieved. Last year, she became the youngest winner of a Nobel Prize—a moment he describes as "one of great joy"; this year, there was another when she scooped up 10 GCSEs: six A*s and four As. Yet, once, he was more famous than she was. In 2009, when I went to Swat to interview people about the Taliban taking over their valley, he was one of the leading activists. Like most people, I had never heard of Malala in those days.
So how did an obscure schoolmaster from a conservative culture in a remote valley in Pakistan father a global icon? As the title of the film suggests, the story begins with her name. A proud Pashtun whose family originally came from Afghanistan, Ziauddin named his first-born after that country's greatest heroine, Malalai of Maiwand. All Afghan children grow up with the story of the shepherd's daughter who lifted her headscarf in the air and strode onto the battlefield to inspire her fellow tribesmen to inflict a humiliating defeat on the British Army in the Second Anglo-Afghan War in 1880.
In their culture, while the birth of a son is celebrated with gunfire, that of a daughter is commiserated. Ziauddin refused to do that. When Malala was born, on July 12, 1997, his cousin, Jehan, came to visit. "He brought a family tree with 300 years of our forefathers and grandfathers, and there was no girl at all," Ziauddin recalls. "So I took a pen and drew a line from my name and wrote Malala. He stared at me as if I was mad. I knew we shouldn't make any discrimination between sons and daughters," he explains.
In many ways, Ziauddin's journey is an impressive one. Born in the village of Barkana in a valley in northern Swat—which still has no clinic and only sporadic electricity from makeshift hydro projects rigged up by locals—he was the youngest in a family of one brother and five sisters. That wasn't his only problem. "I had a stammer and I was bullied by distant cousins. But, right from the beginning, I learnt how to come out of this quagmire and turn my weakness into power."
His father was the village imam—as well as a high-school teacher—and he was famous for his fiery speeches. Ziauddin longed to speak like him and, one day, told his father he was entering a public-speaking competition. His father was horrified. "He said, 'You speak one line in a minute to me, how on earth will you speak to the people?' I said, 'No, you write the speech and I will do it.' "
He practised and practised, walking in the nearby hills, and on the day of the competition recalls shaking and sweating as he took to the lectern. But his confidence grew as he spoke, and he ended up winning first prize. His astonished father was the first to congratulate him. "He told me, 'From now on, you should write your name 'Ziauddin Shaheen', which means falcon, and you will fly,' " he says. "I am thankful to my father. He inspired me to learn, and once you inspire a child to learn, then you can't stop him or her. What my father did for me, I wanted to do for the whole community."
Most boys from his village ended up going to Gulf states to work in construction, or to mines in Karachi, and some became jihadis, fighting in Afghanistan. Helped by a local businessman, Ziauddin went to university, where he became a student leader and, on graduating, set about building a school. Malala often says she grew up in a school—her father founded his first school only three years before she was born and they lived in rooms above.
"It was very challenging," says Ziauddin. "In the beginning, we had only three or four students and a small building. I was teacher, manager, sweeper, accountant." At one point he sold his wife's wedding bangles to keep afloat, and they often went hungry. But, in the end, Khushal school flourished and, by the time Malala was a teenager, he had 1,100 students. "I had gone from a person who couldn't afford milk with my tea to employing 70 staff," he says.
In 2013, a few months after Malala was shot, I visited the school. I was amazed at the eloquence of the girls I spoke to. "We could have all been Malalas, but our parents wouldn't have let us go on public platforms," said one. Outside the school, Ziauddin was very busy expressing his own views. He helped set up the grandly named Global Peace Council Pakistan, taking on a number of local causes. "Right from the beginning, I believed I should lead a life that was meaningful, not just to live on my own and have kids, but to help my community. So, on that small level, I campaigned for democracy, education, peace, clean water and against deforestation."
He often took Malala with him to meetings at his friends' houses. "She was learning from the environment she was in, going to different seminars and rallies, and when my friends came to my home, she was free to speak." When the Taliban took over the valley in 2007 and started destroying schools, Ziauddin refused to be silenced. "We were demanding more girls' schools and women's empowerment, then they started locking up our women and destroying our schools."
The Taliban leader Mullah Fazlullah was a black-bearded man who became known as Radio Mullah, as he set up a radio station to broadcast his message across the valley. "Mullah Fazlullah used to give sermons every morning and evening, and his main propaganda was against education. Many families withdrew their girls from school."
By that time, the Taliban was killing people who spoke out against them, hanging them in the main square in Mingora. Ziauddin began to receive warnings that the girls at his school were wearing "un-Islamic uniform", and that it should close. Though he took some care, travelling different routes and staying in different places at night, he continued to speak out against Talibanisation. "Sometimes I was worried, but I always found my courage to be stronger than my fear," he says. "I thought if we kept silent things won't change."
In 2009, he was contacted by a local radio correspondent, Abdul Hai Kakar, who wanted a female teacher to write a blog for the BBC Urdu service about life under the Taliban. They all refused, scared of the repercussions. That's when Malala, then only 11, said she would do it. They gave her a pseudonym so no one would know. However, later she was identified and started speaking out.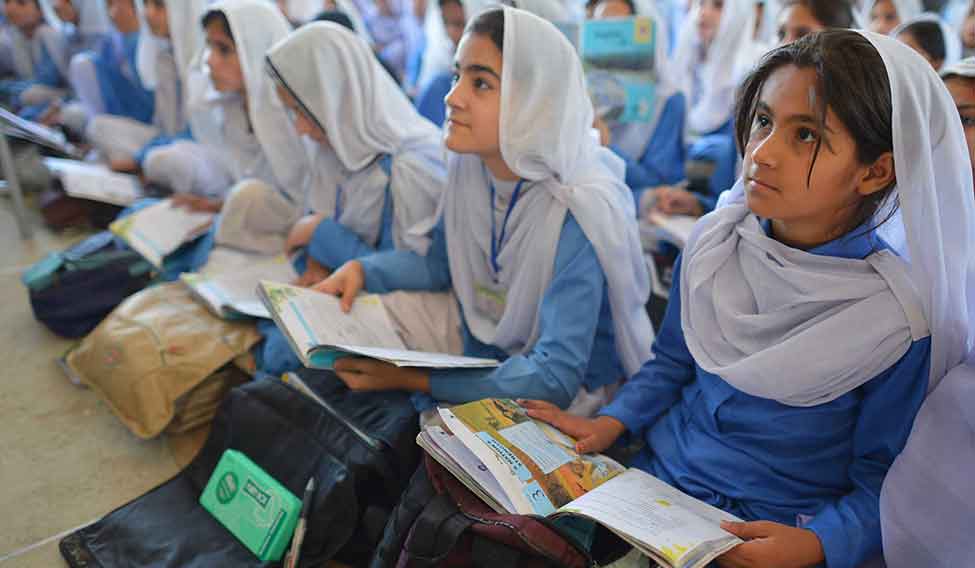 Ziauddin says it never occurred to him this was a risk. "I was so busy in my own activism. I was the principal of my school, president of the Global Peace Council, spokesman for the Swat Jirga, president of the private schools association, so I rarely thought about the repercussions of what Malala was doing, or that she had become a more powerful activist than me."
Even when they received a warning in early 2012 from the Pakistan authorities, he says: "I always thought the Taliban wouldn't attack a young girl, they had never attacked children." He told Malala to be more careful about naming Taliban members as terrorists, but says he never thought of stopping her. Ironically, the one precaution they took was that she would travel home on the school bus rather than walk.
On Tuesday, October 9, 2012, Ziauddin was at Swat Press Club for a rally of the private schools association, waiting to go on stage to give a speech, when his friend got a phone call and whispered to him that the school bus had been attacked and Malala hurt.
"It was the most difficult day of my life—like doomsday," he recalls. "Our daughter was like a universe for me, and when I heard she had been attacked, it was like when a computer has been hacked and doesn't work—the same happened to me."
He gave his speech, then rushed to the hospital. "I went to casualty and she was lying on the bed, and I just kissed her on her forehead and her cheeks, and told her, 'You are my brave daughter. I am proud of you.' "The hospital told him that the bullet had missed her brain. She was airlifted to the military hospital in Peshawar, and the doctors explained that it was a serious head injury, and fragments of bone had gone into the membrane of the brain. "I got very scared and thought she would die," he says. For a while, they waited to see what would happen, then, around midnight, a surgeon told him he needed to operate.
"He was very clear. 'Her brain is swelling and if it doesn't find space she will definitely die,'" he says. "It was very difficult to sign the consent, as it clearly said she may die. My heart was sinking, my hands shaking."
The operation went on for five and a half hours. "My wife and I cried all night," he recalls. Finally, they emerged from the operating theatre. "They told me they had removed a part of her skull." But then her organs started shutting down, so she was transferred to Rawalpindi, then flown to Queen Elizabeth Hospital in Birmingham in a coma.
While desperately praying for her survival, one question kept going through his mind. "I kept thinking, am I responsible for what's happened to Malala?" he says. "I asked my wife, but she said, 'Look, you stood for right things, for righteousness, she stood for right things, and what happened comes with this missionary life, and you shouldn't blame yourself." He cries as he tells the story, and still cries, sometimes, when he hears his daughter's laughter floating in from the garden, knowing how he almost lost her. Three years on, their life has turned around. "It's hard to get my head around how that local, small movement against the Taliban, against militancy, for education… Malala has become the global extension of it. When we met in Swat in 2009," he tells me, "I never thought I would be sitting in Birmingham with you today and be discussing so many issues."
However, if they could, they would return home in a moment. "I love the UK, it's a great country and I am very grateful," he says. "I've even got used to the rain. But I didn't choose it for myself. I am struggling."
Of course, he is proud to be known as Malala's dad. "I am proud to be known by my daughter, as all fathers should be, but this global recognition has come with the loss of living in the land where I was living. It would be better if I was in Pakistan and people there knew me as Malala's dad.
"It's like a man who plants a tree for himself, tends it until it grows and wants to sit under its shade," he explains. "Back home, in the morning I took breakfast with my children. Then I would see the smiling faces of my schoolchildren and meet with my teachers. Then, in the evening, I used to meet my friends and discuss politics. It was an amazing life."
Sadly, without his leadership, the school in Swat is not doing as well. Pupil numbers have fallen by almost half, to about 600. Some parents withdrew their children after Malala's attack, fearing the school would be targeted. When a new school in Swat was named after Malala, the girls came out, saying: "This is a very dangerous name and we may be attacked." "We told them, 'Please change it. We need education, not names,' " says Ziauddin. But he says the main damage was caused by the massacre, last December, at a school in Peshawar, when the Taliban killed 132 children.
"When Malala was attacked, people thought, well, she was attacked because she was speaking out, and if you don't speak against the Taliban, they won't attack you. But, with the Peshawar massacre, the Taliban proved they have no limits. Now people think the Taliban can go after any school, kill anybody anywhere."
Mullah Fazlullah, who ordered Malala's shooting, is now head of the whole Pakistan Taliban, making any idea of their return out of the question. Yet, though his children are all settled in schools in Birmingham and Malala has recently started her A-levels, Ziauddin still hopes they will return home. "That's the only hope we are living for. If someone tells me, you will die in any other part of the world, this would kill me. I will go back and must go back."
In the meantime, as anyone watching the film will see, it's not only Malala, with her campaign to see all children in school, who has a message for the world. Davis Guggenheim, the director, said he found himself envying the relationship between Ziauddin and his famous daughter. "I would return home to LA after filming with the family and ask myself some tough questions about myself as a father. Do I believe, really believe, like Ziauddin believes, that my daughter is equal to my son? Or do I just give lip service? This Pakistani man has challenged my assumptions."