Along the banks of the Pearl, the third longest river in China, high-rises emitted diverse shades of LED brightness. On the top deck of an illuminated boat sat President Pranab Mukherjee, flashing a smile that reflected on the faces of those who crowded around him. It was close to midnight on May 24, the day he landed atin Guangzhou, in Guangdong province, but there was no sign of tiredness as he posed for pictures and recalled his earlier visits to China. He wondered at the changes that had taken place in China's business capital since his last visit in 2008, as foreign minister, to inaugurate the Indian consulate in Guangzhou. Fifteen years before that, his port of call during his first ever visit to China, when he was deputy chairman of the Planning Commission, was Guangzhou as well.
As the boat returned to the Pazhou Convention Centre Jetty at the end of the 45-minute ride, Mukherjee got up to disembark and the vessel swayed ever so slightly. He appeared to lose balance and one of those around offered a helping hand. "Nahi [no]," he said, steadied up and walked down in slow but measured steps.
President Mukherjee was on familiar ground, literally and metaphorically, during his first presidential visit to China that lasted four days. The visit came in the backdrop of strained relations between the two countries, courtesy China's opposition to India's attempt to become a member of the Nuclear Suppliers Group and India becoming a strategic ally of the US. Mukherjee's objective was to iron out the creases in the relationship and thus prepare ground for a fruitful meeting between Prime Minister Narendra Modi and President Xi Jinping on the sidelines of the 11th G20 summit to be held in Hangzhou, China, in September. There is no better firefighter than the president, whose crisis management acts as a Congress leader are legendary. What also helped was the fact that the Chinese leaders hold Mukherjee in high regard. At meetings in Guangzhou and Beijing, he was hailed as an "elder statesman" and a "friend of China".
The selection of Guangzhou—instead of capital Beijing—as the first stop was a masterstroke in itself. "This historic city has always been an important port of call for Indian business," recalled the president at the India-China business forum on May 25 in Guangzhou. "It is here that we find the ancient foundations of the thriving trade and economic ties that exist between India and China today." Guandong province has the largest number of Indians in China, and is the gateway to Chinese trade and commerce.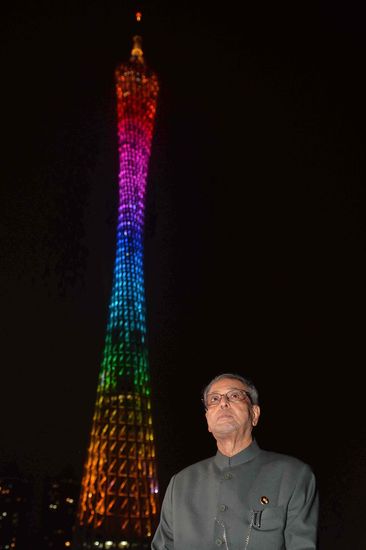 Mukherjee showed he meant business when he reminded the Indian community, which had gathered at the Pearl ballroom of the Shangri La hotel on May 24, of India's efforts to get China into the World Trade Organisation. "India felt that we cannot have a WTO without China," he said. The message was hard to miss, as India's NSG membership hinges on Chinese support. He was at his eloquent best when he talked about the historic ties between the two countries, which included a direct sea route from Guangdong to silk city Kanchipuram in south India in second century BCE. "The world is too close today," he said. "The internet and mobile phones made it possible and China and India are its biggest consumers. Together we are 2.6 billion people and if we work together, sharing the best practices, boosting trade and commerce, there will be peace and prosperity."
The business end of the trip unfolded in Beijing, where Mukherjee was warmly welcomed by Xi and Premier Li Keqiang. Apart from the political delegation, Mukherjee also had an academic delegation comprising heads of seven educational institutions, including two IITs and an IIM. Six of them signed MoUs with 10 Chinese universities, at Peking University on May 26, concerning academic cooperation, research and training in areas such as science, engineering, management and social sciences. This move, a first of its kind between India and China, was probably fuelled by Mukherjee's belief that more people-to-people contact will help resolve the many problems that lie at the heart of bilateral relations.
In fact, addressing students and faculty at Peking University, Mukherjee suggested eight steps to resolve issues between India and China: improve contacts between people's representatives at all levels; engagement between the youth on both sides; utilising the power of visual images and celluloid; more intellectual and cultural exchanges; boosting tourism; civil societies on either side addressing common concerns including urbanisation and environment; using common platforms such as G20 to create awareness about desire for a shared future; and boosting trade and commerce. "Let us not pass down our problems to the next generation," he passionately appealed to the wise heads, with the young heads as witnesses.
The themes that echoed across Mukherjee's addresses in China were: shared future, shared goals, shared interests, common aspirations and mutual trust. No wonder, as Foreign Secretary Dr S. Jaishankar said "there was a deep appreciation of the president's visit". "It was generally felt that in uncertain times globally, there was greater responsibility on India and China," he said. The Chinese listened to India's concerns about a "predictable environment for nuclear energy production"—read membership in the NSG—and Mukherjee requested President Xi to give it his personal consideration. The issue of cross-border terrorism and terrorism of all kinds was brought up, and the need to have closer cooperation in the United Nations was also discussed. The Chinese leaders agreed that there should be more cooperation. On border issues, while admitting that differences remained, it was agreed to create a peaceful and tranquil border. And, the Chinese agreed to relax the visa regime for Kailas-Mansarovar pilgrims through Nathu La pass.
On his return, on board Air India One, President Mukherjee was the happiest. When reminded that Xi was all attention as Mukherjee chatted away at the banquet in his honour, the smile grew wider. "President Xi is bold and knowledgeable," he said. "When we met in Delhi, we had hardly any time to talk and I told the president that I will make up when I visit China. And I more than made up!"