Actually, it's not. The accent, that is. Kunal Nayyar sounds nothing like Raj Koothrappali, who talks in a pronounced 'Indian' accent in the hit TV sitcom The Big Bang Theory. Nayyar, in real life, speaks in a clipped, convent-ish accent that the urban elite of India would be pretty familiar with. Edged nicely with a tinge of American twang. Mention it to Nayyar, and he comes up with an explanation for it. "Raj has not been in America as much as Kunal has been (He moved to the US 14 years ago)," he explains. "I may sound more Americanised, but that is human nature. Wherever we are, we try to adapt. You know, at home I sound a lot more Indian." Home would be the chic pad in Los Angeles he shares with his wife, former beauty queen Neha Kapur, who was Miss India in 2006.
If you think that's awesome for someone who plays a socially awkward geek, then get this—Nayyar is today one of the highest paid male actors on TV. Estimates suggest he earns around Rs.30 lakh per episode.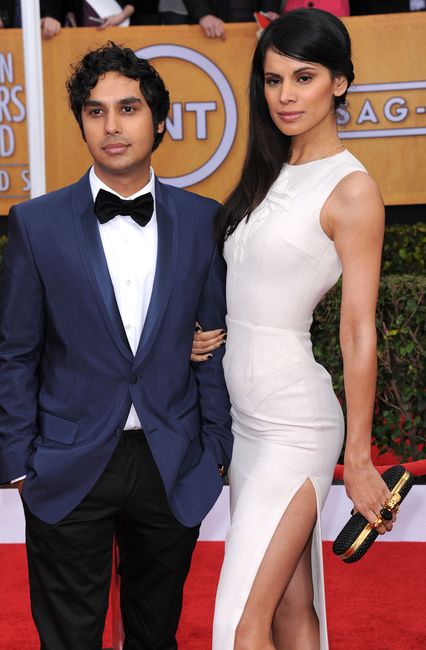 And why not? Since premiering in 2007, The Big Bang Theory has been nothing short of a phenomenon around the world, including the US and India. In the process, it actually made science—and being a nerd—quite cool in today's post-internet world (Sheldon would say a 'Bazinga!' to that). He has also been part of Hollywood projects like Ice Age, as well as an indie production by Salman Khan. He has performed in off-Broadway shows, and says he is shopping around for producers for TV scripts he has written over the years. And yes, he's just launched his first book. Yes, My Accent Is Real And Some Other Things I Haven't Told You, at first look, seems like a Big Bang BTS.
Nayyar maintains the same dorky, inept look on the cover that he has perfected over eight seasons, including a desi jooti which stands out against his blue suit. There is a reason why the jooti is there.
"This book is not a tell-all about myself or the show. I do talk about The Big Bang Theory audition, how I got the role....but we have an unwritten rule—what happens on the sets stays on the sets."
As the back sleeve text puts it succinctly, 'This is not a memoir. I'm not a president, or an astronaut, or a Kardashian."I wanted to humanise my world," Nayyar explains. So, he reveals more socially awkward moments in the first few pages of the book than perhaps what Raj faces in entire seasons of Big Bang.
He mistakes an awkward first kiss for a sacred commitment and basically roams around New Delhi desperately for ways to get a nookie. Things don't change much once he moves to the US to study, though the scoring rate does seem to improve. "When you are young, you don't always want to think from your heart," he hints. "As you get older, you get serious about love. It was the same with me. I started wondering."
The book does cover his first date with Neha at a bar in Delhi, culminating in their week-long big fat Indian wedding, his auditions ('where I… did my funny Indian thing'), his entry into an iconic sitcom and his favourite Indian festival (which is, basically, all of 'em). Along the read, you get this sense of India being packaged for a largely ignorant western world, this time not with snake-charming fakirs or polo-playing elephants but by er... cola-chugging schoolboys and horny adolescents trying to score in the back rows of Delhi cinema halls. Nayyar agrees, and disagrees. "This book is not just for Americans, it is for readers around the globe. [After] Big Bang became popular, I started appearing on Conan and Ellen [TV talk shows]. They… asked me a lot of questions about India. That's when I realised life was quite similar everywhere. The difference is just the backdrop."
For a reader in India, the anecdotes about a young Kunal running after girls, and his funny take on Indian festivals may sound like deja vu, but where he scores is the stand-up-comic-act manner of writing (he recorded a lot of the material on tape), which is easy to read.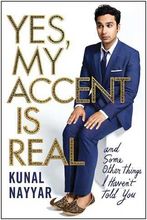 While the self-deprecating humour does get to you at some points, it has surprisingly the tender moments, where he recounts advice from his dad, life lessons he picked up along the way and his fond nostalgia for old friends. And forget those The Big Bang Theory diktats, we would still like him to come out with a tell-all on the show. Or at the very least, maybe a 'how to score with Kaley Cuoco' manual?
Yes, My Accent Is Real And Some Other Things I Haven't Told You
By Kunal Nayyar
Published by Simon & Schuster UK
Price Rs.375; Pages 245