I was greeted by gracious smiles and lines from the Hindi song Jimmy aaja from the eighties' blockbuster Disco Dancer.
I was puzzled when I first heard of Bashkortostan. Where on earth was this place? In the era of Google, when information about every place is just a click away, the fact that I had never heard of it came as a surprise.
An explanation for the place's geographical seclusion was found in an official document of the Russian Federation about the Republic of Bashkortostan and its capital, Ufa. According to the document, Ufa could be called "UFO city", because, till a few years ago, not many in the world knew it even existed.
Come July, and Ufa would host the BRICS (Brazil, Russia, India, China, South Africa) summit. I went to Ufa and found the city to be a modern, high-tech one, with well-planned transport systems, efficient water supply and beautiful roads lined with tulips on either side. With its lakes and vast landscapes, the countryside is pristine.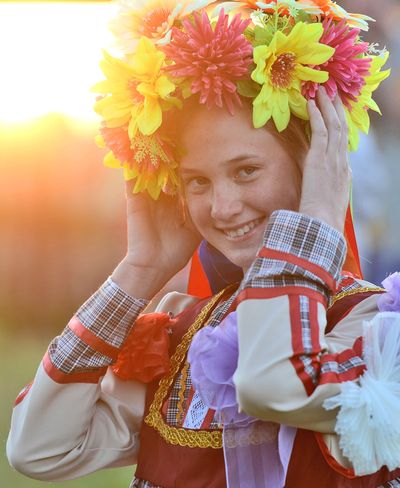 Bashkortostan is culturally diverse, with smiling and guileless people. For rural Bashkirs, there are reasons to smile. It is summer now. Snow has melted, weather is inviting, and it is time to make merry at 'Sabantuy', the traditional summer fair where ethnic groups like Bashkirs, Tatars and Chuvashes gather to dance and sing traditional songs. Men play the accordion and women, dressed in traditional finery, dance to the tunes. Children participate in traditional sports like wrestling and pole climbing. The pole, inclined at an angle of 60 degrees to the ground, is flexible enough to spring back and forth, adding fun to the climb.
Almost every village in Bashkortostan has a war veteran. Towns have monuments for unsung heroes of World War II and the Cold War. Horses graze on the vast meadows in Bashkortostan. The animal, used for transport and meat, is part of every Bashkir's life. And so is a traditional drink called kumis, which is made of horse's milk and tastes sour. Kumis is served on almost all occasions. The Bashkirs just love it.
Passing through the countryside, one can see colourful boxes amid flowering fields. They are apiaries. Beekeeping, along with dairy farming, is a major occupation in the area. Bashkortostan produces a unique honey from summer flowers. Share a cup of tea with a Bashkir family, and they would offer you crystallised Bashkiri honey instead of sugar. They also use honey as a dip to munch on shak shak, a traditional sweet dish. Shak shak in honey tastes like heaven.
Islam entered the region in the tenth century. A majority of Bashkortostan's population is Muslim, and so are the Tatars and the Chuvash. There are Catholics, too. Muslims here allow women to enter mosques. Even weddings take place inside mosques.
Indians get a special welcome here. I was greeted by gracious smiles and lines from the Hindi song Jimmy aaja from the eighties' blockbuster Disco Dancer.
India is so well-known here that a popular patriotic poem by Miftahetdin Akmulla, a Bashkiri poet, that hangs framed in a museum in his village ends with this line: "A wise man will see this miracle as he would see Hindustan from his ship". The best part of Bashkortostan is its people. They were so friendly that, as I bid goodbye, I wanted to be back soon. I looked up and envied the migratory birds. Every summer, they fly over Bashkortostan as they make their way back from their habitats in India to their Siberian homes. If I were one among them, this land would be my stopover.