Shah's deification of Modi is clearly aimed at giving India a new iconography, shunning the one dominated by the Congress pantheon.
Monsoon kept its date with Kerala, so did Amit Shah. On June 2, the BJP president checked into the state guest house in Kochi, after flying economy class on a private airline from Delhi, along with general secretary Bhupindra Yadav, party cells coordinator Arvind Menon and IT cell in-charge Amit Malviya.
Shah had decreed that leaders should spend a night wherever they go for party work, but they were barred from using chartered flights or staying in posh hotels during non-election time—a rule that caused heartburn among some leaders of the cash-rich party.
When THE WEEK caught up with Shah on a rainy evening in Kochi, Shah was his usual combative self. Dressed in a white kurta-pyjama, with a scarf around his neck, he was keenly attentive to questions posed to him, despite having a hectic day of meetings.
To understand his political craft, I asked him about his strategic thinking. "Experience is such a subject which has no syllabus," he said. "One gains by going from village to village, the way I am doing now." His laughter made it clear that he would not let his secrets out easily.
In his reflective moments, it is said Shah quotes the ancient political thinker Chanakya to explain his methodology to his confidants: "The success of any mission or concept depends on the secrecy maintained around it."
The stunning effect of that secrecy was on display when Yogi Adityanath was chosen as Uttar Pradesh chief minister in March, disappointing Manoj Sinha, the frontrunner for the post, who had started visiting temples for thanksgiving. A similar script was played out when Shah loyalist Vijay Rupani was picked as Gujarat chief minister last August, even as state cabinet minister Nitin Patel had started giving interviews as CM probable.
And on June 19, he sprang another big surprise as he announced Bihar Governor Ram Nath Kovind as the National Democratic Alliance's candidate for the presidential election. A former head of the BJP's Dalit Morcha, Kovind never figured in the political pundits' list of probables. Apparently, even the party's parliamentary board members were not aware of the choice.
Shah shares information on a need-to-know basis and allocates work based on the skills of his assistants. This has become a norm, which is one reason why his political rivals are yet to figure him out.
For Shah, trust is paramount. And, the people he trusts are not always visible in the public domain.
"One should learn strategy from Amit Shah," said his mentor, Prime Minister Narendra Modi, during the BJP's national executive meeting in Bhubaneswar in April. "There may be strategists in every street now, but one should learn from Amit Shah how to devise a strategy and guard it from opponents and even allies." Shah was given a standing ovation.
As the Modi government completes three years, the prime minister's most trusted man also completes three years as BJP president on July 9, with some enviable achievements under his belt.
And, it has been quite a journey. "I became a booth in-charge at Sanghvi High School [in Naranpura, Gujarat)] at the age of 16," Shah recently said at a meeting in Raipur, Chhattisgarh. "Poster lagaate lagaate, jhande lagaate lagaate, danda khaate khaate, meri party ne mujhe president banaya (After I kept pasting posters, hoisting party flags and getting beaten up with sticks, my party made me its president)."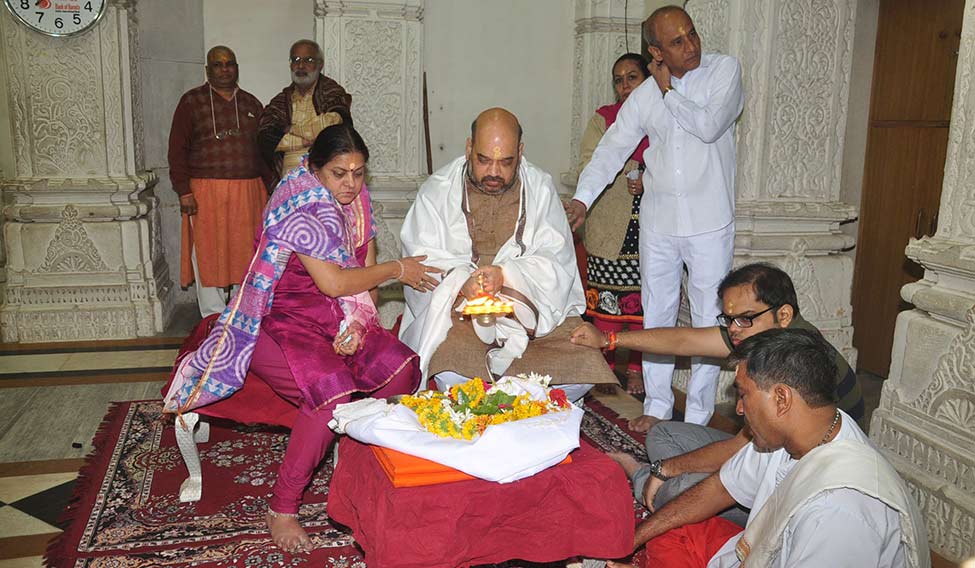 Joining the BJP in 1984-85, he rose up the rungs as treasurer of its youth wing and later as the party's vice president in Gujarat. He was election manager of L.K. Advani and Atal Bihari Vajpayee when they contested from Gujarat.
Shah, who joined the RSS at 14, first met Modi, who was a pracharak, at a shakha in Naranpura, now his assembly constituency.
"One day, Modiji joined him for lunch and told him how he should lead his life as a karyakarta," said Sunil Deodhar, RSS pracharak-turned-BJP leader. "He also advised him to join the ABVP [the RSS student wing]. After graduation, Amit bhai decided to chart his own course and sought guidance from his guru. Amit bhai said he wanted to earn 'thoda paisa (some money)' to be self-sufficient. Modiji said the keyword was 'thoda', and he should always remember its real meaning."
On turning 18, Shah started a PVC products business, even though his family was already prosperous. He earned good money, and then returned to party work, said Deodhar.
The guru-shishya relationship of Modi and Shah—arguably the two most powerful men in India today—has continued intact. "Shah is very protective about Modiji," said a close lieutenant of Shah.
Shah's deification of Modi is clearly aimed at giving India a new iconography, shunning the one dominated by the Congress pantheon. I asked Shah if he was trying to project Modi as a leader greater than Gandhi and Nehru. "No," he clarified. "I said, Modi is the tallest leader after independence. Modi was born after independence, so there is no competition with Gandhi." Modi is India's first prime minister born after independence.
The clever messaging in statements has been winning the BJP many political victories. For instance, Shah recently lambasted the Congress and called Mahatma Gandhi a "bahut chatur bania (very clever trader)", who wanted the party dissolved after India attained independence. He added that the Congress was anyway dissolving on its own.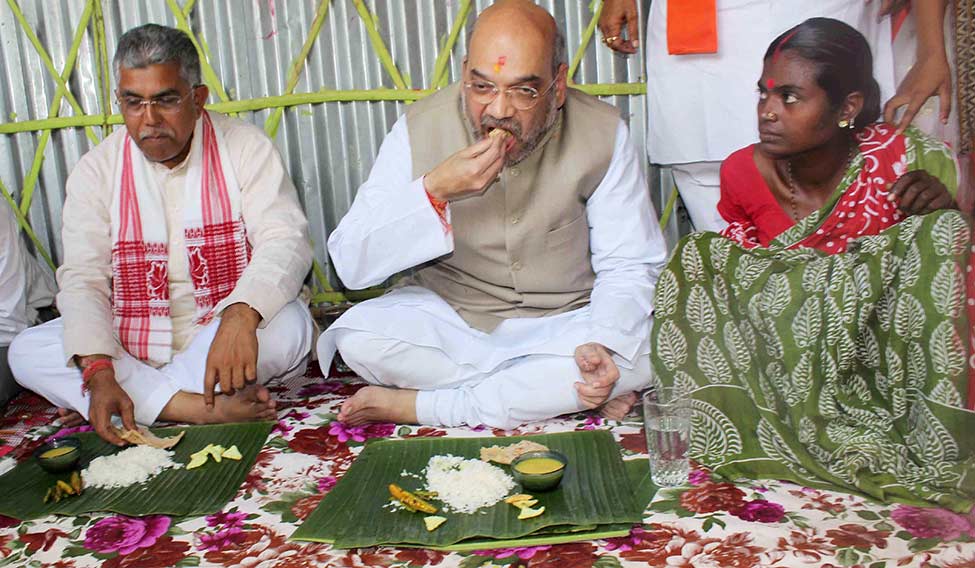 The 'chatur bania' comment inflamed passions, but the political payload was bang on target.
Shah had learnt about Gandhi early in his life. His mother, Kusumben, was a Gandhian, and a Gandhi portrait had a prominent place in the house. She introduced him to Hindu scriptures, too, at an early age.
Shah was the youngest child after six sisters and was close to his mother. It is said he never missed a chance to talk or spend time with her. She died in July 2010, a few days before he was arrested in the Sohrabuddin fake encounter case.
Shah spent 90 days in jail, and, when released, he was ordered to stay out of Gujarat, as it was argued that he could influence the case.
Knives were out even within the BJP. Party colleagues still shy away from discussing that chapter of arrest, which Shah alleged was orchestrated by the Congress.
"It is not the adversity which makes an impact, but how one reacts to it," Shah tells people close to him. One of his assistants said a swamiji went to meet Shah in jail. "He told Shah that adversity can kick one down or up. One has to choose the path," said the assistant.
Shah's sisters often met him in jail and conducted several pujas and took religious vows for his release. When the court ordered him to stay away from Gujarat, he lived in the Gujarat Bhawan in Delhi, until his acquittal in the case.
Born to an affluent Gujarati businessman, Anilchandra Shah, in Mumbai in 1964, Shah did his initial schooling in Mansa town in Gujarat, as his grandfather wanted him to have a proper cultural upbringing. Later, the family shifted to a modest two-room house in Ahmedabad, where he got better access to books. Recently, before his son's wedding, Shah shifted to a bigger house in the city.
A biochemistry graduate, Shah acted in many stage shows during college days. He is a classical music buff, and plays the mridangam. His old-time friends recalled his love for pakoras, and how he used to rush to gobble them down. Shah devoured books, too, and his favourite subjects continue to be spirituality and history.
Portraits of Chanakya and Vinayak Savarkar adorn the walls of the living room in his sprawling official bungalow at 11 Akbar Road, Delhi. "Maratha history fascinates him," said an assistant. "He often marvels at the way Shivaji and others tackled attackers."
The stratagems that he picked from the historical figures were honed by chess. Shah believed playing chess helped improve IQ, and got it introduced in the school curriculum when he was cabinet minister and chairman of Gujarat Chess Association. Gujarat was the first state to adopt chess as a compulsory activity in school in 2008.
Shah went for a clever gambit during the 2012 Gujarat assembly polls. The BJP was facing a peculiar issue. In one of the seats, its candidate was so strong that the rival candidate was not even campaigning.
BJP leaders worried that party supporters would turn complacent and not turn out to vote. Shah, it is said, ensured that 500 posters of the opponent were pasted in various parts of the constituency to create an illusion of a tight contest. The BJP candidate won with a huge margin.
Shah likes another mind game, cricket. He succeeded Modi as chairman of the Gujarat Cricket Association after Modi became prime minister in 2014. He turned it around, making it a cash-rich body. His son, Jay Shah, is joint secretary of the association.
Jay, his wife, Rishita Patel, and their three-month-old daughter stay with Shah's wife, Sonal, in Ahmedabad. Sonal hails from Kolhapur in Maharashtra.
In April, when the granddaughter was born at a hospital in Ahmedabad, Shah was seen cuddling the baby with joy. "He was very happy. He would smile at people for no reason. That was a different Shah," said an assistant.
Shah occasionally visits his family in Ahmedabad. Recently, he found time to watch films such as Baahubali, Bajirao Mastani, Baby and Te3n.
In Delhi, his day starts early. After light exercises, he has a typical Gujarati breakfast, and gets ready for the meetings scheduled from 8am. "There are no unscheduled meetings. No hangers-on are allowed, as he has no time for gossip," said an assistant.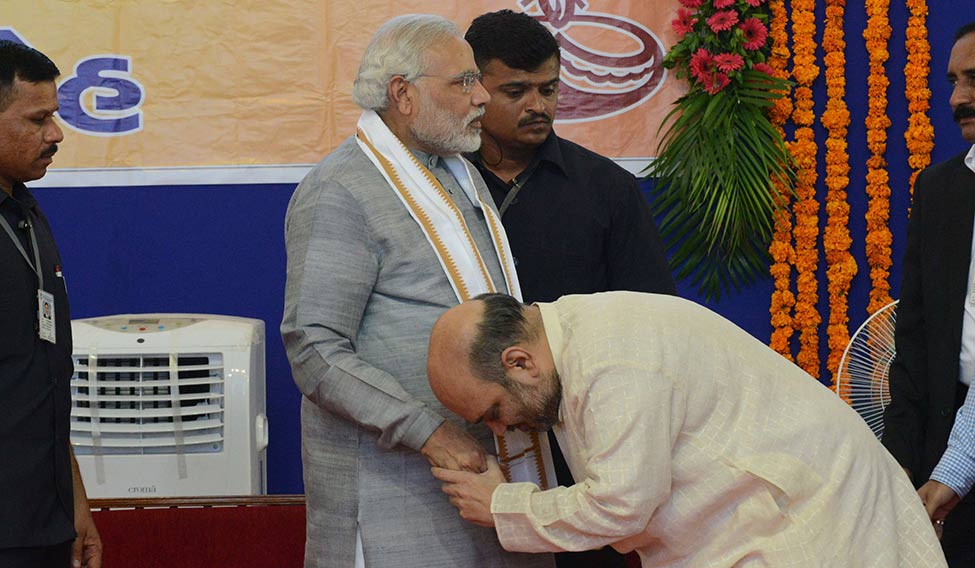 Food comes from home, but he doesn't mind eating outside while travelling. But he does mind missing his black coffee, a staple drink during the hectic meetings.
Working with Shah is not easy, as he is a hard taskmaster. Every 30 minutes, he is briefed on what is trending on social media. If any controversy brews up, he quickly shoots out instructions. In fact, the saffron camp's online presence is menacing, and the IT cell is loaded with arsenal to pulverise opponents.
"Shah has clarity on each and every subject," said BJP general secretary Arun Singh. "You ask him something today and after three months, you would get the same answer. He is a taskmaster who constantly inquires about work he has assigned. He himself is a hard worker and expects everyone else to be so."
Shah's style has been termed authoritarian even by party leaders. After the BJP's Bihar debacle in November 2015, he faced stinging criticism. Senior leaders such as L.K. Advani, Murli Manohar Joshi, Yashwant Sinha and Shanta Kumar issued a statement that the party was made to "kowtow to a handful".
But, after the impressive victories in Assam, Uttar Pradesh and Uttarakhand, and the post-election conquests of Goa and Manipur, everyone within the party has accepted Shah's supremacy. The opposition and civil society groups, however, decry the lack of freedom of expression under the Modi-Shah reign.
Shah has strong views on the national debate that raged after the arrest of a few student leaders of Jawaharlal Nehru University. "Nationalism is in our character. We are in politics because of nationalism. We have never termed anyone as antinational," he said. "But if anyone says the country be divided into hazar tukde (thousand pieces), then he is antinational. We do not have any confusion on that front. Anyone can criticise Modi or my party, but how can one talk about dividing the country?"
Similarly, he brushed aside the ruckus over restrictions on trade of cattle for slaughter. Wasn't the BJP interfering in people's food habits? "I don't understand how it affects food habits." he retorted.
Shah has strict rules for his party leaders. He insists office-bearers spend time in their offices and interact with the cadre. Meetings and assessments sometimes go late into the night. Said an assistant: "Shah's Akbar Road bungalow has peacocks roaming around. One night when a peacock screamed, he asked his aide why the peacock woke up early that night. The aide pointed out that it was already 3am."
During meetings, Shah listens to all leaders and workers, and takes notes in his spiral notebook. Then he 'decides' on issues, and decisions are final.
"I don't think before taking decisions, else nine out of ten projects will not be completed," he told an assistant. "Once I take a decision, I think of ways of achieving that goal and work towards it."
Dauntless in thought, ruthless efficiency in execution.