More than 70 years after the Constitution of India came into effect, most citizens are not aware of the values and deeper concepts enshrined in the document. Many are not even aware of the basics. To counter this, civil society organisations, movements, collectives, and even government agencies, have launched simple, fun-filled, activity-based initiatives to spread the message of the Constitution and equip citizens to contribute to nation building. Here are a few of them:
Citizen 2022, Kerala
Sajin S., a 34-year-old constable with the Kerala Police, has become much more aware of the need to treat every citizen with equal respect and care. The resident of Chithara gram panchayat in Kollam district thanks the Citizen 2022 initiative for this. The initiative was launched in his district in April 2022.
"Kerala Police cadre is already trained to be careful and considerate to citizens, but this initiative has made me grasp the idea [better]," he said. "I hope all my colleagues across the state get the opportunity to go through similar programmes." His wife, Anju M.R., 31, a lecturer in an arts college, said she knew the basics earlier, but the initiative changed her outlook and behaviour perceptibly.
Citizen 2022 is a state government-promoted initiative that has led to Kollam becoming the first completely Constitution literate district in the country.
Spearheaded jointly by the Kerala Institute of Local Administration (KILA), Kollam district planning committee and Kollam district panchayat, the initiative imparted the fundamentals and values of the Constitution to all 22 lakh citizens over the age of 10 in the district. Sudesan V., faculty, KILA, said that around 2,000 volunteers were trained for this task. "They used chart paper-based presentations and interactive sessions to communicate the topics to the citizens," he said.
In the second phase of the campaign, a Constitution literacy examination is to be held in the entire district. A pilot was conducted in the Chithara gram panchayat where 11,800 out of the 12,800 families took the exam of 10 questions for a total of 30 marks. The open exam was designed so that the families could sit together and discuss the questions before answering them together. "In the second phase, we selected the 1,000 top-scoring families from the first phase and gave them a 73-question, objective-type test with negative marking," said Sudesan. "The 100 top-scoring families were given gifts like televisions and refrigerators." Sajin and family got the 11th rank in the second phase.
The impact of the campaign is such that K.L. Santha, 63, a bhagavatam reciter, has put up a copy of the preamble of the Constitution with the photographs of gods on the wall of her modest residence in Kulathupuzha gram panchayat―the district's first gram panchayat to be officially declared Constitution literate.
Shobhana K., 54, an anganwadi teacher from Kulathupuzha, said that learnings from the campaign have given her newfound confidence to approach government officials to get her issues resolved. She administers the pledge of the preamble to the kids in her anganwadi with an emphasis on the word 'we'.
Samvidhan Mitra Mandal, Rajasthan
Bishan Kumar, 27, hails from a village in Rajasthan's Bharatpur district. Caste-based discrimination was the norm in his village. "We knew growing up that we should not eat at 'lower caste' homes or even sit near them," he said. Around two years ago, he met Mohit Sain in Jaipur; Kumar had moved to the capital city for work. Sain was a founder-member of the Samvidhan Mitra Mandal (SMM)―a forum that started in 2019 and is now working in about five settlements of Jaipur, which brings together a diverse group and inculcates in them ways of adopting constitutional values in day-to-day life.
"When I started participating in the SMM activities, I slowly understood the meaning and power of constitutional values―that all of us are equal," said Kumar. "Today, I am a [volunteer] working with the community. I am also working to change my family's outlook. Without SMM, this life-changing experience would not have been possible."
Harkesh Bugalia, a founder-member of SMM said that the forum uses activities, including art and performances, and simple educational materials like posters, banners and booklets. The focus is on explaining constitutional values and how to inculcate them, from being mindful of behaviour to engaging in dialogue.
Constitution fellowships, Madhya Pradesh
Shubham Baghel, 31, started off as a self-motivated journalist when he was barely 19, and as he got more experienced he became known for his impactful stories on health issues and malnutrition among the tribal population in northeastern Madhya Pradesh. Baghel, now the chief of the Shahdol edition of a national Hindi daily, had developed a perception that the aim of a journalist should be to expose loopholes in the system, hold authorities accountable and get them to initiate remedial measures.
However, in the past six months, his perception has changed. "Earlier, when I visited rural areas for my story, I mainly looked upon people as victims whose problems needed to be resolved," he said. "But, now my focus is on explaining constitutional rights and duties to the people so that they can seek their rights themselves and do what is expected of a good citizen." Baghel's change in perception was spurred by a constitutional fellowship for journalists and lawyers.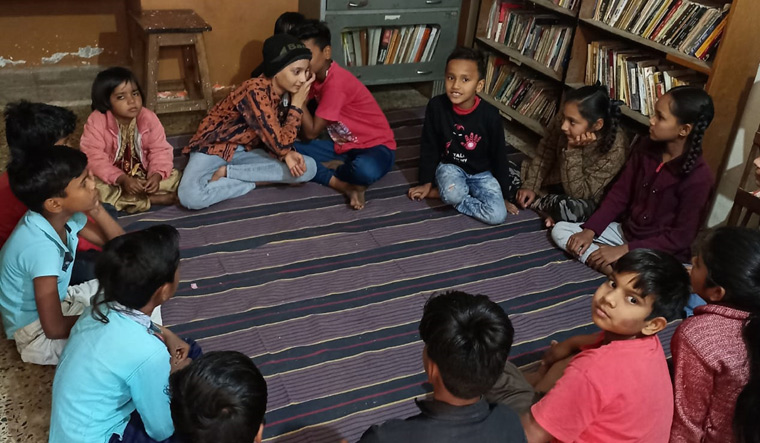 It is an initiative of Bhopal-based NGO Vikas Samvad Samiti (VSS) that aims to prepare "constitutional communicators". In the first batch in 2022, 10 lawyers and 15 journalists were selected for the year-long fellowship. They are expected to bring about required changes in their work in keeping with constitutional values, bring out reports and also activate groups of like-minded people.
VSS also works as a constitutional resource centre. It has created resource material, including three books and essays in the local language, on the Constitution and constitutional values. It has also started focusing on constitutional awareness in all its ground-level programmes. For example, activists working on different issues in 12 districts of four states are encouraged to read out the preamble of the Constitution and hold a brief discussion on it at the beginning of any programme.
"During youth meets, we include short discussions on constitutional values or simply try to look at issues raised by participants through the lens of the Constitution," said Chhatrasal Patel of the Prithvi Trust (network organisation of VSS), Panna, Madhya Pradesh. What spurred VSS towards this work? "We have been working on rights-based advocacy for 22 years and noticed a dreariness towards the Constitution," said Rakesh Malviya of the VSS. "So, we felt the need to promote the Constitution in a big way. We feel that the Constitution is like a source of light for our social work and it also is an instrument for the betterment of society and protection of people's rights."
CIVICACT Foundation, Delhi
A library-cum-activity centre in Dewas, Madhya Pradesh, buzzes with activity each afternoon, especially on Sundays. After school hours, kids and adolescents belonging to low- and middle-income families go there, not only to read and borrow books, but also to engage in interesting games and activities. They paint, make paper craft, participate in quizzes and puzzle-solving, write poetry and articles, and come out with a monthly 'newspaper' based on different themes linked to the Constitution.
In one such 'edition' on the theme 'equality', Harshit Prajapat, 14, questions the bias against boys in his co-ed school (why are boys scolded for talking in the class while the girls are not?) and discrimination on the basis of caste and looks. His tone in the colourful, hand-written article is aggressive, but his arguments are presented clearly. Harshit is the son of a single mother who works as a nurse. He wants to be a doctor and work at a government hospital to serve the poor. He says that since he started coming to the library a year ago, his English has improved and he started understanding the values enshrined in the Constitution better. "Earlier we hardly knew about the Constitution, but now I know that it says that all citizens of India are equal and free," he said.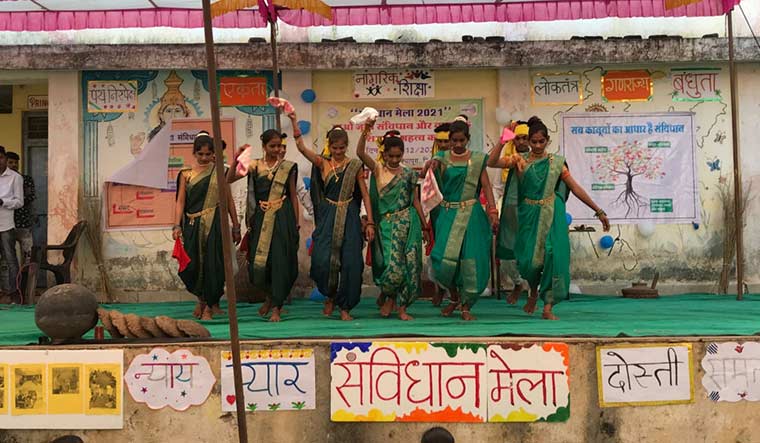 The centre was set up by Delhi-based CIVICACT Foundation, which had been working on the idea since January 2019. Neha Khan, coordinator, said that around 100 kids and adolescents are associated with the centre. "They walk in and out as per their wish and participate in various activities or just read books," she said. Bipin, from CIVICACT Foundation, who uses only one name, said that the idea was to apply a value-based approach to trigger a shift in the nature of an individual. "The foundation has been engaged in co-creating content and material related to constitutional values, and skills (dialogue, empathy, rational thinking) necessary for an active citizen as well as a transformative leader," he said.
The content includes a booklet on psychosocial transformation, Hindi translation of the preamble of the Constitution and different posters and banners that are shared with network organisations. It has formed a collective called Samvidhan Sangat, which includes 10 like-minded organisations from different states, including Uttar Pradesh, Rajasthan and Madhya Pradesh. The collective meets once in two months to share their learning and issues, and plan for future activities.
Samvidhan Pracharak, Maharashtra
"I feel that constitutional values is that pair of eye-glasses, seen through which, all the conventional tags on me as well as those around me get removed. We all become equal human beings," said Diksha Gaikwad, 24, of Ambivali in Maharashtra. A law student, Diksha is one of the core-committee members of the people's movement called Samvidhan Pracharak that is taking roots across Maharashtra and slowly spreading to other states.
The movement was started to propagate and promote the idea of violence-free Indian youth based on the values in the Constitution. In February 2019, the movement was founded by a group of young citizens, including Sandeep Akhade, Nilesh Khanwilkar and Nagesh Jadhav, who had previously been associated with various social organisations. "Samvidhan Pracharak is a movement run by responsible citizens and like-minded organisations," said Akhade, 32. "It functions through a network of trained volunteers."
The volunteers adopt various modes to teach, including interactive sessions, workshops, street plays, songs, games-based activities and rallies. About 3,000 such volunteers are already working in 22 districts of Maharashtra, according to Akhade. "They are out to create Constitution-literate citizens by which we mean such citizens who know five basic things―the history of the making of the Constitution, the impact of Indian traditions on it, the values incorporated in the preamble, fundamental rights and duties, and the directive principles," he said.
Diksha said that she works especially with women groups because she feels that if one woman is made aware of the values, she will imbibe them in at least one family. "I find women more receptive and willing to practice and propagate the values," she said. "I promote practising of constitutional values from kitchen to workplaces and most importantly within one's self."
We are Citizen, Madhya Pradesh
"Dehleez pe mere kadmon ko rok diya hai kyon? Gender ke naam pe meri zindagi likh di hai tumne kyon? Na sikha maine jeena jeena..." croons Preeti Uikey. The lyrics―the modified iteration of a popular Bollywood song―translates to "Why have you stopped my steps on the threshold? Why have you written my life because of my gender? I have not learnt living yet...."
The class 12, tribal student from Nayapura village in Madhya Pradesh's Harda district started work on her songs about gender issues and divisiveness a few months ago. "I want my songs to awaken the people around me to think about the issues in society," said the petite girl. "I think songs are a powerful medium to send messages." She credits her confidence to three years of sessions on citizenship and the Constitution at her government higher secondary school.
The sessions were conducted by the NGO Synergy Sansthan as part of its We are Citizen initiative, which started in 2019, to turn children and adolescents into active, aware and responsible citizens. The NGO selected 16 topics from the civics syllabi of classes six to 12 and developed modules for teachers that allow them to teach through games and activities such as story-telling, music, sports, drama, quiz and visits to historic places.
Nitin Gour, principal of the Fuldi Government High School, Timarni, one of the institutes to benefit from We are Citizen, said there has been a drastic change in behaviour among students. For example, students who used to deface classrooms stopped after they were told that the walls were whitewashed with taxpayers' money.
Vishnu Jaiswal of Synergy said that the way civics subjects were taught was not effective. "Children are just expected to mug up details and score good marks," he said. "That is why the games- and activities-based module was designed. Also, we included local culture and dialect in the resource material so that it became engaging and easy to grasp."
At the six schools in Harda district that were selected for the initiative, student cabinets have been set up and they engage in decision making. They also organise a Samvidhan Mela at the end of their sessions. The day-long fair includes performances and exhibitions on the theme of citizenship and the Constitution.
We The People Abhiyan, Delhi
Since 2010, the WTPA has been working as an umbrella organisation that runs citizenship education programmes through partnerships with civil society organisations, government institutions, school teachers and a network of informal citizens known as collectives. "Through these partnerships, we build capacities of young citizens in understanding and putting to action their role as citizens, constantly using the lens of the Constitution," said Neha Yadav, programme lead (partnerships) at WTPA.
The WTPA has conducted many education programmes to engage with citizens from all walks of life. One such programme has taken the shape of a standardised training module called Constitution for Citizen Action. With about 100 partners, including Magic Bus, the Delhi government and Wipro, the WTPA has facilitated the training of 3,315 "citizens" (trained volunteers from partner organisations) and has a presence among 17,54,500 "active citizens" (participants in programmes/sessions organised by volunteers) in over a dozen states.
"The partner organisations use our modules and other activity-based programmes to train and empower the citizens belonging to diverse groups," said Yadav. "The organisations select the module most suitable for the group they are working with."
The WTPA is currently building a social media presence to engage with citizens online.
The Republic Day next year will be the 75th anniversary of the Constitution of India coming into effect. Already, more than 120 civic society organisations from 15 states have come together for a campaign to popularise the basic values and principles of the Constitution. The campaign, called Har Dil Mein Samvidhan (Constitution in Every Heart) has been initiated by the WTPA with 15 co-organisers. The 120 partners are carrying out outreach activities in 185 districts between January 15 and January 26. In the second phase, activities would be organised from January 26, 2023, to January 26, 2024.
There are training sessions, citizen cafes, workshops, dramas, games, songs, exhibitions, displays and so on. Some of them are 'Azadi Everyday', where screening of films following by discussion on freedom of speech and expression; 'Snake and Ladder game' that creates understanding of constitutional values, rights and duties; 'Preamble Jumble', which is useful in familiarising participants with each word of the Preamble, and 'Who We Are', that makes participants understand the relevance of 'We, The People of India'. Posters of Preamble in 23 languages have also been developed.
A common campaign for messaging, promotion and coordination among the partner organisations has been decided, and for which ideas and campaign resources in the form of modules are being pooled and made available to all partner organisations.
"It is the right time for all people to come together to celebrate our Constitution and what it stands for," says Balram, a social worker from Jharkhand, one of the co-organisers of the campaign. "Values of brotherhood and equality and freedom. This is a landmark year to talk about how we are living these values in everyday life. And therefore this campaign has taken shape. It is a campaign by the people and for the people - to make everyone aware of the foundation of our nation. It's a landmark year for the government as well to lead and unite all citizens to celebrate the values which the government upholds and must continue to uphold."
A note by WTPA explaining the basic idea of the campaign, says: "Understanding the Constitution of India is critical to achieving our full human potential, actualizing values and building solidarity with fellow citizens. It is key to recognizing inequalities and injustices around us - in our families and communities - and taking action to address them. And it is crucial to demand accountability from State players and ensure that they perform based on their Constitutional mandate. In fact, the need for continued Constitutional learning was recognized by Dr. Ambedkar when he said - 'Constitutional morality is not a natural sentiment. It has to be cultivated. We must realize that our people have yet to learn it'."
The note further says that efforts to build constitutional awareness have been made by different organisations and individuals since it came into being in 1950, but delivering the message to each citizen was 'still a dream'. The run-up to the 75th anniversary provides scope to achieve this dream.