Race cars clocked forbidden speeds on Hyderabad's most touristy street. The Tank Bund road, on the banks of the Hussain Sagar lake, was transformed into a racing circuit for the final round of the 2022 Indian Racing League in December. The circuit―around 2.8km long―encircled a 11-acre parcel of land, on which stood a pair of giant bronze shoes. As drivers lapped the circuit it seemed they were circumambulating the shoes, as if paying obeisance.
The shoes are the base of a statue of B.R. Ambedkar in his signature pose―book in hand and pointing to the future. When complete, it will be 125 feet tall. Built into the pedestal will be an Ambedkar museum, an audio-visual room and a photo gallery. The project, Ambedkar Smriti Vanam, will be the state government's biggest tribute to Ambedkar. The statue is expected to cost Rs150 crore; it will use 791 tonnes of steel and 96 tonnes of brass.
The idea of the statue was first floated in 2016, during Ambedkar's 125th birthday celebrations. Telangana Chief Minister K. Chandrashekar Rao laid the foundation stone for the project and a cabinet sub-committee went to mainland China, Hong Kong and Sikkim to finalise designs and plans. Now, after multiple deadlines, there is a rush to unveil the statue on Ambedkar's birth anniversary―April 14―this year. It is also an election year. As of mid-January, the statue's legs have started to take shape.
Ram Vanji Sutar, who designed the Statue of Unity, and his son Anil Sutar are the sculptors. Anil is giving the final touches to parts of the statue at his Noida workshop; they will be assembled on site. "Around 200 artisans worked on the model, which took one year to make," said Anil. "We have designed many Ambedkar statues in the past, but this is the tallest. I am happy that it has come out well." Anil is confident that the work will be completed in the coming weeks.
Back in Hyderabad, the roads and building department, which is executing the project, has already completed the civil works on the site, including a two-acre park. In the middle of the man-made Hussain Sagar lake is a 58-feet-tall statue of Lord Buddha on a concrete island. And, not far from Ambedkar Smriti Vanam are statues of former prime ministers Indira Gandhi and P.V. Narasimha Rao, and a memorial for former chief minister N.T. Rama Rao. Along the nearby Lower Tank Bund road, there are statues of distinguished people from Andhra Pradesh and Telangana, including freedom fighters, revolutionaries, artists, reformers and writers.
At 125 feet, Ambedkar would dwarf other icons in the neighbourhood. This is seen as a conscious move by the ruling Bharat Rashtra Samithi (formerly the Telangana Rashtra Samithi). The government has also named its upcoming state secretariat, also in the same vicinity, after Ambedkar. Recently, BRS working president and IT Minister K.T. Rama Rao challenged the Centre to name the new Parliament after Ambedkar.
BRS MLA and former deputy chief minister Thatikonda Rajaiah―a dalit leader―has inaugurated more than 25 Ambedkar statues in his constituency, Station Ghanpur, in the last two terms. Recently, after he inaugurated one such statue, he got emotional after an upper-caste party leader compared his life with Ambedkar's and touched his feet. Rajaiah said Telangana and its people were direct beneficiaries of Ambedkar as the state was created because of Article 3 of the Constitution. "After the formation of Telangana, our CM has been following the footsteps of Ambedkar," he said. "We have created small districts as Ambedkar believed in decentralisation. Based on his study on the famines between 1860 and 1910, Ambedkar suggested reforms in agriculture and we are implementing them." Rajaiah added that the party's projects and schemes named after Ambedkar reflect its commitment to his ideology.
The BJP, which is trying hard to gain traction in Telangana, had also recognised the importance of having an Ambedkar statue. Before the assembly elections in 2018, it promised a 150-feet-tall statue of Ambedkar. However, it does not seem to be impressed by the BRS's efforts. Anugula Rakesh Reddy, state BJP spokesperson, said that the party was committed to the promise made in 2018, but, added that while the BJP follows Ambedkar in letter and spirit, there is no place for Ambedkar in KCR's heart. "He did not fulfil promises made to dalits and now when scheduled caste voters are moving away, he is using Ambedkar's name," said Reddy.
In the Bahujan Samaj Party camp, there is a newfound energy after former IPS officer R.S. Praveen Kumar took over the reins of the state unit. He is touring the state, promoting the ideology of Ambedkar and party founder Kanshi Ram. The party is trying to gain the support of scheduled castes, scheduled tribes, other backward castes and minorities, who together constitute around 85 per cent of the state's population. It is also highlighting the fact that the Telugu states have had just one chief minister from these communities in seven decades of independence.
"We welcome the project, but what is the use of statues?" asked BSP spokesperson Venkatesh Chowhan. "Will they change lives? Generate employment? Sanitation workers are being exploited and dalit children are dying because of malnutrition. Will [statues] address these issues?" He added that Ambedkar was opposed to such hero-worship. Chowhan asserted that the BSP were the true political inheritors of Ambedkar's legacy and that every other party wanted to appropriate Ambedkar for votes.
A section of Ambedkarites feel that historical events and changing social conditions in the region forced political parties to own Ambedkar's ideology. Karthik Navayan, an advocate and Ambedkarite, said that up to the 1990s Ambedkar was openly opposed and disowned. "What changed?" he asked. "Two grisly cases of caste violence. In 1991, eight dalits were massacred in Tsunduru (now in Bapatla, Andhra Pradesh) by a mob of upper-caste men. In 1985, six dalits were killed by a group of upper-caste people in Karamchedu (also in Bapatla now)." The incidents, said Navayan, led to a strong dalit movement in the Telugu states, which in turn forced mainstream political parties to embrace Ambedkar.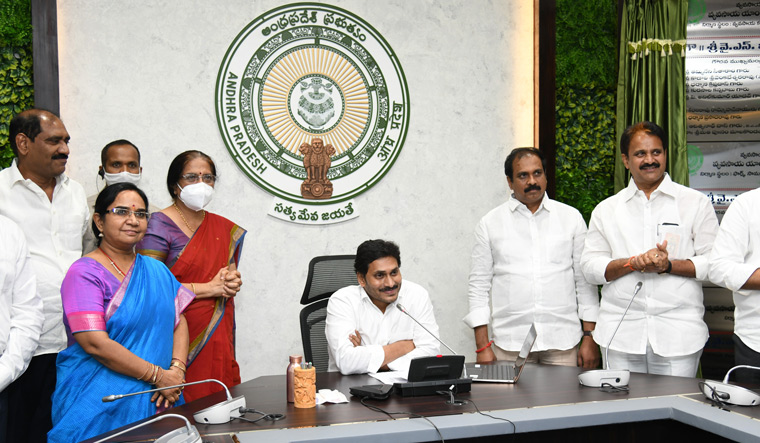 Moreover, education went up among backward communities and oppressed castes, and many see Ambedkar as an inspiration. Therefore, political parties realised they cannot survive by distancing themselves from him. Navayan said the Telangana government naming projects after Ambedkar may make the middle-class, scheduled castes and scheduled tribes happy.
With Telangana doing so much, Andhra Pradesh could not afford to be left behind.
At the centre of Vijayawada is the Swaraj Maidan. The 20-acre government property has in recent years gained a reputation for being politically inauspicious. There is a belief in political circles that any chief minister who visits the grounds for official functions will lose the next election.
This is the venue chosen for Andhra Pradesh's Ambedkar Smriti Vanam, perhaps in the hope that an Ambedkar statue will bring positive vibes to the grounds. The statue here will also be 125-feet-tall and it is also expected to be unveiled on Ambedkar's birth anniversary this year. Elections in the state are scheduled for 2024.
The project is expected to cost the state exchequer around 0280 crore. A memorial park with an auditorium and an open theatre will also be part of the project. The administration is racing against time to complete the project as Chief Minister Y.S. Jagan Mohan Reddy is personally monitoring its progress. Social Welfare Minister Merugu Nagarjuna, who is handling the project, said that Reddy has been asking for weekly updates. "Even though there was no particular demand for the statue, we initiated it out of respect for Ambedkar," he said, insisting that the statue is not to win votes, but for future generations to learn about Ambedkar.
The YSR Congress Party is highlighting how its government is accomplishing what the Telugu Desam Party led by former chief minister N. Chandrababu Naidu could not. Naidu laid the foundation stone to build a 126-feet-tall Ambedkar statue in Inavolu village near Amaravati in April 2017. However, the project bombed.
In 2022, the YSRCP government had also carved out a new district from East Godavari and named it after Ambedkar (Dr B.R. Ambedkar Konaseema). The move led to violence as a section of locals opposed it. As mobs clashed on the streets, the houses of a dalit minister, Pinipe Viswarup, and YSRCP legislator Ponnada Satish were torched. Though there was pressure to roll back the decision, the government stood firm. Political analysts see this as a strategic move that may have won over the dalits.
In September 2022, an Ambedkar temple was built in Patharapalli, near Srikakulam in northern Andhra Pradesh. The local residents decided to give the icon holy status and were supported by their representative―YSRCP MLA Gorle Kiran Kumar. He said that the elders of the village had decided to construct a temple and said that the project took nine months to complete. The village has around 500 scheduled caste voters and a sizeable population of other backward castes. "In the eyes of SCs, OBCs and admirers of Ambedkar, we earned respect because of the temple," said Kumar.
While the YSRCP is making numerous attempts to attach itself to Ambedkar, it is also facing flak for treating Ambedkar indifferently on one issue. There is a government scheme that provides financial assistance to scheduled caste students to pursue higher studies in foreign universities. It was called Ambedkar Overseas Education Funding. The name was changed to Jagananna Overseas Education Funding after the YSRCP came to power. The TDP had protested the name change. "How can anyone accept it?" asked TDP leader and former minister Nakka Anand Babu. "Does it make sense to take away the name of Ambedkar? We will continue to protest on the issue."
It is evident that Ambedkar and his legacy have become an integralpart of politics in the two Telugu states. Apart from the big players, the smaller parties, too, claim to be following the path of Ambedkar. There are at least six registered, but unrecognised, parties in the two states which have Ambedkar in their name. The Bahujana Rashtram Party (Phule-Ambedkar), established in 2018, is one such party. It is headquartered in Hyderabad and is also active in Andhra Pradesh.
Murala Rathnaraju, the party's national vice president and Andhra Pradesh president, said there is no party like his when it comes to implementing Ambedkar's vision. He is upbeat as the party is preparing to contest elections for the first time. "I worked with multiple political parties, including the Congress, the TDP and the BSP," he said. "They have exploited Ambedkar and his followers for votes. We are not saying we will become the ruling party overnight, but we will at least make a difference. As a start, we will contest in every constituency in Andhra Pradesh while teaching voters about Ambedkar."
Can appropriating Ambedkar fetch votes and win elections? Bode Manohar, a research scholar from Jawaharlal Nehru University, feels that it may not necessarily be the case and that a lot would depend on local factors. "Today, if any party wants to talk about the Constitution and a democratic setup, they have to talk about Ambedkar," he said. But, elections, he added, were a different ball game. "In Maharashtra, Ambedkarite politics existed for six decades, but failed to convert into a political force," he said. "In Uttar Pradesh, there were no such movements, but Kanshi Ram and his BSP still got a breakthrough and managed to stay in power."