* "Dai rascal! Enna Marundhitiya (Hey rascal! Forgotten me)?"
Eight years is a long time. When Thiagarajan Kumararaja ventured into Tamil film industry with Aaranya Kaandam in 2010, it didn't exactly set the cash registers ringing. But serious film buffs sensed the arrival of a mind-bending, path-breaking filmmaker. Only for him to vanish into thin air soon after. But they didn't forget him.
Then came the news and trailer of his second film Super Deluxe, eight years later, with one of the most versatile actors today, Vijay Sethupathi, playing a transwoman. All hell broke loose on social media. The excitement was palpable.
And why not? The kind of story-telling and filmmaking used in Aaranya Kaandam was unheard of in Tamil cinema then. The film industry has evolved a lot since. It is more accommodating now and open to experiments. In fact, a look at the women characters—Subbu (Yasmin Ponnappa) in Aaranya Kaandam and Vaembu (Samantha) and Leela (Ramya Krishnan) in Super Deluxe—is an indicator of this change. While the former was treated as a piece of flesh, the latter ones know what they want, what they are doing and why.
The film opens with a married Vaembu asking her ex-lover whether he has forgotten her * and inviting him over to her house when her husband Mugil (Fahadh) isn't at home. And before the audience can sink into their easy chairs, along come a bunch of adolescent boys who are hell-bent on realising their... er... adolescent dreams. Next up is Raasukutti (the mind-blowing master Ashwanth Ashokkumar) who is waiting for his father Manickyam (Vijay Sethupathi) to return home after seven years. And return he does, but as a transwoman. And then there is the Dhanasekharan (filmmaker Mysskin), a preacher who believes God saved him from the tsunami for a higher purpose.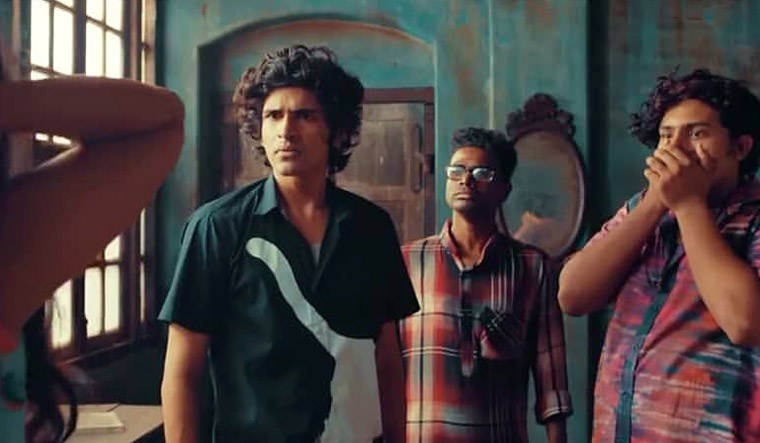 Now, anthologies are nothing new. But, what starts as a dark comedy soon shape-shifts into a psychedelic, quirky, multi-layered trip into everything the society perceives as normal or abnormal, and rips it all apart in true Kumararaja-style. Kumararaja once said in an interview that "time is an interesting thing... you can f*** around with time". So, you have pop culture references from the 80s and you also have the 2004 tsunami thrown in. And with the Kino Fist style (the manipulation of narrative by jumbling up the sequence of frames through composition and editing) Kumararaja does f*** around with time in Super Deluxe. But the "pleasure" is all ours, really.
What's amazing is that apart from Kumararaja, the film had three other writers—Nalan Kumarasamy, Mysskin and Neelan K. Shekar. It takes a genius to weave together these narratives into a single piece of art, and that's why you cannot help but doff your hat to Kumararaja. Each of these characters are fleshed out to a T. And they are not at all judged based on their choices.
Kumararaja has got the right people to play them. Sethupathi nails the portrayal of the vulnerable transwoman, Shilpa. The scenes in the police station with the pervert SI, Berlin (Bagavathi Perumal, you beauty!), his meeting with Dhanasekharan in the dimly lit subway, the exchanges between the 'father' and son Raasukutti make you go 'wow'. Fahadh and Ramya Krishnan are brilliant but it is Samantha who has clearly punched above her weight.
A stellar cast and script notwithstanding, Super Deluxe wouldn't have been half as effective without Yuvan Shankar Raja's thrilling music. The background score is the film's constant companion, manoeuvring it through the ebb and flow. Even noise has a melody in the film, in the hands of Raja and Kumararaja.
Amid all this delightful cacophony of frames and noises spanning over three hours, Super Deluxe makes you question what man often takes for granted. Be it sexuality, God or relationships. And it doesn't provide you the answers on a platter. It is for you to find out.
The film is a comeback of epic proportions for the gifted filmmaker. And no, we won't be forgetting you in a hurry after this.
Film: Super Deluxe
Director: Thiagarajan Kumararaja
Cast: Vijay Sethupathi, Ramya Krishnan, Fahadh Faasil, Samantha Prabhu Akkineni
Rating: 4/5