As Peranbu opens, Amudhavan (Mammootty) and his spastic child, Paapa (Sadhana), set out on a boat, over a mist-covered lake, towards a house on the other side. Chapters unfold as they make the journey, and Amudhavan narrates the ups and downs of his life.
Being a single parent is never easy; being a single father to an adolescent spastic daughter who is also waking up to her sexuality, can be emotionally draining. The angst of this father is beautifully portrayed by Mammootty who sheds the onscreen superstar image and steals the show with his subtle performance. Director Ram has magically channeled Mammootty's acting prowess into the film that teaches you to value life's little blessings.
Love, affection, agony and self-realisation—Peranbu has it all. If veteran actor Mammootty is at his best, child actor Sadhana outperforms him at many points. Sadhana is outstanding as a differently-abled child, with her hands and legs twisted, and struggling to voice her thoughts as she expresses her liking for nail polish, sparrows and horses or her crush for an actor.
With the mist moving away at times and returning to envelope the lake, Ram captures the father-daughter relationship and their struggles into each chapter. A man who wants a comfortable life, Amudhavan takes up work as a driver in a foreign country, leaving behind his wife and spastic daughter. His wife leaves him for another man, saying he has to take care of his daughter and she cannot bear the trauma anymore. There begins Amudhavan's pain. As people around him fail to understand the difficulties his daughter endures, he moves to an isolated house on the banks of a lake. He struggles to bond with the child, and deal with her adolescence and puberty—a subject Ram handles with sensitivity.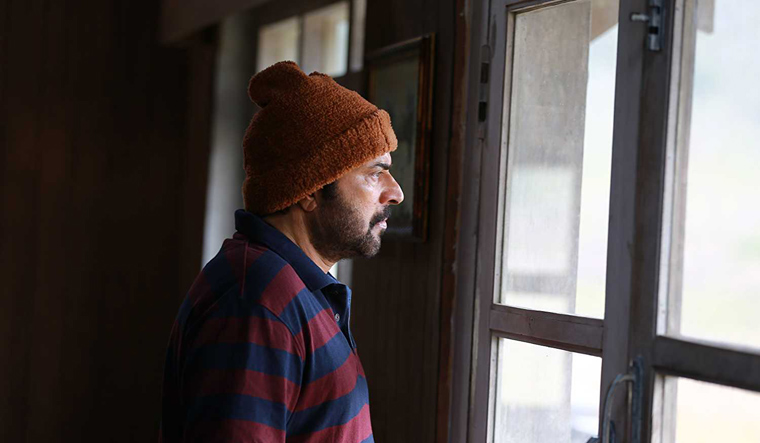 Mammootty's performance as an affectionate father and emotional outbursts at his inability to fulfil his spastic daughter's requirements, is remarkable. His expressions are outstanding when he gets slapped by a sex worker as he scouts for a "male prostitute". Vijayalakshmi, played by Anjali, is an empathising character. Meera, the transgender character played by Anjali Ameer, stands out. Composer Yuvan Shankar Raja is technically at his best. As the mist moves on and off the lake, Yuvan's music tugs at your heartstrings.
There are poignant moments in every chapter as Amudhavan tries to tell the audience that they are living a blessed life, when compared to Paapa and him.
Peranbu, with all its elements, is an intense film. Only a director like Ram, who has given us movies like Kattradhu Tamizh, Thanga Meengal and Taramani, can deliver such raw scripts flawlessly.

Film: Peranbu
Cast: Mammootty, Anjali, Sadhana, Anjali Ameer
Director: Ram
Rating: 4/5