The tablet market, which was once a booming segment, may have been on a steady decline, but Samsung is one of the few players who are determined to bring out the best. Their formula? Innovation. One of the main reasons why ultrabooks are on the rise is because people want a laptop that is light, but still does what a desktop can do. Samsung's Tab S4 has just about got it right. Equipped with a keyboard and a pen, it is as good as an ultrabook, and yet lighter. It does run on Android 8.1, but Samsung's Dex mode gives it a desktop feel. To put it simply, if you are looking for a powerful tablet that could also work as a laptop and are willing to pay about Rs 57,000, then you have the best tablet that Android has to offer―the Tab S4.
Samsung Tab S4 in a snapshot
Network: GSM/HSPA/LTE
Launch: India release October
Price: Rs 57,900
Body: Metal frame with glass on the front & back. Weighs 482g. Supports Nano SIM
Water Protection: No
Screen: 10.5 inch 1600 x 2560 pixel Super AMOLED capacitive screen with 287 pixel density
Front Camera: 8MP
Rear Camera: 13 MP with AF, LED flash, HDR & panorama
Front Camera Video: 1080p@30fps
Rear Camera Video: 2160p@30fps
Chipset: Snapdragon 835
Memory: 4GB RAM, 64 GB storage with microSD slot
OS: Android 8.1
Battery: Non-removable Li-Po 7,300mAh with fast charging
Other: Stereo speakers tuned by AKG, Iris scanner, pogo pins, global positioning
Add-ons: S Pen, DeX dock and Book Cover keyboard
The Tab S4 is the best that Android has to offer when it comes to tablets. Yes, it does take away quite a bit from your pockets, but in India, it comes with the keyboard book cover which is a plus. Unlike the Apple Pro, you do not have to shell out a few thousand bucks extra to get a keyboard. Time to get into the nitty-gritties.
Design
Samsung has cut down on bezels with the S4 10.5 as compared to its predecessor the Tab S3. At 10.5 inches, the AMOLED screen does justice to pictures and videos. So if you like binge-watching TV shows, this one is a delight to watch on. With sleek edges, it gives a truly premium feel―something which the huge price tag demands.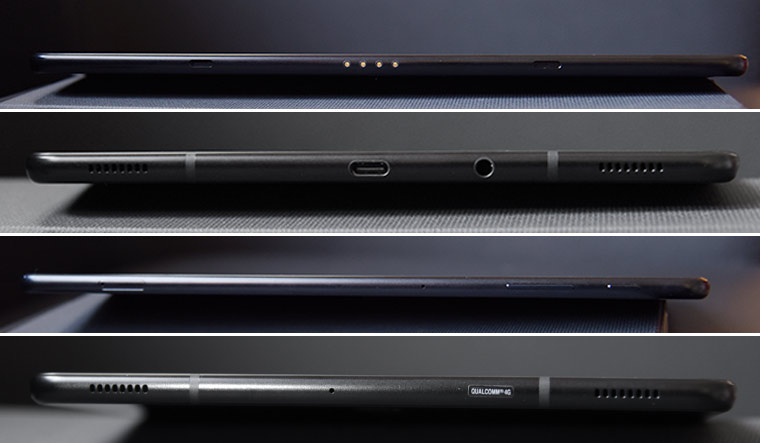 The top panel consists of two sets of grills for the speakers. The left side panel is completely dedicated to its keyboard dock. A magnetic strip to lock it with the keyboard and two small slots to keep it in place. The right panel consists of the volume rocker, power button and a sim card cum micro sd card slot. The bottom panel has the headphone jack, charging port and two sets of grills for speakers. There is no fingerprint sensor, which has been replaced by the Iris scanner.
Display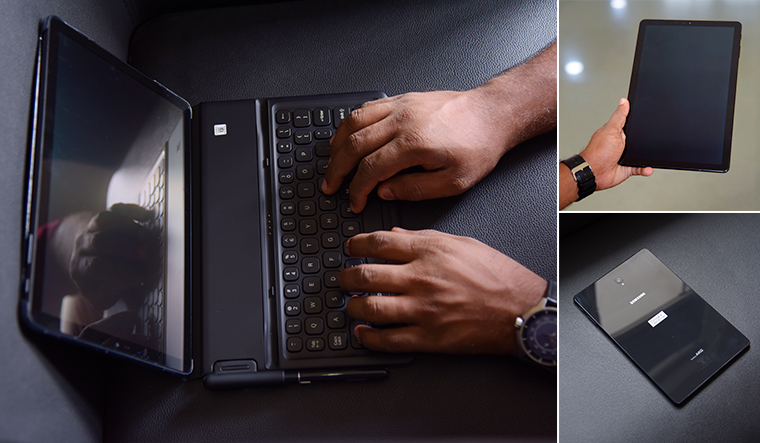 This is were the Tab S4 scores the best. The AMOLED screen is a pure delight and delivers excellently. At 10.5 inches, the QHD+ display offers great depth and the blacks don't look washed out.
Hardware
The Samsung Tab S4 offers dual speakers on the top and bottom panels. Tuned by AKG, these deliver great on sound quality even on high volumes. Samsung has bet big on its book cover keyboard to deliver a desktop-like experience while at the same time giving the portability of an ultrabook. The 2-in-1 concept has put it in direct contention with the Surface Pro and iPads. Samsung's Desktop Experience (DeX) is what gives the Tab a desktop look. On activating DeX, all applications close automatically and the Tab restarts in desktop mode. The whole process barely takes a few seconds, making the transition very smooth.
The S-Pen, too, offers a truly enriching experiencing and is precise enough to take notes or even draw. The DeX mode offers more of a 'keyboard and mouse' experience than the conventional 'tablet' experience. This means, there are no shades to pull down. You have to access everything from the bottom panel on the screen, as you would on a laptop or desktop. The Tab S4 delivers on the battery front. The 7,300mAh battery lets you run the Tab for at least day without having to worry about charging. If you are binge-watching on Netflix, you still get around 15 hours of video playback.
Camera
No one really buys a Tab for its camera. But the Tab S4 still gives decent pictures with its 13MP back camera as well as the 8MP front camera. The rear cam lets you shoot 4K videos while the front lets you shoot at 1080p. The selfie cam shoots decent pictures and the portrait mode does justice to the cam.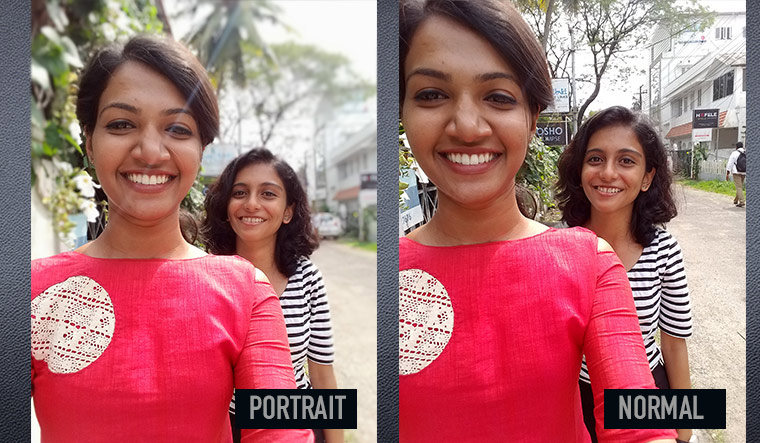 Verdict
The Samsung Tab S4 is the tablet for you if you are looking at having a tablet which also functions like a laptop or a PC. The camera isn't the best, but it will still give you decent pictures. The DeX mode is what this tablet delivers on point. The keyboard and mouse feel is definitely worth it. If you are willing to shell out a little extra, this is definitely worth it.