A day before the November 2016 meeting in Vienna, to consider the criterion for India's entry into the Nuclear Suppliers Group (NSG), the then defence minister Manohar Parrikar opened a pandora's box. He expressed his 'personal opinion' that India should not bind itself a 'no first use policy' on nuclear weapons. Parrikar believed that the there should be an element of unpredictability in the country's military strategy. The essence of his introspection was that ambiguity enhances deterrence. Later, his view was supported by several nuclear strategists.
However, India could not get into the NSG due to strong opposition by China. Within four months, Parrikar was out from the South Block, which houses the defence ministry, and sent back to Goa as the chief minister.
While maintaining that nuclear doctrines are not written in stone and are never absolutely rigid, Brigadier Gurmeet Kanwal, in his book titled Sharpening the Arsenal: India's Evolving Nuclear Deterrence Policy, has delved into the debate, and charts out a way ahead. Kanwal, a fellow in the government think tank Institute for Defence Studies and Analysis and former director of Centre for Land Warfare Studies, has extensively covered developments in the nuclear structures of India, China, and Pakistan.
Fifteen years have passed since India's nuclear doctrine was approved by the Cabinet Committee on Security, in January 2003. A review is long overdue. Kanwal claims that credible minimum deterrence and the posture of no-first-use have stood the test of time. Is a new nuclear policy required for the changed geopolitical reality?
Sharpening the Arsenal: India's Evolving Nuclear Deterrence Policy reviews the evolution and the present status of India's nuclear doctrine, takes stock of the developments in the force structure, and looks briefly at China and Pakistan's nuclear stockpiles and delivery systems. Three chapters of the book are based on the destablising impact of tactical nuclear weapons, the likely implications of India's execution of its Cold Start doctrine, and, consequently, the ugly state of strategic stability in South Asia.
Other chapters highlight the developments in ballistic missile defence systems, the impact of the Indo-US nuclear deal on deterrence, the growing threat of nuclear terrorism, the dire need for nuclear confidence building and risk-reduction measures, coping with the current non-proliferation challenges and the slow progress towards nuclear disarmament. And the book ends with a set of recommendations to upgrade the quality and the credibility of India's nuclear deterrence.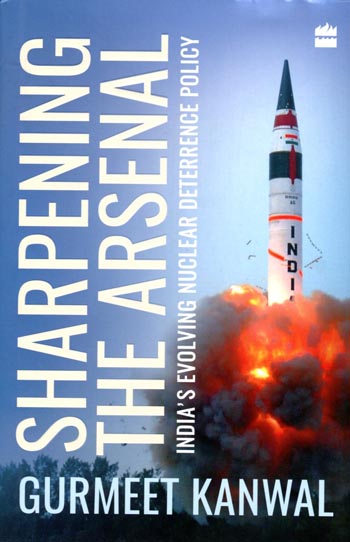 China became a nuclear power in 1964, soon after the India-China border war of 1962. Pakistan is reported to have acquired nuclear weapons capability in 1986-87 with covert help from China. India had sought, but was denied nuclear security guarantees by the western powers; the country had no option but to eventually assemble its own nuclear weapons to safeguard its national security interests.
Though India conducted a 'peaceful' nuclear explosion (PNE) in May 1974 to showcase its technological capability, the government continued to resist nuclearisation and strongly advocated total nuclear disarmament.
"Though China had announced a 'no first use' commitment immediately after its nuclear test in October 1964, it has, in recent years, diluted this policy," the book stated.
Soviet Union had also initially subscribed to the 'no first use' policy as far back as 1955 and had proposed a similar pledge by all nuclear weapons states. However, Russia's recently declared military doctrine has withdrawn that pledge and Russia is now committed to a first-use nuclear policy even against conventional military threats.
Quoting intelligence reports about the rapidly developing China-Pakistan nuclear and missile cooperation led to then prime minister Lal Bahadur Shastri approving the development of a nuclear explosive device, which resulted in the peaceful nuclear explostions (PNE) conducted in Pokhran in Rajasthan in 1974.
The book hasb also quoted Atal Behari Vajpayee, who spoke in the Parliament after the May 1998 test. "India is now a nuclear weapon state...We do not intend to use these weapons for aggression or for mounting threats against any country; these are weapons of self-defence, to ensure that India is not subjected to nuclear threats or coercion."
The then prime minister Manmohan Singh, while speaking at the Institute for Defence Studies and Analyses (IDSA) in April 2014, called for a global ' no first use' norms and appealed to all states possessing nuclear to quickly adopt a global NFU. BJP, in its election manifesto of 2014 general elections, had stated that their government would study in detail India's nuclear doctrine, revise and update it, to make it relevant to the current challenges.
In particular, India must close the missile technology gap with both China and Pakistan as early as possible, or else the credibility of India's nuclear deterrence will remain suspect.
For a nation that has adopted a 'no first use' nuclear posture, and is willing to absorb a nuclear strike that may cause large-scale destruction that could cripple its nuclear forces, genuine deterrence can be provided by a robust, infallible and potentially insuperable nuclear deterrent capability, including SSBNs (ballistic missile submarine) armed with nuclear-tipped SLBMs(submarine launched ballistic missile).
Arguing for strong nuclear warheads, the book says that till the Navy gets SSBNs, a small number of surface combat ships in both the eastern and the western naval fleets must be equipped with nuclear tipped missiles to add to the uncertainties of the direction of launch that an adversary must consider. 
The writer said though India has conducted only six nuclear tests, India must retain the option to carry out further nuclear tests. Therefore, signing the comprehensive nuclear test ban treaty(CTBT) is not viable policy option for India in near future, and it shares borders with two nuclear-armed neighbours, China and Pakistan. It has territorial and boundary disputes with both.
"Hence, India's decision to develop a credible minimum nuclear deterrence policies against the use and the threat of use of nuclear weapons is justified on the grounds of safeguarding India's sovereignty and ensuring national security."
The writer argues that India's 'no first use', retaliation-only nuclear posture is not only morally beneficial and worthy of India's civilisation heritage, it is also an operationally sound strategy. "However, deterrence hinges on credibility and India is still far from demonstrating strong political resolve to execute a massive retaliatory nuclear strike", he said.
Only then will it be possible to ensure that the nuclear monsters remain tightly leashed in and around India's neighbourhood. The adoption of graduated or flexible response strategies will weaken the quality of India's deterrence and may tempt its adversaries to test India's resolve and capabilities.
Book: Sharpening the Arsenal: India's Evolving Nuclear Deterrence Policy
Author: Gurmeet Kanwal
Publisher: Harper Collins
Pages: 272
Price: Rs 599