Nearly two weeks since its presidential election, America today is a country with a knife at its throat, held by a president that refuses to concede and an entire political party that looks the other way while he works his shakedown

More than a week has passed since Joe Biden was declared the winner, yet the losers—Donald Trump and the Republican Party—still refuse to refer to him as president-elect.
According to reports, Trump—who is easy to ire and can still ruin financial futures if he holds a grudge—has ordered employees at all levels of government not to cooperate with any Biden transition efforts; threatening to fire anyone who does, including those looking for another job.
With the breathtaking audacity of despondency, Trump is breaking every norm and every tradition that has made America the shining example of peaceful democratic transfer of power since John Adams set the precedent upon his loss to Thomas Jefferson in 1800. Playing with the very credibility of America's electoral system, the consequences of which are perilous to the survival of democracy itself, Trump is using the polarized American media, with FOX News and the One America News Network(OANN) faithfully amplifying and repeating every Trump line regardless of its truth value, to spin an alternate reality to the nearly 73 million Americans who voted for him and the 85 million of his Twitter followers.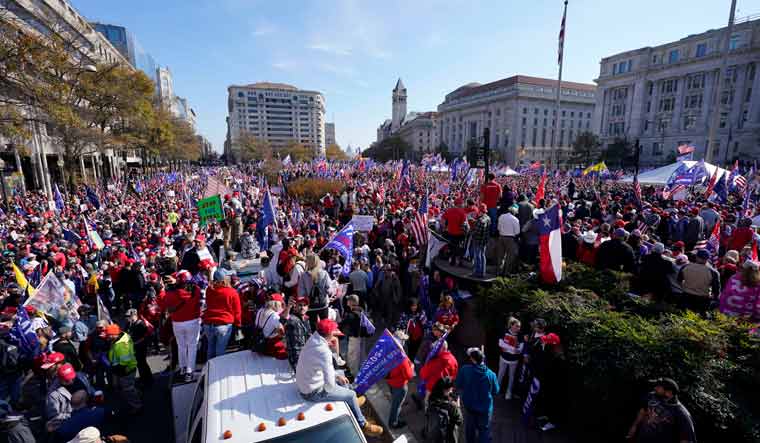 In that parallel universe, Trump says he won the election and Biden is out to steal it from him; never mind that he lost in crucial Republican-run states where his party members are in charge of the election and tabulation of the votes. Trump is defining votes cast for him as "legal," and votes for Biden "illegal." Millions of Americans hear nothing else, repeated over and over and tweeted by Trump, his children and partisans.
It is a cloud of metastasizing misinformation that is keeping the near-entirety of the Republican Party solidly behind the Trump post-electoral trapeze act, quietly encouraging even grander and more blatant pronunciations from the defeated president. 
In the aftermath of World War II in 1946, when East Germany ran its elections and Erich Honecker's party was resoundingly defeated, he simply refused to accept it, declared victory and ruled until the end of communism in 1990.
It is a perilous moment. America is in the middle of a slow-motion political coup—a group of people are willing to risk their reputations and futures and to ignore established laws, traditions, rules and a Constitution they promised to defend in order to establish a government they like. To be sure, the country has done this before. The American Constitutional Convention that made democratic icons of Washington, Franklin, Jefferson, Madison, Hamilton et al., simply ignored the Articles of Confederation under which the new country was previously organized, and set up a new Constitution chucked the confederate style in favour of federalism.
It is precisely that type of set-aside technique that Trump wants his party to apply to the 2020 election—setting up a new reality aimed to effectively end the current system. 
So far, the expectations and traditions that have been broken were the norms and values upon which American democracy depended on to work. But, they could amount to much more, a complete disregard for the results of the election and an ongoing fight to remain in power.
"He only won in the eyes of the FAKE NEWS MEDIA. I concede NOTHING! We have a long way to go. This was a RIGGED ELECTION!" tweeted Trump on Sunday morning. He concedes nothing.
He won because the Election was Rigged. NO VOTE WATCHERS OR OBSERVERS allowed, vote tabulated by a Radical Left privately owned company, Dominion, with a bad reputation & bum equipment that couldn't even qualify for Texas (which I won by a lot!), the Fake & Silent Media, & more! https://t.co/Exb3C1mAPg

— Donald J. Trump (@realDonaldTrump) November 15, 2020
"Trump Train" rallies around the country are following a (convicted and pardoned Trump operative) Roger Stone-prescribed "Stop the steal" formula, complete with a catchy ditty and plenty of FOX and OANN air time. It is a recycling of previous efforts to undermine election results, but Trump and his passionate supporters do not care.
In the fog of the election aftermath, the Trump plan parallels the works of Mugabe, Maduro, Milosevic, or Lukashenko—no concession, trumped-up accusations of electoral fraud, violence in the streets, rallies-turned-into-riots, vilifying the opposition as thieves who steal elections and the votes as "illegal" and therefore invalid. 
On the world stage, Trump's response is a removal of the United States as the guardian of the rules of democracy and validation of manipulating democracy as a way to stay in power regardless of election results. It is Trump's "gift to autocrats around the world," said Michael McFaul, former U.S. ambassador to Russia under President Obama. 
This process is already showing a damaged, if not destroyed, confidence in the elections and democratic institutions that make the operations of a democratic republic. Trump supporters demonstrating against the election are repeatedly on camera refusing to accept the results of the election.
A recurring pattern during Trump's presidency, what is developing seems less part of a master plan and more the improvised impulse of the president himself, who is often unconstrained by facts or respect for the way things have been done.
But Trump is ready to exert his influence now.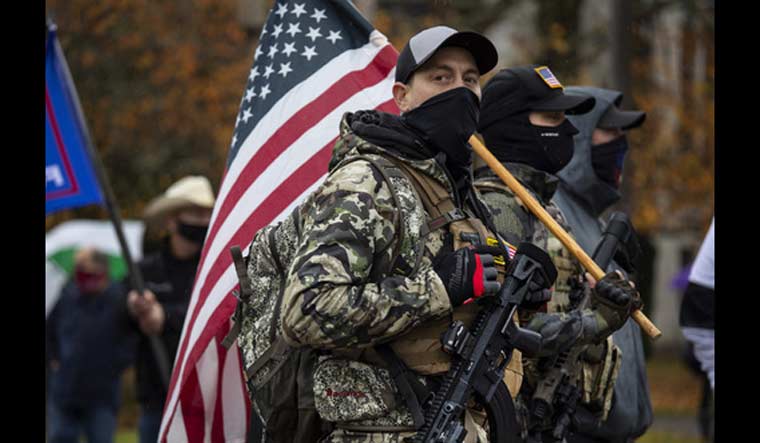 "I am pleased to announce that I have given my full support and endorsement to Ronna McDaniel to continue heading the Republican National Committee (RNC). With 72 MILLION votes, we received more votes than any sitting President in US history—and we will win!" 
The surprising Trump tweet, as outgoing presidents have traditionally stayed out of decisions of who will lead the party thereon, fueled speculation of plans for an ongoing campaign to undermine the legitimacy of a Biden-Harris administration and to challenge a supposed Harris run in 2024 (Biden would is already nearly 78 and would potentially be too advanced in age for a second term). Never conceding would be a part of a grievance-laden ongoing Trump campaign, complete with regular rallies, any of which could prove a potential powder keg of anti-government violence.
Even as Trump continues to say he will never concede, reports are leaking that he has told allies he will run to retake the White House in the 2024 elections. Presumably, he plans to announce this before Biden is sworn in, filing for re-election even as the inauguration takes place, just as he did in 2017.
Adding credence to this theory, Mick Mulvaney, former acting White House chief of staff for Trump, told the Institute for International and European Affairs think tank: "Now, I think folks are starting to realize that if Donald Trump loses, he might be the guy [to run as Republican Party candidate in 2024], and I'm telling you absolutely."
Yet, that is several levels of defeat down the line. Trump's lawsuits, intended to get the U.S. Supreme Court involved by challenging the legitimacy of votes at the state level, have been readily dismissed by judges who were presented accusations without evidence.
"The election on 3 November was the safest in American history," said the U.S body charged with election oversight. In the paragraph after that, this sentence was printed in bold: "There is no evidence that any electoral system has deleted, lost, altered, or in any other way unreliable."
But, Trump knows the power of an alternate reality. He continues to Tweet unfounded accusations of electoral fraud and because FOX and OANN repeat and amplify these without labelling them as lies or distortion the way Twitter and Facebook do, many people do not accept the results.
In pro-Trump protest rallies in Texas, Pennsylvania and Wisconsin, supporters called for an investigation of the election with speakers calling for an audit of the results, including allegations that ballots were cast by dead people (claims proven false by multiple media investigations nevertheless ignored as "fake news" by Trump followers).
Arguably, the idea of America as democracy's "shining city on the hill," lost its lustre during the Trump presidency. With his defeat at the polls, are these merely the dying throes of the Trump presidency? Or the beginning of a long, last act of a tragedy that will char the White House and slice the throat of democracy?