As anti-government protests in Pakistan enter their third week, a viral video by the leftist Progressive Students Collective has emerged, showing students singing the 'Azadi' chant, earlier made popular by Kanhaiya Kumar during the 2016 JNU protests.
In the video, students are seen calling for 'Azadi' from government, corruption, police brutality, patriarchy, paid media and others.

The students warned the Imran Khan government that well-wishers of the nation, of women, and of democracy are alive and that, similarly, the enemies of Imran, of Nawaz Sharif and Bilawal Bhutto were alive as well.
The Azadi chant grew popular in India after it was heard in a rally held by Kanhaiya Kumar in 2016. Later remixed by Dub Sharma and re-adapted by the Bollywood film Gully Boy, its origins are said to have been influenced by Pakistani feminists. Activist Kamla Bhasin, who popularised the chant in India in 1991, told Hindustan Times that she learned it from the Pakistani feminists, who had the slogan "Meri begane maange Azadi'.   
According to the PSC, the protests are the 'continuation of a revolution which was left incomplete in 1968', a reference to the student's and worker's protests against Ayub Khan that ultimately toppled his government. The PSC was formed by academics across Pakistan in protest against education funding cuts, religious extremism, economic inequality and environmental issues, according to Dawn.

The protests have been billed as a bid to topple Imran Khan's government and hold fresh elections. Demonstrators charge Khan's government of being a puppet regime of the military, as well as of voter fraud and economic mismanagement.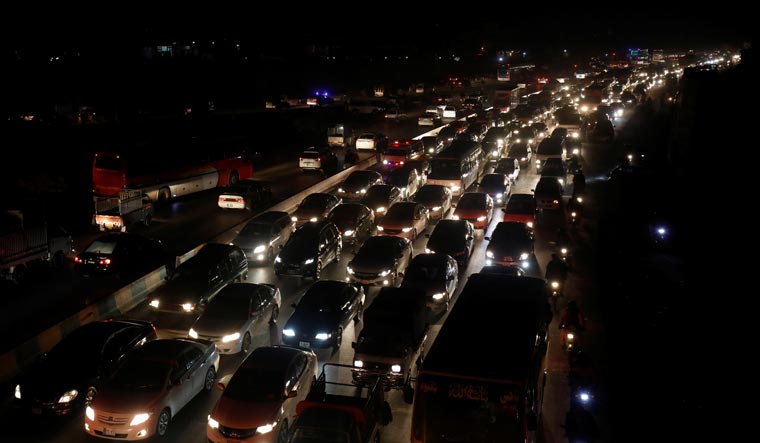 The backdrop of a slowing economy is also a large part of the protests. Pakistan in 2019 took a $6 billion loan from the International Monetary Fund (IMF) on account of its economic strain—a deal that comes with several conditions to tackle its balance of payments shortfall as well as austerity requirements.
Since Thursday, thousands of protesters have been blocking highways across Pakistan, with thousands more having marched to Islamabad on October 31 to hold a two-week sit-in on the city's main highway. The Grand Trunk Road between Islamabad and Kabul was also blocked by protesters, causing severe disruption according to Reuters.

The protests were called by the Jamiat Ulema-i-Islam (F) party led by Maulana Fazlur Rehman, who called for the Azadi March from Karachi to Islamabad on October 27. When the march concluded on November 13, the JUIF told supporters to commence 'Plan B' and block roads across the country, crippling infrastructure.
Khan has called for talks with the protesters, agreeing to most of their demands except the one calling for his resignation. Khan and his Pakistna Tehreek-e-Insaf (PTI) party won the 2019 general election with the largest majority of 149 seats, amassing over 31 per cent of the vote share. However, his electoral win was marred by allegations of vote-rigging.