The war for martial art's soul nears a century in China. It is a battle between those who fight for traditional techniques, and those who argue that if the arts do not work in the real world, they do not work at all.
Xu Xiaodong is a 41-year-old Mixed Martial Arts (MMA) practitioner with a mission to expose 'fake' martial arts. Xiaodong earned his nickname 'Mad Dog' by challenging Chinese grandmasters to fights and subsequently pummelling them to defeat within seconds.
Amateur Chinese MMA fighter Xu Xiaodong demolish another traditional Kung-Fu master (this time a Dim-Mak or pressure point "master"). Fans of traditional Chinese martial arts Please stop urging your fav master to fight this guy! 让中华传统武术留个种吧! pic.twitter.com/LC7GJk0yXv

— Carl Zha (@CarlZha) May 22, 2019
Tai-Chi, Wing Chun, Kung-Fu – Xiaodong guns their greats down one by one, in filmed bouts that go viral on Chinese social media. All this is part of his myth-busting approach to practical combat, which leavse many traditional martial artists in the dirt as techniques that sound good in theory do not necessarily work in a fight every time.
The YouTube channel Fight Commentary Breakdowns, which has followed Xiaodong's career closely, recently put out an update pointing out how difficult it had become to track Xiaodong's activities online.
The reason is simple, harking back to a Black-Mirror-esque (but very real) aspect of Chinese life — Xiaodong's social credit score is in the dumps.
With a 'D' rating, Xiaodong cannot take trains or planes any higher than second-class category. He cannot ride bullet trains — which is why, as the South China Morning Post reports, he took 36 hours to travel to his latest bout where he knocked down a "pressure-point" striking Wing-Chun master in under a minute.
Xiaodong faces the same problem that strikes anyone who tries to reform traditional martial arts in China — social censure.
Xiaodong made many enemies over the years with his bold challenges and takedowns (all performed with the consent of his opponent and in the presence of a referee). However, his latest opponent never even met him in the ring. 73-year-old Chen Xiaowang is a 19th-generation holder of an ancient family style of Tai-Chi, dating back to the origin of the art itself.
To many in China, Chen is a reputed institution. And this is the man that Xiaodong called a fraud, two years ago.
Chen is a member of the Henan Institute of Sport, backed by the Chinese Wushu Association. According to court documents uploaded by Fight Commentary Breakdowns, Chen sued Xiaodong in court for defamation — and the latter now has to pay Chen 400,000 yen (roughly Rs.40 lakh) and apologize to him on social media consecutively for seven days.
If other reports are to be believed, a low credit score also means that one cannot stay in several hotels, will suffer throttled internet speeds, and could even be blacklisted on Chinese matrimony websites. His name is blocked from search listings, and when he appears for fights, it is no longer under his own name. 
A history of standoffs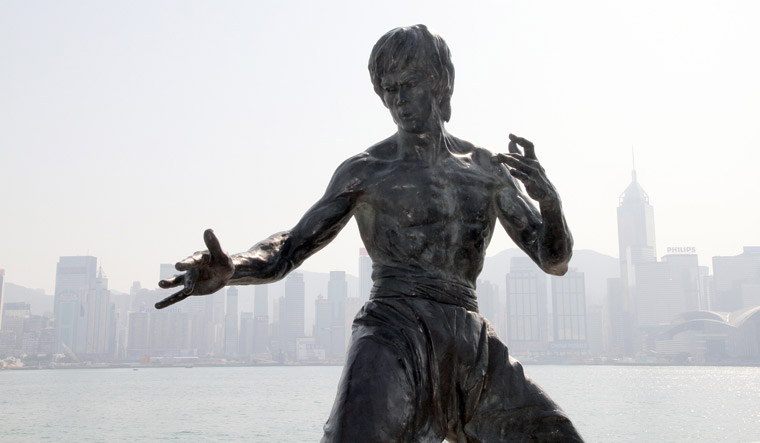 Xiaodong builds on a century-long legacy of challenging the traditional with the practical.
In the 1920s, it was Tang Hao, considered the first modern historian of Chinese martial arts. Hao disassembled the Shaolin origin myths in an attempt to separate fact from folklore, a task that saw him "take aim at as many holy cows as possible," according to martial arts scholar Ben Judkins.
Hao was followed by Bruce Lee, who took on the traditional Chinese martial artists of San Francisco. Lee was called a "dissident with bad manners," and earned a reputation for fighting his opponents to prove both themselves and their art. One such fight was with Japanese Karate-practitioner Yoiche Nakachi, who challenged Lee for calling Kung Fu less nuanced than Karate. According to Charles Russo, author of Striking Distance: Bruce Lee and the Dawn of Martial Arts in America, Lee knocked Nakachi out in 11 seconds and fractured his skull.
Lee called most systems of martial arts a "fancy mess that distorts and cramps their practitioners and distracts them from the actual reality of combat." He viewed traditional martial arts as encumbering its practitioners with rote, developing his views to form a new school of martial arts called Jeet Kune Do — which he built up to have a "style of no style." Bruce Lee's dream was a farm of "scientific street-fighting," a term that in many ways, could describe MMA.
Dana White, president of the Ultimate Fighting Championship (UFC), famously called Bruce Lee the "father" of MMA. As an MMA practitioner, Xiaodong builds on this legacy, though he has personally questioned Lee's combat ability for its lack of combat techniques.
Now, Xiaodong faces the ire of the Chinese social credit system, as well as that of the traditional martial arts community. In 2017, he had to go into hiding after he was assaulted in public. In 2018, he relayed his struggle via an emotional video, where he broke down as he described how his name was forcibly removed from all social media posts of a school he coached at for 21 years.
He managed an unlikely ally in 2018, however, in the form of an abbot from the renowned Shaolin Temple. Shi Yong Xin told TIME magazine that Xiaodong's fight against fakery was good for the traditional art forms.
The low credit score may not have dented Xiaodong's ability to fight "fake" practitioners just yet; just recently, he broke a Wing Chun's master's nose after travelling 36 hours to fight him.  Whether the 'D' social credit rating will end up having a chilling effect on the MMA Mythbuster's will only be known over time.