ICC ODI World Cup final LIVE: Australia captain Pat Cummins won the toss and elected to bowl first against India at the Narendra Modi Stadium. "Dew is one factor and it's quite dewy in the night at this venue," Cummins said explaining his decision. 
Here is a look at how the first 10 overs of the Indian innings played out.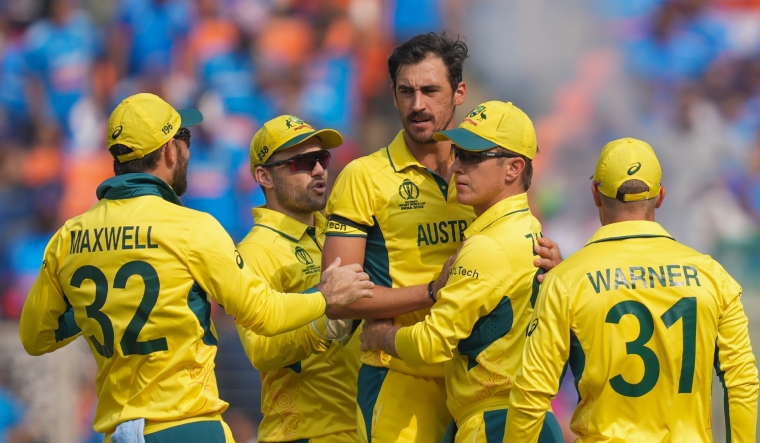 Mitchell Starc and Josh Hazlewood were tasked to take on the Indian captain Rohit Sharma and Shubman Gill. Starc started strong and handed India just three runs in the first over. However, Rohit Sharma found 10 runs in the second over by Hazlewood. After coming back for a second run in the first ball, he bashed back-to-back boundaries to put pressure on Australia.
3.5: Rohit Sharma struck the first six of the 2023 World Cup final against Josh Hazlewood. A short ball from the right-hand seamer was dispatched over the deep square leg by the Indian captain. Rohit then blasted a boundary down the ground to finish the over that handed India 12 runs in total. 
4.2: Shubaman Gill was caught by Adam Zampa at mid-on off Mitchell Starc. The youngster failed to find the elevation he hoped for and was dismissed for just 4 runs from 7 balls. The Indian opening partnership was broken with 30 runs on the board and Virat Kohli joined his captain in the middle. 
In the seventh over, Mitchell Starc was punished for boundaries in the first three balls by Virat Kohli. The Indian batters added two more runs to find 14 runs in all from the left-arm quick's fourth over.
Glenn Maxwell was introduced into the attack by Cummins as Virat Kohli and Rohit Sharma swiftly added 25 runs to cross the 50-run mark. After three singles and a dot ball, a poor ball from the off-spinner was punished by Kohli for a boundary as he moved to the 20s.

Pat Cummins decided to take on the Indian batters in the ninth over. The Australian captain started strong and gave away just 5 runs in his first over. 
There was more drama in the final over the batting powerplay. Rohit Sharma smashed a six and a four off Maxwell but was dismissed in the third ball. The Hitman's attempt to go down the ground failed and Travis Head took a running catch at cover-point to dismiss the Indian captain for 47 off 31 deliveries.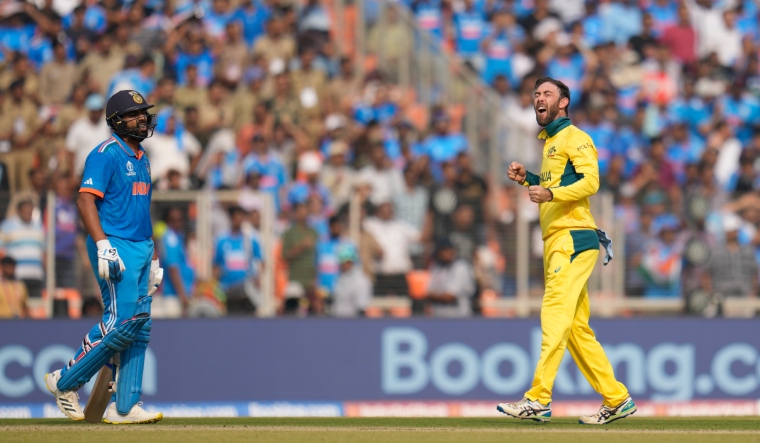 The new batter Shreyas Iyer then found a boundary of the over's last ball as India's powerplay finished 80/2. 
Australia bowling 0-10 overs:
G Maxwell (1/21 -- 2 overs)
M Starc (1/29 -- 4 overs)
P Cummins (0/5 -- 1 over)
J Hazlewood (0/ 25 -- 3 overs)