Chuni Goswami, "the first glamour boy of Indian football", is no more. The 82-year-old breathed his last at 5pm today in Kolkata, having suffered from a prolonged illness. Here's what football expert Novy Kapadia wrote about the former India football team captain on the latter's 80th birthday.
Goswami was arguably the finest ball player India has ever produced. At his prime in 1960-64, his balance, silky dribbling skills, slick ball control and shrewd passing, made him a household name. His delectable body swerves were a delight to watch and ultimately set him apart from other greats of his era. Ex-international and renowned coach Subhash Bhowmick has always maintained that Goswami could dribble as well as Ronaldinho or Robinho or any of the great Brazilians.
I met him months before his eightieth birthday and he admitted with a tinge of regret that dribbling skills in Indian football were on the decline. His idol was Ahmed Khan of East Bengal (1949-1959), also renowned for his mesmeric ball skills. Goswami and Ahmed Khan are arguably the most skillful and creative forwards in the history of Indian football. We met just a couple of days after Ahmed Khan died in Bangalore and Goswami admitted that he had learnt a lot watching him play.
Just like Ahmed Khan could wriggle out of difficult situations with his delectable dribbling skills, Goswami could do the same. The 1960 Rome Olympian S.S. Hakeem recalls a match in the Santosh Trophy when Services met Bengal. Goswami had the ball near the corner flag and seemed to be trapped in a cul-de-sac. Hakeem thought he could attempt a sliding tackle and whip the ball away from India's best dribbler. But suddenly, with a brilliant body, swerve Goswami evaded his marker and moved infield. This ability to find space in small areas of the field was his forte as it was of Ahmed Khan.
Similarly, both could evade lunging and hard tackles with ease and avoid injuries in an era when ball players were not protected so much by referees and the concept of yellow and red cards did not exist.
In a way he was the last of the Mohicans, he belonged to an era which has gone forever—the complete all round sportsman.
Goswami played cricket for both Bengal and East Zone in the Ranji Trophy and Duleep Trophy. He captained Bengal in the 1972 Ranji Trophy final. In a first class match for the combined East and Central Zone team in 1966-67 he took eight wickets in both innings against the Gary Sobers-led touring West Indies team. The mighty West Indies, won the series 2-0 and the only match they lost on the tour was against the combined East and Central zone team.
Sports were a way of life for Goswami. Decades after retirement, he could be seen playing tennis at either the Calcutta South Club or the Mohun Bagan grounds. He remained a Bagan loyalist all his life.
I once asked him how he balanced a career in both cricket and football. He said, "The football season was not so long then. After the Durand tournament got over in January, I would shift to cricket for Bengal."
He has always lived life king size. After retirement, most evenings are spent either at the Calcutta South Club with friends or with former players at the Maidaan based Veterans club of which he is a president.
During his heyday, such was his aura and reputation as an incomparable player that he was universally admired. He often turned up late to the national camp but was forgiven. He even joined the camp at the Goshamahal Stadium, Hyderabad, for the 1960 Rome Olympics, a fortnight late.
He had recently joined the State Bank of India on sports basis as an officer. He had to balance the demands of his job and the national team. Some members of the team objected to the leverage given by the coach to Goswami. However, national coach S.A. Rahim—always pragmatic in his approach— would retort "Uska maafik ball control karlo, tum bhi fir late aana".
A shrewd coach, Rahim knew that Goswami was indispensable for the Indian team. Rahim, renowned for his psychological handling of players, would taunt Goswami with "aap toh Calcutta ke Maharaja hai, 14 din baad aate hai". But in the national camp he had kept Goswami's bed ready. He would even ask the 'privileged' player, "dekhiye agar apko ye bed sahi lagta hai".
East Bengal's general secretary Jyotish Guha was so impressed by him that he even offered to buy him the new Fiat car which had come in the market in the 1960s. However, Goswami refused and stayed with his first love Mohun Bagan.
His charisma and mystique got encased as he remained a one club man all his life. The entertaining football that he played delighted fans from all over India. Wherever he played—in the Durand Tournament (Delhi), in the Rovers Cup (Bombay) or in any South Indian city in the Santosh Trophy or All India Inter-University Championships—football fans gathered to applaud him. If he had lived in the modern era, he would have been a marketing man's delight and would have endorsed numerous products as he was always immaculately dressed and spoke well.
He served Mohun Bagan with distinction from 1954 till 1968. He joined the Mohun Bagan junior team at the age of nine. Goswami made his senior debut for the green and maroon outfit as a sixteen year old on 29 May 1954 in a league match against Eastern Railway. It was a lucky debut. Mohun Bagan's two Olympian inside forwards Runu Guha Thakurata and Abdus Sattar could not play the match due to office commitments.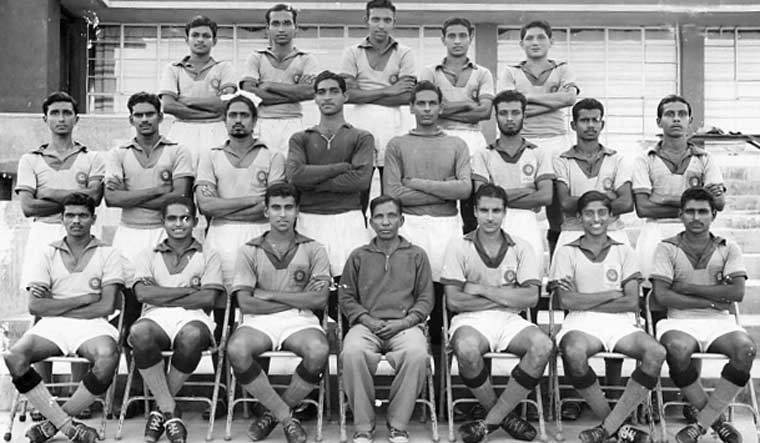 It was felt that Goswami would not get his chance as Bagan had two inside forwards—Badru Banerjee and Robin Patra. However, Goswami on the advice of his mentor and coach Balaidas Chatterjee, had worn the club jersey as soon as he entered the dressing room. Mohun Bagan had a superstition that once a player wore the club jersey, he could not be dropped. Patra had taken his place for granted as Goswami played as inside right for the junior side. However, the club sentiments prevailed and Goswami was asked to play as inside left. Till he retired, Goswami was considered the best inside left in the country and ranked amongst the best in Asia. However, he took to this position more by accident than design.
In 1956, he first played for Bengal in the senior national championships for the Santosh Trophy at Ernakulam. In the final, he provided an astute through pass to enable dashing winger P.K. Banerjee score the winning goal against Mysore.
Goswami was ignored for the 1956 Melbourne Olympics. However, that same year, he was appointed captain of the Calcutta University and led them to win the All India Inter University Championships for the Sir Ashutosh Mukjerjee Trophy. In the final, he scored the match winner against Bombay University. As a precocious twenty-year-old, he was chosen for the 1958 Tokyo Asia Games, with Bagha Shome as coach. From 1958 onwards, he became a regular for the Indian team till he retired in 1965.
As captain of the Indian team, his greatest triumph was winning the gold medal in the 4th Asian Games at Jakarta by overcoming South Korea 2-1 in the final. In the semi finals, he scored a brace in the 3-2 win against South Vietnam, which had eight players with experience of the French League. He was also captain of the national team which finished runners-up in the 1964 Asian Cup at Tel Aviv, Israel and the 1964 Merdeka tournament.
In his prime, Goswami received an invitation to train with Tottenham Hotspur, managed by the legendary Bill Nicholson. It was then the biggest club in London. In 1960-61, it won the first league-and-cup double of the 20th century and a year later, became the first British side to lift a European trophy, trouncing Atletico Madrid 5-1 in the European Cup Winners Cup final. Goswami never took the Spurs' offer seriously and carried on playing for Bagan till he quit, aged 30, in 1968.
In domestic championships, his greatest triumphs were in the Durand Tournament, in which his club took part in every final from 1959 to 1965. In the replayed 1963 final against Andhra Pradesh Police, Goswami scored a goal in each half to set up a memorable 2-0 win. This was the first time Bagan had beaten the Hyderabad cops in a Durand final, having lost to them in the 1950 and 1961 finals. He scored several vital goals for Mohun Bagan in the semi finals of both the 1964 and 1965 Durand tournaments against Tata Sports Club and Andhra Pradesh Police.
The Durand, the oldest tournament in India, was a bastion of tradition. Till it became a security risk in the early 1980s, the President of India always attended the Durand final, had tea with the rival captains and distributed the prizes. In 1965, the scholar-president Sarvapali Radhakrishnan walked into the Delhi Gate Stadium (now Ambedkar Stadium) to watch the final between Mohun Bagan and Punjab Police. Noticing Goswami warming up near the Bagan bench, the eminent scholar walked up to him and said, "So I see Chuni again. You seem to have become a permanent feature of the final." Such was legacy and fame of Goswami.
Goswami led the Mariners for five consecutive seasons between 1960 and 1964. In the 15 years that he spent in Mohun Bagan, they would go on to win 10 Calcutta league titles and reach seven Durand cup finals, of which, they won six, with Goswami leading the team on five occasions.
He retired when he was at his prime at 30 years of age and so he was missed even more. The P.K. Banerjee, Goswami and Tulsidas Balaram combination is still considered the best ever in Indian football as the trio had telepathic understanding, dazzling ball skills and great finish.