In a major relief, the rescue workers on Tuesday morning managed to get the first visuals of the 41 workers trapped inside the collapsed Silkyara tunnel at Uttarkashi in Uttarakhand. This was made possible after an endoscopy camera was send into the tunnel via the six-inch pipe that was pushed through the rubble on Monday night. 
In the video, the workers, wearing yellow and white helmets, are seen receiving food items sent to them through the pipeline and talking to each other, reported PTI. The camera was sent in after it came from Delhi late on Monday evening.
The rescue workers also tried to talk to the trapped workers through a walkie-talkie. The rescue officials are seen asking the workers to come in front of the camera.  "Aap camera ke paas walkie talkie pe aake baat karein (come in front of the camera and talk to us through Walkie Talkie," an official is heard asking them.
सिलक्यारा, उत्तरकाशी में निर्माणाधीन सुरंग के अंदर फँसे श्रमिकों से पहली बार एंडोस्कोपिक फ्लेक्सी कैमरे के माध्यम से बातचीत कर उनका कुशलक्षेम पूछा गया। सभी श्रमिक बंधु पूरी तरह सुरक्षित हैं। pic.twitter.com/vcr28EHx8g

— Pushkar Singh Dhami (@pushkardhami) November 21, 2023
The trapped men reportedly told the rescue workers that they were healthy and doing well.
The workers were served hot Khichdi for the first time since they were stranded, on Monday. Food, mobiles and chargers will also be sent into the tunnel through the six-inch lifeline. 
Though communication was happening, the six-inch pipe was considered a major upgrade as mobile phones could be sent. All these are expected to have a good psychological impact on them.
Meanwhile, it is unclear whether the horizontal boring has restarted. The drilling was stalled after a boulder appeared to block the progress of the heavy-duty auger machine. An official statement said this was scheduled to begin on Monday evening.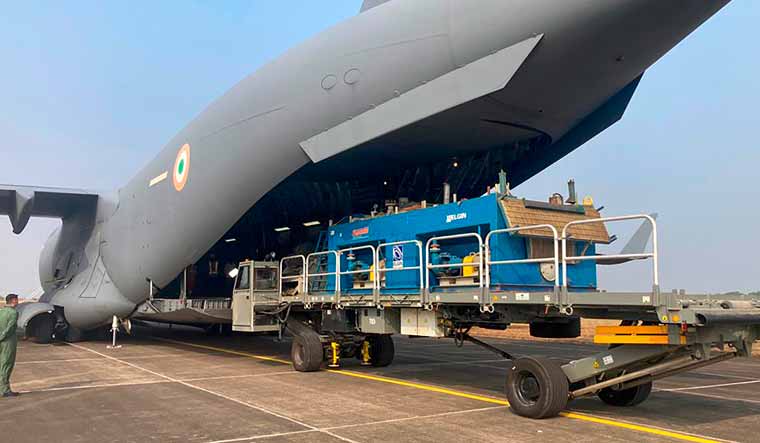 Vertical drilling continued on Monday as heavy machinery to dig a vertical rescue shaft, possibly around 80 metres deep, reached the site. A road to the hilltop has been laid and the Oil and Natural Gas Corporation (ONGC) is arranging for more equipment. 
The Indian Air Force C-17 and two C-130J Super Hercules transport aircraft are being deployed to airlift 36 tonnes of critical equipment on Monday. The work has begun on drilling from the other side, the Barkot-end, of the tunnel.
International tunnelling expert Arnold Dix is at the disaster site to review rescue efforts. He heads the Geneva-based International Tunnelling and Underground Space Association.
Meanwhile, the Uttarakhand state government is likely to submit a report to the High Court, after the state's top court sought replies from the state government and central agencies within 48 hours on the ongoing operation and measures taken to rescue the workers. The court's direction came on a PIL related to the rescue operation at the Silkyara tunnel. It was filed by Dehradun-based NGO Samadhan.