The grand ceremony to mark the inauguration of the new Parliament building tagged the "temple of democracy" by Prime Minister Narendra Modi, began on Sunday morning with a grand 'puja'.
The Prime Minister arrived at the new Parliament building around 7:30 am. He was welcomed by Lok Sabha Speaker Om Birla.
The ceremony began with vedic chants by priests from Karnataka's Shringeri Math. Modi performed "Ganapati Homam" to invoke Gods to bless the inauguration of the new Parliament building. After attending the pujas, the Prime Minister, along with priests from adheenams in Tamil Nadu, offered flowers to 'Sengol'.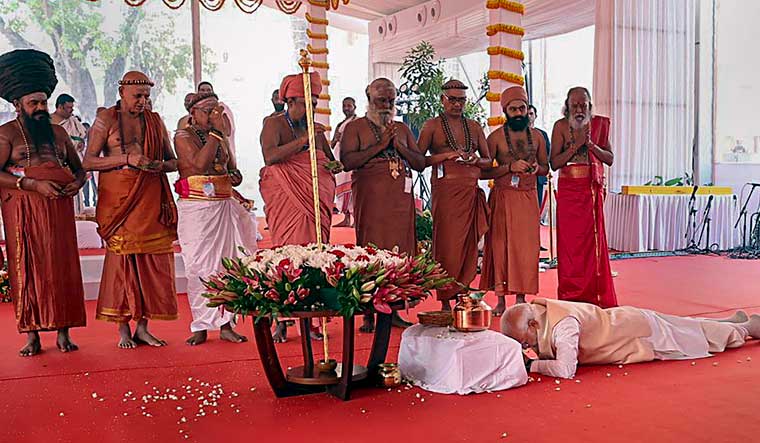 The Prime Minister then prostrated before 'Sengol' as priests handed over the sceptre to him. The 'Sengol' was then carried by PM Modi to the new Parliament building in a procession amid tunes of 'nadaswaram'. The sceptre was then placed inside the Lok Sabha chamber by the Prime Minister in a special enclosure on the right side of the Speaker's chair. 
He then went on to receive blessings of seers before heading to the ceremony hall where all-faith prayer meets were held. The prime minister felicitated some workers who played key roles in the construction of the new Parliament building. 
Union ministers Rajnath Singh, Amit Shah, S Jaishankar and Jitendra Singh, chief ministers of several states and BJP president J P Nadda were present on the occasion.
New Sansad Bhavan

The triangular-shaped four-storey building boasts a built-up area of 64,500 square metres. The Lok Sabha chamber in the new building is three times bigger than the present one, with a seating capacity of 888 members. This can be increased to 1,224 in joint sessions. The Rajya Sabha has space for 384 members―four times bigger than the current chamber.

The interiors of the Lok Sabha have references to the national bird, the peacock, while the interiors of the Rajya Sabha have been built on the inspiration from the national flower, the lotus. In the third aspect of the building―the open courtyard―the national tree, the Banyan, is pre-eminent. The courtyard leads to a central lounge where members can interact.
The materials for the construction have been sourced from various parts of the country. While the red and white sandstones from Sarmathura in the Dholpur district of Rajasthan have been used extensively in the building to help give it an appearance that is in keeping with the original buildings of Central Vista, there is also extensive use of wooden structures, with wood procured from Nagpur, Maharashtra.