The third G20 Tourism Working Group meeting will being at the Sher-e-Kashmir International Convention Centre in Srinagar on Monday, the first global event to be in Kashmir after the abrogation of Article 370.
The two-day event will see the participation of at least 60 delegates and 20 journalists from different parts of the world. According to G20 chief coordinator Harshvardhan Shringla, the event has the highest delegate participation compared to previous such meetings despite some member countries, including China, deciding to stay away.

While China cited its firm opposition to holding G20 meetings in "disputed areas" as a reason to stay away, Saudi Arabia has not registered for the event while Turkey too decided to stay away from the Srinagar meeting. However, members of the Organisation of Islamic Countries (OIC) and the ambassadors of Nigeria and Indonesia are attending the summit. 

They said the delegates would visit Pari Mahal, Chesmashai and other Mughal gardens, besides taking a walk on the renovated Polo View Market, before leaving Kashmir Valley on Wednesday.

Meanwhile, security has been tightened across Kashmir. While counter-drone teams of the elite NSG are monitoring the sky, marine commandos are patrolling the Dal Lake. This is besides the scores of security personnel deployed on the ground to ensure a safe and secure G20 meeting.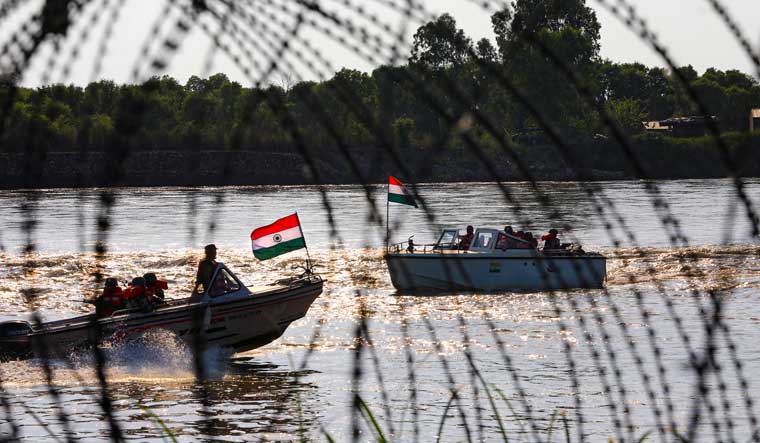 The Jammu and Kashmir Police, with the help of the Army, are monitoring the Zabarwan Range overlooking the meeting venue and accommodation facilities for the guests. Over 30 companies of the Central Reserve Police Force (CRPF), which had earlier been taken out of Jammu and Kashmir for election duty in the rest of the country, have since been recalled to further strengthen security in the valley.

A hit team of the elite "Black Cat" commandos is on alert to avoid any hostage-like situation. "MARCOS teams will be patrolling the Dal Lake along with personnel from the river wing of the Jammu and Kashmir Police and CRPF as the convention centre is located on the bank of the water body," an official involved with the security preparations said.

Scanners and sniffer dogs have been pressed into action to check for any explosives or IEDs. Vehicles passing through the city are randomly checked to ensure that no subversive elements manage entry into the city.

According to the officials, one of the main agendas of the working group is film tourism. "There will be efforts to showcase the potential of Jammu and Kashmir for film tourism. I do not doubt that this will succeed in getting a different sort of tourism for Kashmir," said  Shringla. He added that the event will help boost Jammu and Kashmir's economy.