Several students at the Tata Institute of Social Sciences (TISS) in Mumbai watched the controversial BBC documentary on Prime Minister Narendra Modi on their mobile phones and laptops amid protests by the BJP's youth wing activists. According to reports, the Progressive Students Forum (PSF), which had earlier planned a public screening of the film, cancelled their plan in view of protests and pressure from the management.
"Accordingly, we decided to cancel the screening. However, we have forwarded the entire documentary to all the students and they are watching it on their gadgets like mobiles, laptops or tablets," a student leader told news agency IANS. 
Reports claim more than 200 students watched the documentary on the campus.
The TISS administration had issued an advisory to both the students and the managements of all its branches against public screening of the documentary India: The Modi Question which has stirred up a political storm across the country. It had also warned that not heeding to the advisory would be "dealt with strictly as per the rules".
According to TISS Student Union leader Pratik Permey, the association had not planned any screening, but a group called the Progressive Students Forum was the organiser.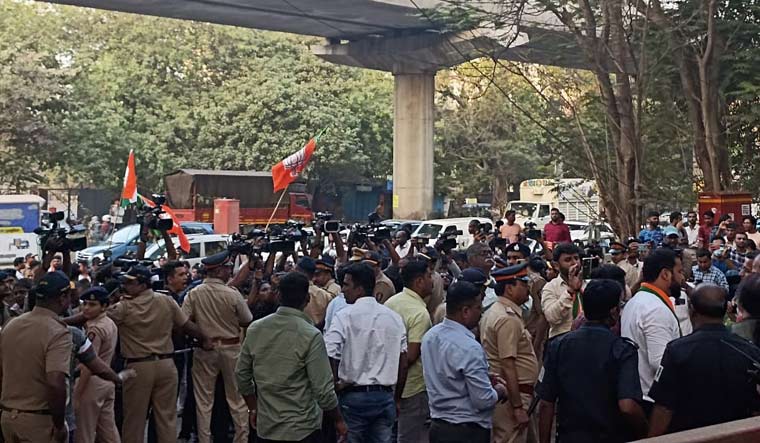 BJP Mumbai unit president Ashish Shelar urged the Maharashtra government to take action against the students for attempting to create law and order problems.
Meanwhile, the students' association at Pune's Film and Television Institute of India (FTII) said on Saturday that they had screened the documentary on the campus on January 26. "On January 26, we screened the banned BBC documentary 'The Modi Question' at FTII. Throughout history, the banning of literature, music, and in recent times, media, has been a sign of a crumbling society," it said in a statement.
"The act of scrutiny should be welcomed by our elected representatives. Instead, they quickly tag it as false propaganda and try to shove it under the rug. They should know that the sure-fire way for something to be watched is to ban it," it further said.
The Centre had last week directed social media platforms Twitter and YouTube to block links to the documentary with the Ministry of External Affairs terming it as a propaganda piece that lacks objectivity and reflects a colonial mindset.
Over the past few days, students at many educational institutes, including the Jawaharlal Nehru University, Delhi University and Ambedkar University in the national capital, have tried to screen the controversial BBC documentary.
In Kerala, both the Congress and the CPI(M) screened the film at several places.