It's good news for Madhya Pradesh as far as rainwater storage for drinking and irrigation is concerned, as the state received 23 per cent excess rainfall at the official end of the rainy season for the year on Friday. 
Official seasonal rainfall computation by the Indian Meteorological Department (IMD) is between June 1 and September 30 every year, irrespective of arrival and withdrawal of monsoon.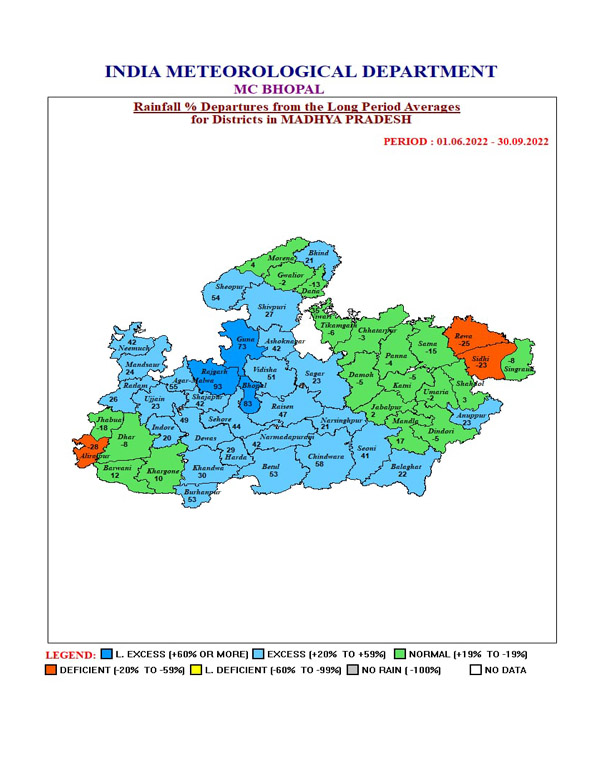 In this official period, Madhya Pradesh, as a whole received 1222.8 mm of rain against the expected 997.5 mm – an excess of 23 per cent. The 21 districts in East MP sub-division received average of 1145.6 mm of rain against expected 1043.4 mm, which is 10 per cent excess and 31 districts in West MP received average of 1187.2 mm against 877.3 mm, which is 35 per cent excess.
Rainfall was fairly widespread across the state this season, with 46 out of the 52 districts receiving normal rainfall, as per the season end report of Regional Meteorological Centre (RMC), Bhopal. A shortfall or excess of 19 per cent in rainfall is considered normal by the MeT department. 
Only three districts – Alirajpur in southwest MP (-28 per cent), Rewa (-25 per cent), and Sidhi (-23 per cent) recorded deficient rainfall during the season, while three districts, Rajgarh (93 per cent), Bhopal (83 per cent) and Guna (73 per cent) received large excess rain.
The state got lashed by heavy spells of rainfall, especially in July-end and August, leading to flood conditions in central and northwestern parts. Though there was crop loss and infrastructure damage, not too many human life losses were reported due to the floods.
The good rainfall has led to all water bodies, especially the reservoirs used for drinking water and irrigation purposes, to be filled up to the brim, therefore, people can feel comfortable about water availability in the coming months, experts say. 
Some more rain expected
As the monsoon is still active, some more rainfall is expected in the southern and eastern parts of the state during the next few days, according to the RMC. "The monsoon withdrawal has started from the northwest corner of the country, but in Madhya Pradesh, withdrawal is expected only after October first week," RMC scientist Ved Prakash Singh told The Week. The Southwest Monsoon of 2022 hit the state at its southwest tip on June 13 and covered it entirely by June 30.