A new security blueprint has been put in place by the Yogi Adityanath government to counter terror activities and thwart attempts of radicalization in his state. At the centre of this effort is the Uttar Pradesh Anti Terrorist Squad which is training on the lines of the National Security Guards (NSG) and preparing for future challenges by roping in women commandos. Prashant Kumar, Additional director general of Police (law and order) in UP police told THE WEEK that the new women commando SPOT team will lead counter-terror operations in a scenario where women terrorists attack public spaces.
Excerpts from the interview: 
Q. Can you explain the new security blueprint for UP which is setting up new ATS units at multiple locations? 
The ATS, headquartered in Lucknow, has units in 18 districts in the state. While we already had a presence in some of these places, we are upgrading our strength and capacity as well as setting up new units in Deoband, Azamgarh, Aligarh, Bahraich, Meerut and Kanpur. A new ATS commando training centre is being set up in Rampur; two SPOT (Special Police Operations team) teams will be deployed in Kushinagar and Saharanpur and a high-tech Quick Reaction Team (QRT) at Jewar International Airport in Gautam Budh Nagar district in UP. There is a focus on building an effective and overarching counter-terror architecture keeping in mind terror threats emanating not just within the state but if we look at the latest terror activities in neighbouring states like Punjab and Rajasthan, we need to build our defences and remain alert. There are continuous threats from international terror groups who are trying to create sleeper cells by tapping the local population for recruitment, and radicalization by targeting youth belonging to weaker socio-economic backgrounds. 

Q. What is the thought behind setting up the first all-women commando team in the Anti Terrorist Squad (ATS)? 
If a component of women is present in a terror group or there is a hostage situation in a house or public space like malls or cinema hall where hostages taken are mostly women, our women commandos will be most effective in counter-terror action and negotiations. We are setting up an all-women SPOT squad (Special Police Operations Team) under the Anti Terrorist Squad on the lines of National Security Guard (NSG), who can take charge if the state needs immediate counter-terror action, especially at multiple locations since we are the largest state as well. It will include 36 women commandos, to begin with and we will expand it further. They will act only when there is a terror attack. They are also being trained to guard vital installations like Vidhan Sabha, Raj Bhawan, cricket stadium, and the chief minister's residence. Women are the best fighters in the world and we wanted to have a one of its kind ATS team.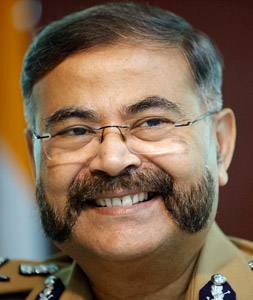 Q. What kind of training are they undergoing? 
We are giving them the training to handle all kinds of equipment and weapons. A good start has been made as they completed Krav Maga training, an Israeli unarmed combat technique as well as training by Korean coaches. They are undergoing training with NSG, BSF, and ITBP. The focus is on equipping our counter-terror forces with new electronic gadgets, the latest weaponry and analytic tools for foreign training. The chief minister has said that the ATS should also train with the best in the world and we are making proposals for regular training modules with US Corps, Scotland Yard and Israeli counter-terror units. 

Q. Which are the terror groups trying to target the state? 
Presently Al Qaeda in the Indian Subcontinent is active. Though there have been no terror acts, there are active as sleeper cells who are ideologically motivated or from deprived backgrounds and low socio-economic status. The uneducated youth become the targets as they can be influenced easily. So these pockets where such youth have earlier been linked to terror activities are easy targets for terror outfits like AQIS (Al Qaeda in the subcontinent), who will look at these breeding grounds instead of going to new places. So our focus is on all those areas where similar activities have been detected in the past. 

Secondly, there is a growing threat from pro-Khalistan groups as continuous activity has been seen in neighbouring Punjab. We cannot say they are hyperactive till they carry out any operation but a dangerous new trend is emerging where gangsters with muscle and money power are hand in glove with terror organisations with cross-border support. This trend has been seen in the Sidhu Moosewala murder and the attack at Intelligence headquarters in Mohali. Recently, we joined the probe in Udaipur killing to investigate whether the culprits had any links to UP. This is an alarming scenario for the country and we are in touch with our counterparts in other states and central agencies. 
Q. What has been the progress in the Gorakhnath temple attack case? 
The investigation is complete and a charge sheet is expected to be filed soon. As the local leg of the investigation is complete, the NIA may step in to probe the cross-border links and larger conspiracy. We investigated under the Unlawful Activities Prevention Act (UAPA) so the NIA can take over the investigation. The case is important as the arrest of Ahmed Murtaza by the ATS foiled a major terror strike. Murtaza was a brilliant student from IIT Mumbai who was radicalised since 2013 and finally, he took allegiance to ISIS in 2020. He was connected to ISIS sympathisers, including Mehdi Masroor Biswas in Bangalore who was arrested by NIA. We have got evidence of his financial help to ISIS sympathisers in other countries. But it was sheer luck that he could not get in touch with ISIS fighters even though he made some attempts to go to Syria. 

Q. Is the state government making efforts toward the deradicalisation of youth? 
The ATS is forming guidelines to launch a proper programme for deradicalisation where the confidentiality of the people involved will be important but at the same time, the district administration and community will be involved to provide an alternate path to the youth by creating jobs, skill development programmes to provide them employment. We are also roping in psychiatrists to help wean them away from extremist ideology and violence.