Once seen among the most worrisome districts in the country, Gurgaon has turned the tables and registered 83 per cent recovery rate, one of the highest in the country. While the national recovery rate stands at 62.42 per cent and that of Haryana at 74.91 per cent, the millennium city has managed to stabilize COVID-19 transmission with micro lockdowns in last two weeks.
Chief Medical Officer Dr Virender Yadav, while talking to THE WEEK, said that the infection rate stood at 34 per cent on June 15 and it has been brought down to below 15 per cent now. 
Deputy Commissioner Amit Khatri told THE WEEK that they have been following an exhaustive testing, tracing and treating strategy that started from 500 samples in a day.
"We have moved to 3,000 and now target to sample 4,000 people everyday. Our strategy of identifying eight high risk zones and stringently containing them helped us stabilize COVID transmission. We are now working to have our own plasma bank", he said.
Meanwhile, despite having a high recovery rate, surge in virus transmission in other districts like Faridabad, Sonipat, Rewari, Hisar, Mahendergarh and Rohtak is proving to be a major cause of concern for the state. Haryana has till date registered nearly 20,000 positive cases out of which around 5,000 cases are active. The state also recorded 290 deaths.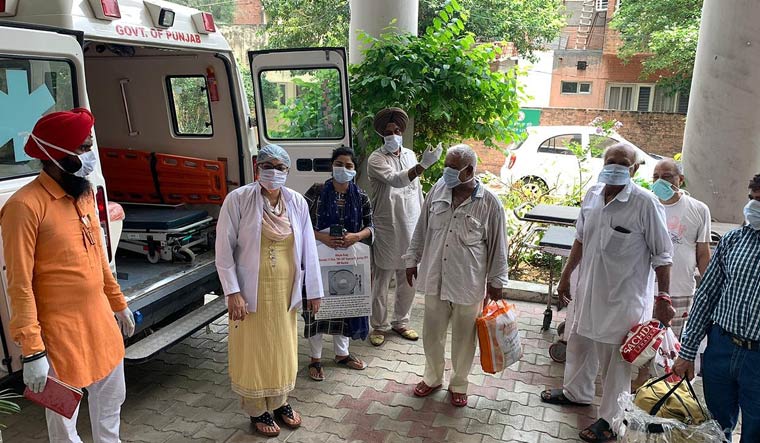 Punjab, with 69.26 per cent recovery, has also made it to the list of 18 states that have a recovery rate higher than the national average. But the ever increasing number of COVID-19 patients has left the state authorities baffled. The state recorded 217 new cases in the last 24 hours, taking the total count to 7,357. As many as 187 people have so far succumbed to the disease in the state.
Twenty out of the 22 districts reported new cases on Friday with Jalandhar leading with 61 cases. Patiala and Mohali recorded 22 each. 
Punjab as of now has 2,153 active cases and the fatality rate is 2.56 per cent as compared to Haryana's 1.48 per cent. Both the states are currently working on establishing plasma banks and starting plasma therapies making it easily accessible and affordable by masses. Haryana has taken the lead on this account. After fixing the rates for COVID-19 treatment and RT-PCR diagnosis in private hospitals, it will be declaring the plasma therapy and antigen testing rates by next week. Punjab, however, is still deliberating on capping the COVID-19 treatment rates.