At a time when hope runs low, the emergency police service of Uttar Pradesh is bringing some cheer to its citizens. 
The UP Police Emergency Management System, better known as UP 112 [the number that is to be dialled to access it from across the state], has responded to five lakh plus calls for help since March 17. On May 14, the number stood at 539,074—a figure that included calls for the door step supply of food grains to those in need (199,844), delivery of medicines (46,209) and transportation assistance in cases of emergency (24,081). 
At three call centres in the state—Lucknow, Prayagraj and Ghaziabad—as many as 732 communication officers respond to the pleas. The nature of these responses, from helping with procurement of materials required for the last rites of a loved one to celebrating the birthday (or even Mother's Day) of a lonely parent to sending medicines (with help from the Railway police) across 2,000 kilometers, is unlike what the force has done in normal times. 
It is a rare service which is almost re-oriented in itself as soon as the larger responses to the pandemic kicked in. 
On day two of the lockdown, Asim Arun, the Additional Director General of the Integrated Technology Enabled Citizen Centric Services (ITECSS), realised that normal policing calls to 112 were too few to leverage the set up's strength in this moment of crisis.
Arun thus asked the chief minister if his team could also respond to other incoming calls. "The only question the CM had was, 'Do you have the capacity to do so?'," says Arun.
Arun's police record includes a stint in the Special Protection Group. That spell, he says, moulded him to look seven steps ahead in any situation. The Janta Curfew on March 22 had given his team an idea about how things could unfold. "This was a situation which called upon us to look ahead, and do so quickly. My core team of 10 had been at it since we received the first COVID-19 related call on March 17," he says.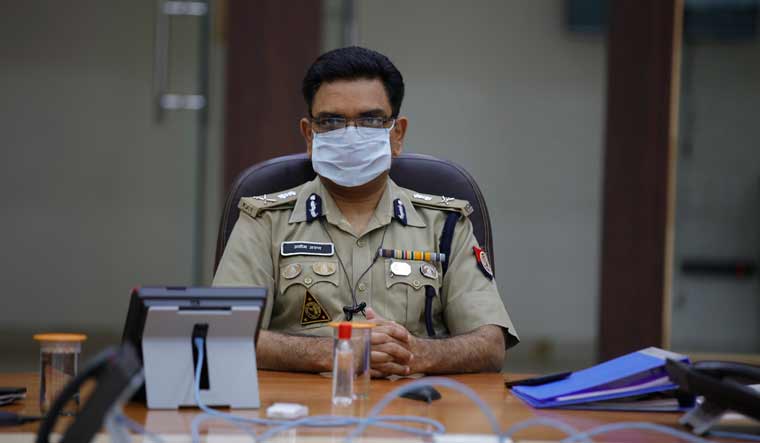 The state's emergency police number, 112, launched in October 2019, received 15,000 calls on an average pre-pandemic day. Now it logs more than double that figure. Its communication officers are in the nature of emergency call responders addressing people's most immediate concerns in the lockdown. 
A network of communication and dispatch officers, radio and IT staff, district police and support staff including drivers in addition to police from other services (such as fire) deliver response in time that could be as little as three minutes. Staff capacity has been maintained by permitting communication officers—the critical first link between the police and the public to work from home (some within hotspots) with the requisite set up and security. 
To bolster staff strength, the department has called back those who had recently stopped working, but were willing to return during the pandemic. A further 210 trainees, well on their way to becoming computer experts undergoing training at a Police Recruit Training Centre, were brought to the job after a three-day crash course in call taking.
Initial responses for demands for medicines and food were made good by policemen in Police Response Vehicles or on police two-wheelers from their own pockets till seniors in the department came together to set up a pool of RS 7 lakh plus, which has now been institutionalised as a 'Raahat Fund'. From this relief corpus, policemen who help citizens can immediately claim reimbursements. Over time, the force also realised that offers of relief needed to be injected with empathy, thus there was no need to turn every act into a photo opportunity. The service also readied a list of 4,300 volunteers across the state, matching them to the closest police station as back up support in case of need.  
Arun shrugs off any role he might have had to play in re-orienting the system and maintaining the morale of its members. "On the first day of the lockdown, I received a call from one of our staff members. She was on leave. I assumed she wanted to extend it given the situation. Instead, she wanted to cut short the leave and come back to work. I was ashamed about my initial thought. Since she was at her parent's home, I attached her to the nearest police station from where she could function while taking care of her parents," he says to uphold his contention that it is a self-motivated force at work. 
As the impact of COVID-19 amplifies, he knows that mental strength will be stretched. The force has three constables under quarantine at the moment, and Arun personally speaks to them every day. For a more professional response, the department has inked an MoU with the Department of Psychology, University of Lucknow to respond to mental health queries from its team. Inspirational videos and motivational posters in the lifts of the 112 office are other ways in which the force is being kept upbeat. One of the work floor posters, for instance, reads: 'Not all heroes wear capes, some wear headphones'.  Arun has also brought in his wife Jyotsna, a former radio jockey, to interact with the largely female team, which might hesitate opening up to a male boss on certain matters.
"This period has taught me that there is an angel in each one of us. At most places it is this angel at work. At a later stage, it will be our challenge to ensure that it is this face of the police that the public sees. People remain what they are—inherently good human beings," he says.
For the lakhs who made call to 112, the angel is a calm voice at the other end of a telephone line.