On December 18, if you were in Kochi, you might have seen a dramatic sight unfurl near the Kochi Port—Marine Commandos descending onto a ship from a helicopter.

A rare sight, but a necessary one, for this was Exercise Apharan—a large scale anti-hijacking exercise conducted by the Indian Navy in collaboration with the Indian Coast Guard, Cochin Port Trust and other stakeholders.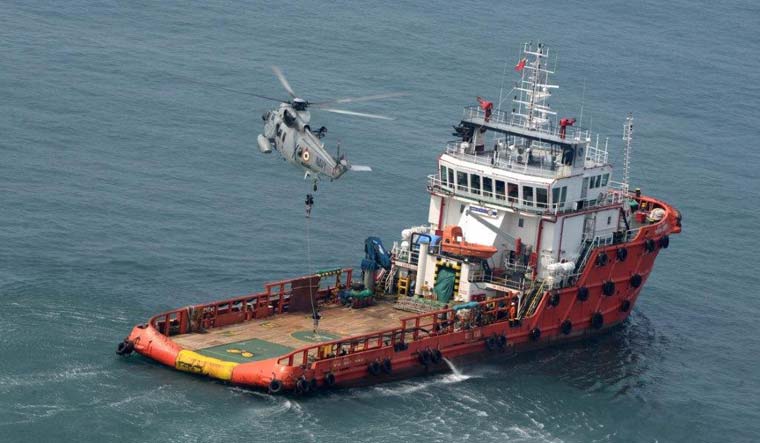 The exercise was conducted for the first time in Kerala at such a scale and saw the participation of multiple agencies including more than 12 ships and helicopters of the Indian Navy, Indian Coast Guard and Cochin Port Trust. As part of the scenario, interdiction of a 'rogue' vessel outside the Kochi port and insertion of Marine Commandos onto the rogue/hijacked vessel through boarding operations, as well as slithering down onto its deck from a Sea King helicopter, were exercised.

The Exercise 'Apharan' was aimed at "streamlining the response mechanisms and preparedness to thwart attempts by anti-national elements to hijack a merchant vessel or attempt forced entry of a rogue or commandeered merchant vessel into Kochi harbour" according to an official press release.

It added that "the hijacking of a merchant vessel is one of the challenging scenarios, response to which requires synergy of resources, assets and efforts of all stakeholders including the State Govt."

Piracy made a return in the 21st century after Somali pirates started hijacking commercial ships and demanding large ransoms. After a slew of initial successes, however, the pirates were met with an international response as Navies from multiple countries including India banded together to protect shipping in the Indian Ocean Region—one of the most heavily-trafficked maritime circuits in the world.

The Indian Navy has been engaged in anti-piracy operations in the Gulf of Aden since 2008, escorting Indian-flagged ships as well as protecting ships from other countries.

While piracy has declined in the Indian Ocean with no hijackings reported in the Western Indian Ocean in 2018, it is still present in other waters. Recently, 18 Indians were held captive after a commercial vessel was hijacked off the Nigerian coast.

The need for anti-hijacking operations is also particularly poignant in India, which suffered from an attack from sea during the 2008 Mumbai terror attack, where 10 terrorists made their way onto Indian shores via inflatable speedboats.

Apharan was conducted under the aegis of the Commander-in-Chief, Coastal Defence (Flag Officer Commanding-in-Chief, Southern Naval Command), Kerala.

According to the release, Apharan allows all stakeholders to assess the preparedness of their organisations, identify gaps to address them on priority and formulate an integrated Crisis Management Plan for Kochi Port.