Over the past decade, the BJP has maintained a massive lead over all its opponents in the digital battlefield of social media. The BJP has dominated the social media narrative long before Narendra Modi was sworn in as prime minister. This has been continued by the BJP running its social media operations in a coordinated manner, with both official handles of leaders and those of its supporters putting out posts on Facebook and Twitter in concert.
But running coordinated campaigns can also leave you vulnerable to manipulation, and the BJP seemingly learnt this the hard way late on Tuesday and Wednesday. On Wednesday, screenshots emerged of tweets by Minister of State for Finance and Shipping Pon Radhakrishnan that were critical of the Narendra Modi government. One of his since-deleted tweets read, ""working for the middle class is low on the agenda of Modi Govt".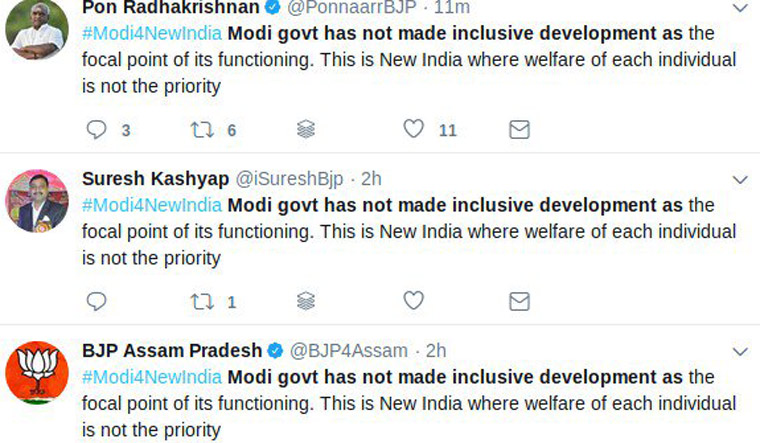 Screenshots of similar tweets also emerged for the official handle of the BJP unit in Assam. The BJP Assam Twitter handle tweeted, "Dishonesty and lack of honesty is the hallmark of a new India under Modi government." Many Twitter handles were shocked at the tweets from Radhakrishnan and the Assam BJP unit and assumed the handles were hacked or, even worse, had gone rogue! However, the problem was caused by something else.
Pratik Sinha, who has become famous for the work of his fact-checking website Alt News, on Wednesday tweeted a video of how people could edit the public Google document that the BJP's IT personnel provides to its social media teams. This document, which can be edited online, provides a list of issues to be tweeted for a day to promote the BJP's agenda.
How do you get a Union Minister to tweet what you want? Well, you go and edit the trending document made by BJP IT cell, and then you control what they tweet. Thread.

Here's the video of this morning when their trending document got automagically updated :-)

1/n pic.twitter.com/6DLwDPg2CV

— Pratik Sinha (@free_thinker) February 13, 2019
Sinha's video shows the document being edited live with "positive" attributes about the Modi government being changed to negative. Sinha then posted screenshots of the tweets being promoted by both popular handles, such as those of Radhakrishnan and the BJP's Assam unit, and ordinary Twitter users.
The 'critical' tweets shared by Radhakrishnan, the Assam BJP handle and others, were most likely uploaded by the local social media teams manning those handles, who did not check the content on the BJP's public document before uploading.
While it is yet unclear whether Sinha edited the BJP's public document or someone else did, he demonstrates that it was possible to manipulate the social media activities of influential government and political figures.
Sinha tweeted, "While it might seem like a laughing matter, the purpose here is to demonstrate that a non government entity sitting in BJP's office is controlling what a Union minister is tweeting." Interestingly, he even showed a screenshot of a tweet by Radhakrishnan from January 31 that claimed the Modi government had brought "down time for environmental approvals from 600 days to 1800 days" to imply that the BJP's Google document on Twitter activity had been manipulated earlier.