Dasamoolam Damu is a character that claims a unique position in Malayali pop culture. Originally from a Mammootty-starrer comedy Chattambinadu (2009), the character—played by Suraj Venjaramoodu—gained a massive following much later after the film was released. Damu became a popular face of memes and trolls in the Malayali social media circles over the year. And, now Nideep Varghese, a senior animator at Sony Pictures, has made Dashamoolam Damu a superhero also.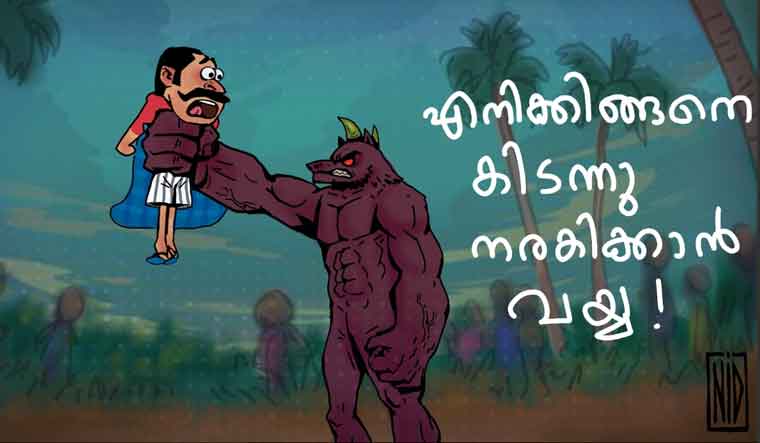 In a new viral video, Damu could be seen wearing the cape of a protector of children. The one-and-half-minute video features the transition of Dashamoolam Damu to "Dashamoolam-Man"—apparently aided by his magic potion, dashamoolam. Varghese says that Tovino Thomas-starrer superhero film, Minnal Murali (2021), inspired him to make the superhero short featuring Damu. Earlier, he had made Dasan and Vijayan—the iconic characters from the 1980s CID series immortalised by Mohanlal and Sreenivasan—dance to Anirudh Ravichander's Arabic Kuth, and Jagathy Sreekumar grooving to the 80's-styled song Kugrame (from Minnal Murali). Both were well received across the social media platforms. The cross-over idea continued when he reimagined the fight between Batman and Joker with Mammootty's Godfather-esque character Michealappan (from Bheeshma Parvam (2022)) and Fahadh Faasil's psycho character Shammi (from Kumbalangi Nights (2019)). And now, Damu is also making waves on social media.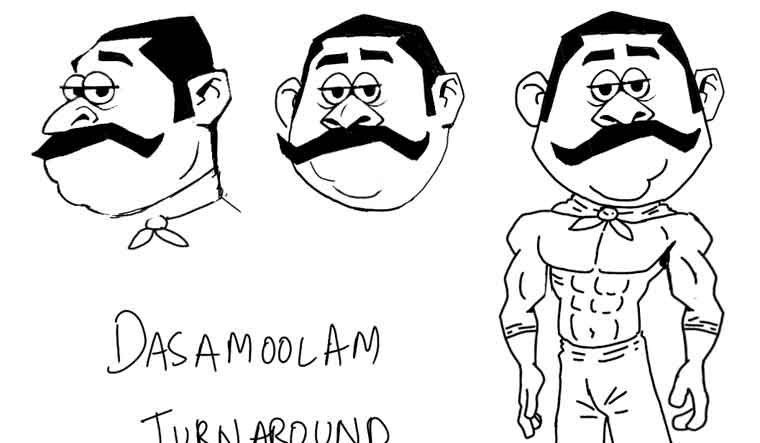 "I was looking for a comedy character to fit into the superhero groove because people love comedy," says Varghese. "Damu was perfect as he has many epic dialogues—that, too, related to fight scenes. I had to just fit those dialogues into the reimagined script. The only dialogue I had to add was that of a girl child crying for the help of Dashamoolam Man. I took the help of my seven-year-old daughter, Nibita, to voice-act it. I took inspiration from Popeye The Sailor Man to reimagine dashamoolam [originally, an Ayurvedic formulation made up of ten herbs] as his magic potion."
Hailing from Ranni in Pathanamthitta, Varghese took four long years to figure out that animation is his way. "I went to study BSc Computer science—dropped out after two years. Then tried engineering for two years; dropped out again. I found it extremely hard to study these," he said. "Then my parents took me to a career guidance person. When he heard that I am interested in drawing and art, he advised my parents to send me to a course related to animation. Then I joined a diploma course in animation at Thiruvananthapuram. I got a part-time job at a company named TINFO that works on mobile games. Then I joined Toonz Academy at Technopark. I worked there for more than four years. Then the career took a big turn when I joined [American animation studio] DreamWorks."
As part of the DreamWorks team, Varghese worked on films like Madagascar III, Trolls, Kung Fu Panda and the Shrek series. Then he shifted to Australia to have a short stint with Animal Logic. There he worked for 10 months and worked on films like Peter Rabbit. Then he flew to Canada to be part of Sony Pictures Imageworks. For the last four and a half years, he has been with Sony. Varghese is currently based in Vancouver in Canada.
Reimagining epic characters from Mollywood is something he does in his free time. "I do 3D animation as part of work, but I'm still in love with 2D," he says. "That is why I do all these crossovers and reimaginations in 2D." Varghese adds that he would take at least a month to finish a one-minute video. "The response I'm getting for the video is overwhelming."