The actor who got his fans moist-eyed with his emotional sequences in M.S. Dhoni: The Untold Story and Chhichhore, gave tinsel-town a teary shock on Sunday morning. The Kai Po Che actor Sushant Singh Rajput was found hanging at his residence in Bandra.
Just when Bollywood thought things couldn't get any worse post the deaths of Irrfan Khan, Rishi Kapoor and Wajid Khan, it has to now deal with another loss; this time of a young and vibrant actor who had just got into the rhythm of the glitterati crowd. The 34-year-old made his television debut with the serial Kis Desh Mein Hai Meraa Dil in 2008, which led to him getting the lead role in Pavitra Rishta. He had his Bollywood debut in the 2013 buddy drama Kai Po Che for which he received a nomination for the Filmfare Award for the Best Male Debut. He also starred in a couple of movies after that including Shuddh Desi Romance and Detective Byomkesh Bakshy!. But one of his highest-grossing films was PK in which he did a supporting role.
He was last seen in the Netflix film Drive where he shared the screen with Jacqueline Fernandez, Vikramjeet Virk and Sapna Pabbi. The fun and peppy song 'Makhna' from the same movie had become a party anthem that hit social media way before the film release. It was also rumoured that the actor was roped in by Pepsi to be their latest brand ambassador.
Born in Patna, Sushant was the youngest among his siblings—four elder sisters. One of his sisters, Mitu, is a state-level cricketer. His mother passed away when he was only 16 and the incident had left Sushant devasted. The actor has made known the fact that he misses his mother a couple of times on social media.
His last post on Instagram was on June 3 which was a poem for his late mother.
"Blurred past evaporating from teardrops
Unending dreams carving an arc of smile
And a fleeting life,
negotiating between the two… #माँ ❤️"
Cryptic indeed. Is there a clue in it? What was his state of mind when he wrote this poem ten days back? Nobody still has clarity as to what happened and why it happened. Some reports state that he was taking treatment for depression. With fans trying to draw parallels between Sushant's former manager Disha Salian's suicide and his unnatural death, the Mumbai cops are investigating into the matter.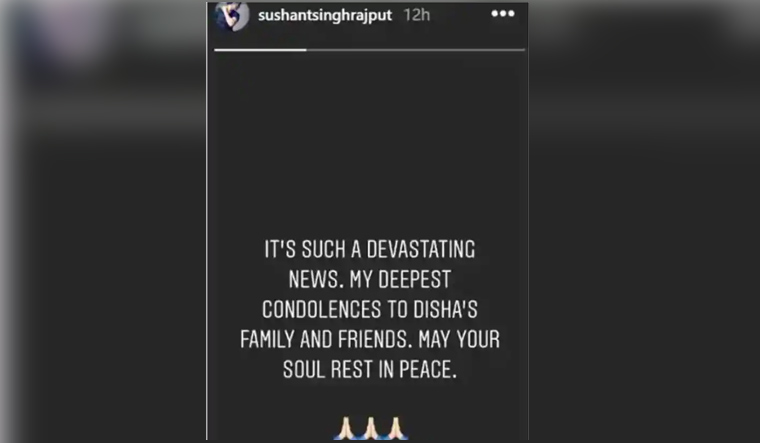 As of now, no suicide note has been found.
In addition, his Instagram bio reads: "Photon in a double-slit"—Was that the clue? Looking at the science of it, the double-slit experiment is called one of the most logic-defying and weirdest observations in modern physics. Now, what happens when a photon passes through a double slit? Even if there is only one photon, it forms an interference pattern. Through this experiment, it was proven how a stream of photons—the basic unit of all light—can act both as a wave and particle. Was Sushant hinting at having multiple personalities? Was he acting happy when on the inside he was sad? Or are we over-analysing the whole thing?
Maybe it is time to shed some light on the mental health of actors especially when most of them are on their own at home and at a time when the coronavirus pandemic is amplifying people's feelings of anxiety and depression.
Whether it is the constant pressure to perform at shoots or to maintain a sane image in front of fans, actors undergo significant stress as part of their lives. Are all actors going through this battle of putting up a smiling face on the outside while slowly dying on the inside? Sushant was never the kind to post every update of his life on the internet. But, as has been well-documented, depression is not always visible from the outside.
Looking at his record pre-COVID-19, there have been no lows in terms of his acting career or personal life. Chhichhore was a blockbuster which had a collection of over Rs100 crore; it performed steadily at the box-office and received critical praise. Even Drive did quite well though it was not spoken about a lot.
However, the actor has been known to walk away from things when it nears the peak of success. He dropped out of engineering college just months before his graduation; he quit soap opera, which had got him his fame, even when his show was topping the charts; and after his big-screen debut, he walked away from a prestigious contract with one of Bollywood's most powerful producers—Yash Raj Films.
Just when he was touted as one of Bollywood's most prized actors, he walked away from that as well. But, this time, it meant walking away from everything he called his own—family, friends, fans. The question people now ask on every social media platform is, "Why so soon?"