When Chanda Kochhar, MD & CEO of India's largest private sector bank ICICI, was named among Fortune's 'Most Powerful Women in Business' outside the US in the third week of September, it did not come as a surprise. She had consistently been a part of such lists since 2005.
Cut to May 1, 2009. It was her first day as the MD & CEO of ICICI Bank. The whole world was reeling under the impact of the global financial crisis and India was no exception given the economic uncertainty across the globe.
She set about consolidating the bank's balance sheet even as the threat of a muted loan growth loomed large, at least for the next one year.
4C then 5C Strategy
A 4C's strategy adopted by the bank seemed fructifying. The 4C's were, growing the CASA (low cost deposits-current account and savings account), cost control, credit quality improvement and capital conservation.
The proportion of current and savings account deposits as a percentage of total deposits called the CASA ratio increased from 28.7 per cent in FY09 to 41.7 per cent in FY10.
The spending were kept on a tight leash and it made the bank's operating expenses go down by 16 per cent. Bad loans as a per cent of its net assets known as net NPA also went down from 1.96 per cent in FY09 to 1.87 per cent in FY10. In addition, the capital adequacy of the bank in FY10 was 19.4 per cent as against 15.5 per cent in the year ago period.
Moreover, the bank started to rationalize the capital it had allocated for its overseas subsidiaries based in UK, Canada and Russia. It sold its entire stake in the Russian arm while it's UK and Canada subsidiaries repatriated funds back to the parent over the next few years.
By FY13, a fifth C, customer-centricity had been added to its strategy. The bank's network on March 31, 2013 stood at 3100 branches and 10481 ATMs besides strengthening its technology channels for customer convenience.
Too big to fail
Starting April 1, 2013, RBI commenced the first phase of implementation of Basel-3 capital regulations. Simply put, the regulations required banks to set aside higher amount of capital in the form of equity taking the minimum capital adequacy ratio from 9 per cent (as per Basel-2) to 10.3 per cent (under Basel-3). Full implementation of Basel-3 norms is to be done by March 31, 2019.
Hence, banks would have lesser amount of capital to lend besides having a bearing on shareholder returns, commensurate to the extent of increase (1.3 percentage points) in capital which is to be set aside.
On August 31, 2015, RBI classified SBI and ICICI as the two banks which were too big to fail, given their large size and the level to which both were interconnected with the financial system. This required ICICI bank to set aside an additional capital of 0.2 per cent in the form of equity.
Go Digital and Retail
Technological advancements, such as introduction of 3G and 4G mobile services meant enhanced use of data by mobile phone consumers coupled with the sales of smart phones outdoing the sales of feature phones, fostered the rapid growth of mobile banking in India especially fund transfers. ICICI Bank became an early player in this space.
This helped in reducing the pain of ICICI Bank's customers better than its peer set after the demonetization of Rs 500 and Rs 1000 notes in November 2016.
As part of its de-risking strategy, the bank consciously increased the proportion of retail loans in its overall loan book from 37 per cent in FY13 to 51.8 per cent in FY17.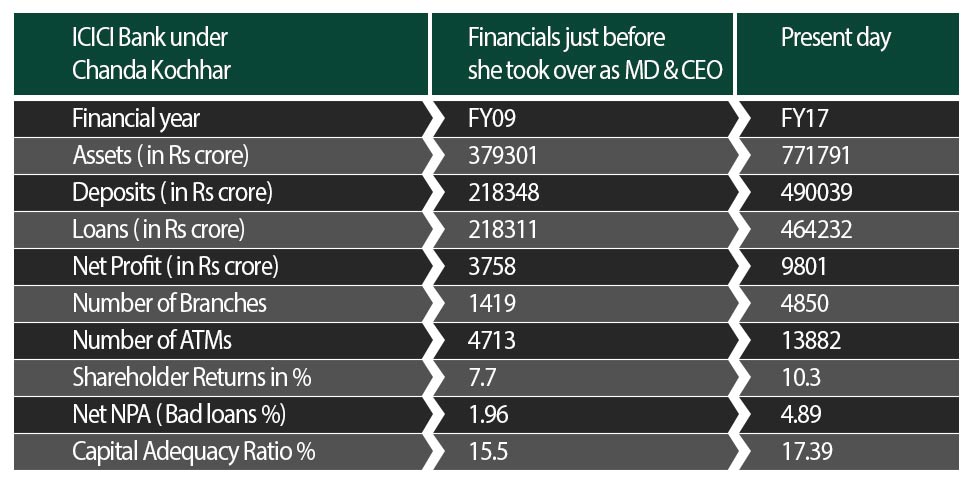 4x4 Strategy
Meanwhile, the RBI found that the set of tools it had given to the banks to resolve stressed loans resulting from the global financial crisis of 2008-09 were not working. The RBI then embarked upon an asset quality review (AQR) of the whole banking sector in April 2015. The AQR sought to get rid of bad loans in the banking system so that banks could proactively identify the bad apples, make provisions according to the level of stress and end up having clean and fully provisioned balance sheets by March 2017.
In April 2016, ICICI Bank identified power, iron & steel, mining, cement and rigs as key sectors which were affected by global uncertainties. By March 31, 2017, the bank's exposure to these sectors was reduced to 12 per cent from 16.2 per cent in March 2012.
By then, the Bank's strategic priorities going forward had evolved into an agenda named 4x4. It sought to enhance the quality of its loan portfolio by proactive monitoring, improving its credit mix by focusing on lending to retail and higher rated corporates, reducing the risk of its loan book being concentrated at the hands of a few borrowers besides resolving stressed loans through asset sales by borrowers, change in management, and working with stakeholders to ensure that the companies are able to operate at an optimal level and generate cash flows.
The bank also sought to continuously enhance the franchise by sustaining the robust funding profile; maintaining digital leadership and a strong customer franchise; continued focus on cost efficiency; besides efficiently focussing on capital efficiency and further unlocking of value in subsidiaries. Subsequently, ICICI successfully listed both its insurance subsidiaries, ICICI Prudential Life in September 2016 and ICICI Lombard General in September 2017.
Going Forward
Till date, analytics, mobile wallets, payment apps and Aadhaar based solutions are passé for ICICI Bank. They have moved further into the digital ecosystem by using over 500 robotic processes to perform over a million banking transaction each day, use of natural language understanding and artificial intelligence for customer service, besides successfully exchanging/authenticating international remittances/ trade documents using the block chain technology.
Having migrated 95 per cent of its savings account transactions outside its branches, with digital channels alone accounting for 81 per cent of those, ICICI Bank seems to have evolved from 'khayaal aapka' to 'Ready for you. Ready for Tomorrow,' under Chanda Kochhar.
It is therefore, not surprising that she invariably makes it to the 'most powerful' lists.