Luxury cars are much more than conveyance. It's swag, style, flamboyance and power—all moulded into one. Here are the world's most expensive cars, as of 2020. 
1. Bugatti La Voiture Noire: $18.68 million or Rs 132 crore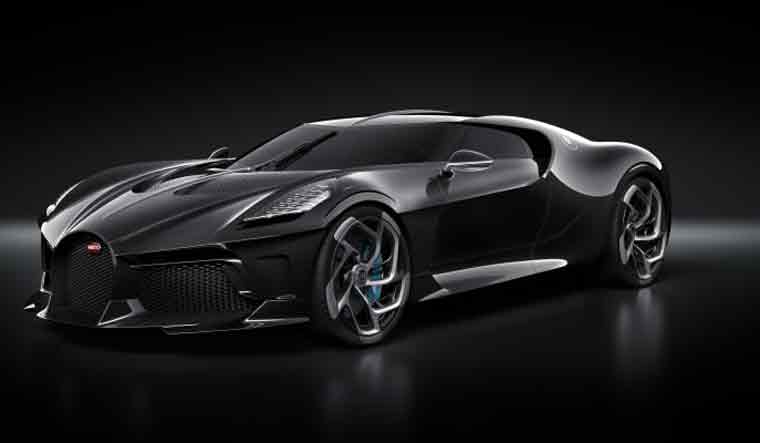 No guesses here! Bugatti takes home the trophy for the most expensive car in the world. Making its debut a year ago at the Geneva International Motor Show, the one-of-a-kind La Voiture Noire is priced at $18.68 million. The name of the car translates to The Black Car.  The new La Voiture Noire packs 1,500 horsepower and 1,180 pound-foot of torque that propels it from 0 to 60 mph in 2.5 seconds. It has a quad turbo W-16 engine with a top speed of 261 mph.
The La Voiture Noire pays homage to the art deco design of the Type 57SC Atlantic, one of the most coveted classic cars in the world. The latter was designed in 1934 by Jean Bugatti, the eldest son of company founder Ettore Bugatti. Only four Type 57SC Atlantic were made. Three are accounted for while the fourth one, which was lost in World War II, would be valued at well over $100 million if found today, says a CNBC report.
2. Pagani Zonda HP Barchetta: $17.5 million or Rs 124.8 crore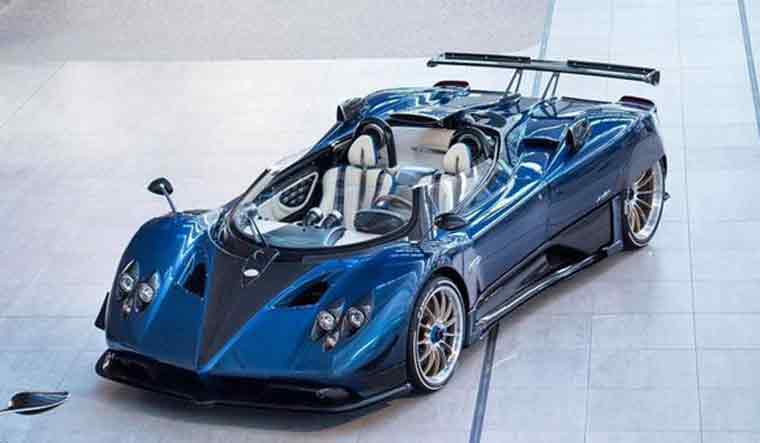 A surprise entry, the exotic car boasts of a 7.3-litre naturally aspirated V12 engine, with a power of 789bhp. It also has a six-speed manual gearbox. In addition, it spots forged aluminum wheels—20-inch in the front and 21-inch in the rear. The rear wheel fairings are made from carbon fibre. Although roofless, the Zonda HP Barchetta has a roof scoop.
The beast was a brainchild of Italian sports car company Pagani Automobili, Horacio Pagani and debuted at the 2018 Goodwood Festival of Speed in West Sussex, England. Interestingly, Pagani reserved one of the three HP Barchettas as a 60th birthday present to himself.
3. Rolls Royce Sweptail: $13 million or Rs 92 crore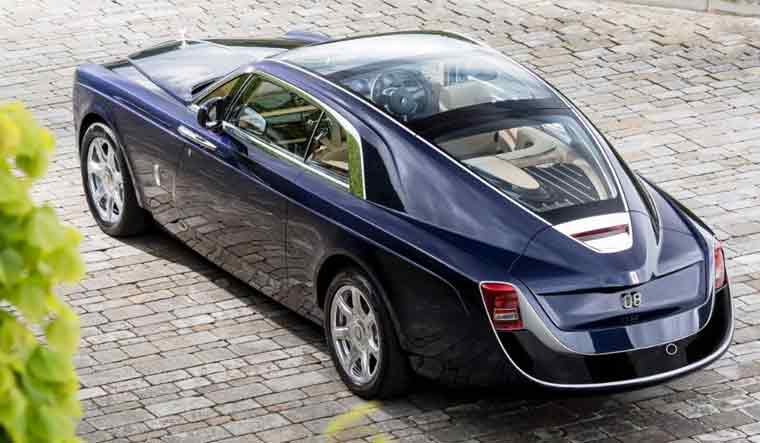 The much revered Rolls Royce makes its entry at third spot, thanks to the swanky Sweptail. The car is the result of inspiration from "a special patron's admiration" of his favourite cars of the early 20th Century, as well as many classic and modern yachts, Rolls Royce notes on its website. Apparently, it took nearly five years for the car manufacturer to deliver the bespoke design to a repeat client. 
Sweptail's owner initially put in the order for his unique car in 2013. Inspired by Rolls Royce classics from the 1920s, its sweeping lines remind of luxury cars of the 30s. Svelte tapering, an elegantly falling waist-rail, the flowing roofline and a distinctive swept tail are the distinctive features of Sweptail. With an abundance of polished macassar ebony and open-pore paldao for a dark-and-light interior color scheme, this Rolls has, in place of backseats, "an expansive length of wood called a Passarelle with an illuminated glass lip... and a hat shelf... where the keenest of observers will find the only place on the car that bears its name, Sweptail, embossed into the surface," says auto portal to car.com. However, that's not all! The centre console houses a push-button mechanism that deploys a chilled bottle of vintage champagne from the year of the owner's birth, and two crystal flutes, perfectly positioned for occupants to pick up. 
4. Bugatti Centodieci: $9 million or Rs 64 crore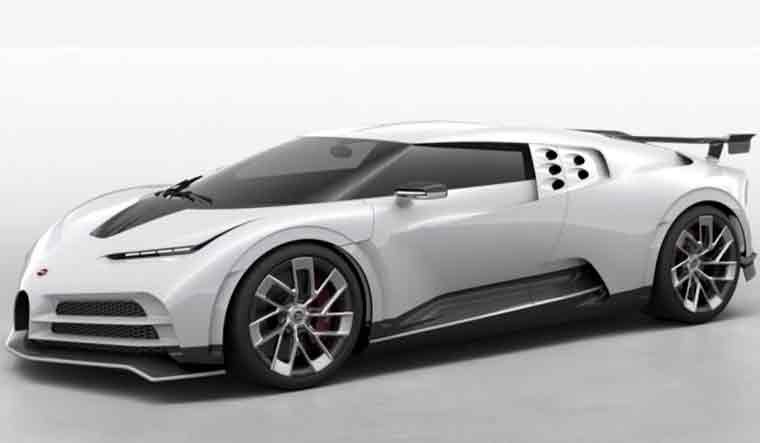 Bugatti makes a re-entry here with its Centodieci. The name translates to the number 110 in Italian. The sculptural beauty coincided with Bugatti's 110th year of inception. 
Bugatti created a reinterpretation of the epochal EB110, which, when presented in 1991, was considered the fastest and most extraordinary supercar of its time. The Chiron-based homage to the EB110 will be produced in limited numbers of 10. 
Bugatti Centodieci is powered by a tuned version of the Chiron's powertrain. The 8.0-litre behemoth delivers 1577bhp. The Centodieci can hit zero to 100kmph in a mere 2.4 seconds. However, the top speed has been electronically limited to 380kmph compared to Chiron's 420kmph.
5. Lamborghini Veneno Roadster:  $ 8.3 million or Rs 59 crore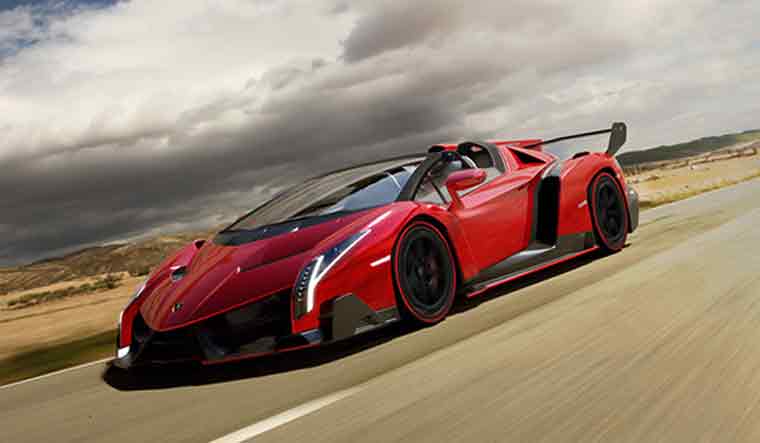 The most expensive, limited edition Lamborghini was in news for the wrong reasons in 2016 when it was seized by Swiss authorities as part of their investigation against Teodoro Nguema Obiang Mangue, Vice President of Equatorial Guinea and son of President Teodoro Obiang Nguema Mbasogo. Mangue was accused of corruption and using public money to lead a luxurious lifestyle. 
Veneno Roadster has an electronically controlled all-wheel drive system (Haldex gen. IV) with rear mechanical self-locking differential
with a 6.5 litre aspirated V12 engine and a top speed of 355 km/h. The hulk has no roof, instead, it has a strong rollover bar for optimum safety. With a maximum output of 552 kW / 750 hp, the Veneno Roadster accelerates from 0 to 100 km/h in just 2.9 seconds and top speed stands at 355 km/h. The Lamborghini Veneno Roadster is driven by a twelve-cylinder engine with a displacement of 6.5 liters and is equipped with the extremely fast-shifting ISR transmission with five modes, permanent all-wheel drive and a racing chassis with pushrod suspension and horizontal spring/damper units.
6. Mercedes-Maybach Exelero: $8 million or Rs 57 crore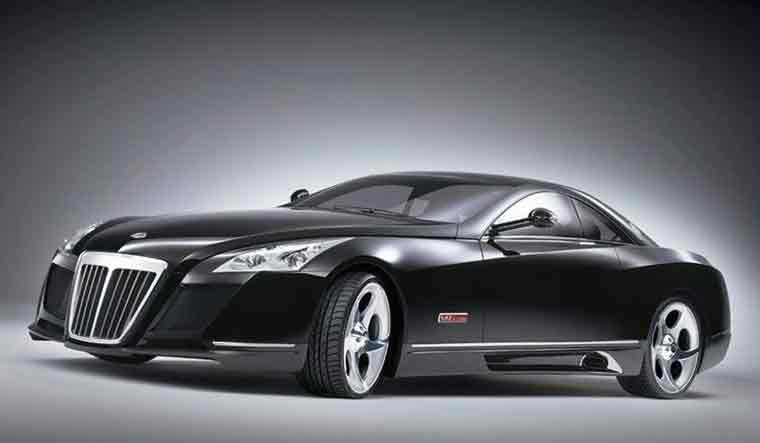 Almost 15 years since its debut, the Exelero still occupies the top charts. Interestingly, Maybach Exelero was actually commissioned by Fulda, the tire company part of the Goodyear group. The firm wanted to test its new Carat Exelero tire family and asked Daimler to build a prototype that can reach speeds in excess of 217 miles per hour (350 kilometers per hour). The concept was based on the production Maybach 57 and the final design was prepared by four students from the Transportation Design School of Pforzheim University of Applied Sciences, according to auto portal Motor1.com.
Exelero is powered by a 5.9-litre twin-turbo V12 engine with three valves per each cylinder. The peak output is 690 horsepower (515 kilowatts) and 752 pound-feet (1,000 Newton-meters) of torque—enough power to accelerate the 5,864-pound (2,660-kilogram) two-door concept from a standstill to 62 miles per hour (0-100 kilometers per hour) in just 4.4 seconds. The Exelero had a set of 23-inch Fulda Carat Exelero tires in size 315/25 ZR 23 for all four corners.
7. Bugatti Divo: $5.8 million or Rs 41 crore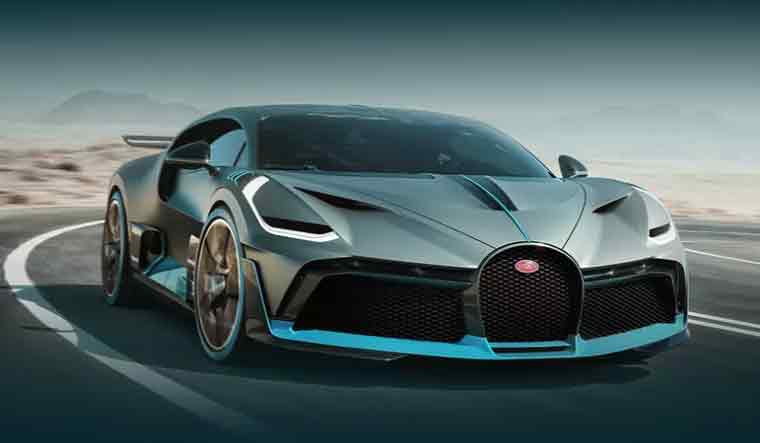 A monumental driving machine, production of this Bugatti series will be strictly limited to just 40 units. Divo has 90 kg (198 lbs) more downforce than the Chiron and has a higher lateral acceleration of 1.6 g. The increased wheel camber has a maximum speed limited to 380 km/h (236 mph). The Bugatti Divo is powered by the same eight-litre quad-turbo W16 engine which also propels the Chiron and puts out a whopping 1500PS of peak power and is mated to a 7-speed dual-clutch transmission. The Divo is based on the Chiron and shares the same 8-litre quad-turbo W16 engine that makes 1479 bhp of max power and gets from 0-100 kmph in just 2.4 seconds.