On Revolt Motors website, you will find a curious section named 'Revolt Times', that purports to show you articles from the future.
With headlines like "Vintage 100cc Petrol Motorcycle Rally organised in Connaught Place; hundreds gathered" and "Mobile Map Apps drop 'Petrol Pumps Nearby' from its options", you get a glimpse of the company's vision for India — a future where electric vehicles have completely phased out internal-combustion.

This vision is in keeping with the Niti Ayog's proposal that auto-manufacturers transition all two-wheelers below 150cc to EVs by 2025, although the government has not set an official deadline.

To that end, Revolt Motors launched two electric motorcycles today — the RV 300 and the RV 400 — which it touts as India's first "AI-powered" electric motorcycles.

Powered by a 3.72 kWh lithium-ion battery that pushes 3kW to the electric motor, the bike is reportedly capable of an electronically-limited top speed of 80 kph (although some reviewers report a top speed of 85kph). The bike comes with three modes, City, normal, sports with reported top speeds in each of 45kph, 65 kph and 85 kph respectively.

According to Autocar India, the Automotive Research Association of India (ARAI) certified the RV400's range at 156 km. According to the company's website, the range will be 150km only in Eco mode, while Normal and Sports modes have a range of 100km and 80km respectively.

The company claims that the bike can be recharged from an ordinary 15A socket from 0-100 per cent in 4.5 hours.

Dubbed 'AI-enabled', the bike can be turned on by voice commands and has features like geo-fencing and geolocation. In addition, the bike's 'engine sound' can be changed.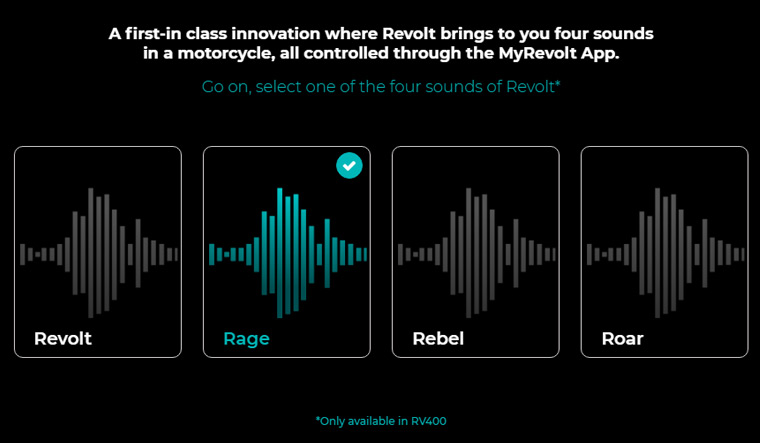 Electric motors do not produce any noise, which sometimes necessitates manufacturers to include speakers that generate an engine tone so that the bike does not go unnoticed in traffic (a security risk). The RV 400 allows riders to set one of four engine sounds: Revolt (a standard engine tone), Rage (a throatier version), Rebel (a two-stroke-motor-esque note) and Roar (a fast-revving superbike-esque tone).

Since the bike does not need to store fuel, the 'fuel tank' can be used for storage.

The bike is available in Delhi and Pune, and can be purchased via a contract plan dubbed the MyRevolt plan. With a base price of Rs. 3499 a month and a premium price of 3,999 a month (both for 37 months), it also covers the service, maintenance, insurance and RTO expenses for this period. The RV 400 is available in Rebel Red and Cosmic Black colour schemes, while the RV 300 has a white option.

The RV 300 misses out on some of the features present in the RV 400 (such as customizable engine tones) and makes do with a smaller capacity. Its starting plan is Rs. 2999 a month.

Besides Revolt Motors, the Pune-based startup Tork is also planning to launch an electric motorcycle in the same category, the T6X. Bengaluru-based Emflux also plans to launch its Emflux-One. From the big brands, Bajaj and KTM have plans to co-develop a 'premium electric motorycle.

Bookings for the RV 400 will begin at 11am on Thursday, August 29.