Hyundai Venue promises to be the next big thing in the compact SUV segment. How well it will do? Well, let's just say that we will know soon enough after its sales commence next month.
Here to compete with Ford Ecosport, Tata Nexon, Maruti Suzuki Brezza and Mahindra XUV 300, this 'Made in India,' stylish compact SUV, may just be the new set of wheels that you are after. If you want something by the Korean car manufacturer, that is bigger than the i20 but not something as big as the Creta, the Hyundai Venue sits somewhere in between the two, and may appeal to many of you out there. Hyundai says the Venue is dedicated to the young-at-heart customers. The young people, especially the new license holders, who are looking to buy their first compact SUV could well make the Venue their vehicle of choice.
Hyundai has put a lot of decorative touches on their latest product. From the somewhat large cascading chrome grille to the stylish headlamps and tail lights, everything exudes a snazzy modern feel, lending a breathe of fresh air to their newest offering. This is just the thing to do considering it is fast becoming an already crowded space and hence, the need for every manufacturer to better its product so that it stands out from its competitors.
Inside, the Venue is not a crammed compact SUV. In fact, it has comfortable seats and enough space. The space for the third passenger in the rear seat may be a little bit of a tight squeeze. But it won't be a deal breaker.
The Venue, also gets a sunroof and rear air-con vents for keeping the passengers seated behind cool. Besides a wireless charger, the Venue comes with an air purifier so that there is always an odour-free, healthy environment inside the cabin.
But what the Venue is really big on is technology. The car has got some really cool features on offer which many, especially youngsters, are bound to find alluring. Being positioned as the "first connected car for the Indian market", it features an eight-inch touch screen for audio and navigation and offers a host of features many of which are developed primarily for Indian driving and traffic culture.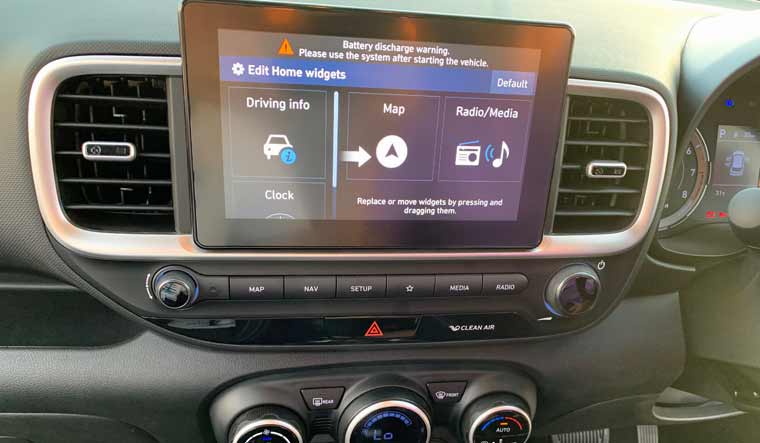 A key aspect is its BlueLink feature through which you can hook up your cell phone to the Hyundai Venue and do lots of interesting things. For instance, switching on the car's air-condition through your phone app is one such task. This should work really well on hot, sunny days so that by the time you walk up to the car and step inside, you will get a nice pre-cooled cabin. The e-sim for the BlueLink device will come from Vodafone-Idea and will be free for the first three years. The BlueLink technology will come with a cloud-based voice recognition platform provided by a company that specialises in Artificial Intelligence. There is also an SOS (Emergency Assistance) button so that you are just one touch away from any kind of emergency.
The Venue's boot is a decent-sized one, neither too small nor too big, but the loading lip appears a bit too high and that may be an impediment while lifting heavy bags and suitcases in and out of the boot. However, that is not such a big deal and is definitely something one can live with.
Hyundai Venue comes with three engine options—a 1.0-litre turbo charged petrol engine, mated with a 7-speed DCT (Double Clutch Transmission) gearbox; a 1.2-litre petrol engine, mated to a 5-speed manual gearbox; and a 1.4-litre diesel engine, mated to the 6-speed manual gearbox, the same one that does the duty in i20.
HMIL says that the compact SUV has undergone extensive road tests across India and has been driven through different kinds of surfaces and terrains. This, in turn, helped them build a vehicle that has been protected against environmental damages as well as other wear and tear. That should speak about Hyundai Venue's reliability for all those who are considering buying it. However, we will know more about that once we actually get behind its wheel and drive it next month.
Meanwhile, if you like the Creta's design, Hyundai Venue is not very different. If you like all the features of Mahindra XUV 300, the Venue also looks similar, or maybe even more, who knows? So, if you are in the market for something in the price range of Rs 8-12 lakh, do keep an eye out for the Hyundai Venue.