'Sea: A Boiling Vessel'—a phrase once used by seafarers is the title of an art project that dives deep into the role of the mighty ocean in shaping Kerala's culture and society. Exploring the ocean is a spiritual experience for sailors, as it becomes the essence of life itself. The multi-disciplinary exhibition, spearheaded by Aazhi Archives and Design Trust of India, brings this experience to the viewer through the portrayal of long-forgotten maritime histories.
"The project's goal is to learn about Kerala's history via its own archives. This research has merely scratched the surface of our state's massive archives; there is much more beneath the surface that we are yet to explore. There is ongoing research and studies that aim to shift our perspective from a terrestrial history to an oceanic perspective," explains Project Manager Kshema.
Curatorial Director Riyas Komu has brilliantly curated pieces on origin narratives, slave narratives, metaphorical immortality of the ocean, migration, and many other topics. This astounding arrangement allows the audience to see the intention in the selection of pieces and the relevance of each artist and their works on exhibit.
The show's primary location is the former Hallegua residence, where Juliet Hallegua lived for many years before leaving for Israel with her daughters.
Late artist K.P. Krishnakumar's last sculpture, Boatman, is prominently featured in the exhibition in Kochi that features the works of 13 artists. This shrunken boatman poses as the ultimate representation of the ocean's wide contrast of absurdity and clarity.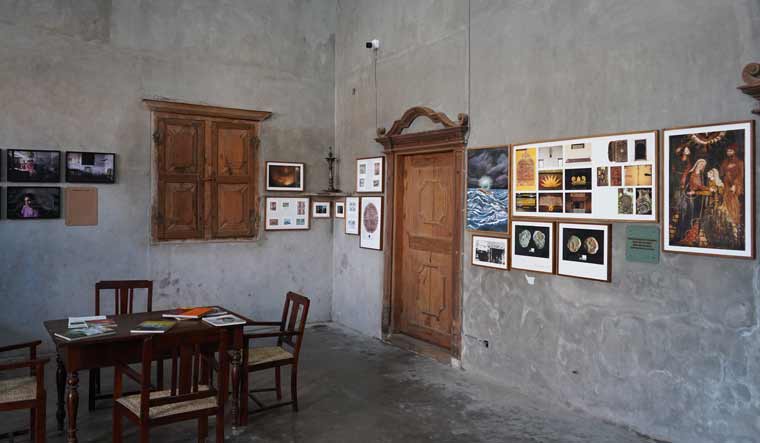 K.R. Sunil's photographs document the lives of the artists of Chavittunatakam—a dance-music-drama performance that originated in the coastal regions under Portuguese rule. "I recall watching a five-day performance by several troupes and being enthralled by the last group from Chellanam [a coastal village in Kerala's Ernakulam district]," Sunil says. They were fishermen from the village and performed after finishing their day's work. They performed tales from the Greek Empire as well as Christian stories. Their exquisite costumes were embellished with gleaming jewelry, dazzling crowns, and more, Sunil recalls. Their performance was in Tamil, and it was brimming with enthusiasm and raw emotion. "It was almost as though they were transforming into everything they couldn't be in real life," he says.
The artists invited Sunil to their houses, where he learnt that their lives were full of struggles. Battered by the effects of climate change, their huts near the coast are frequently flooded as sea levels rise. The community struggles to make ends meet and earn even two meals a day. But even in the midst of adversity, they have held their own close and their art closer.
A hyper-realistic painting by Parag Sonarghare is an unusual and distinctive take on the slave narrative. 'The Foot' is a larger-than-life-sized acrylic on canvas painting of a man's foot with wrinkles and scars from repeated exposure and walking on harsh terrains. Parag says he sought to capture the ordinary things that were not included in mainstream history and culture. "I wanted to capture what is authentic to me. This is the reality I see in my immediate surroundings," he explains. The bodies of these marginalised individuals become the site of evidence of their life and journey. Parag carries to the canvas the fragments of elements of reality that surround him.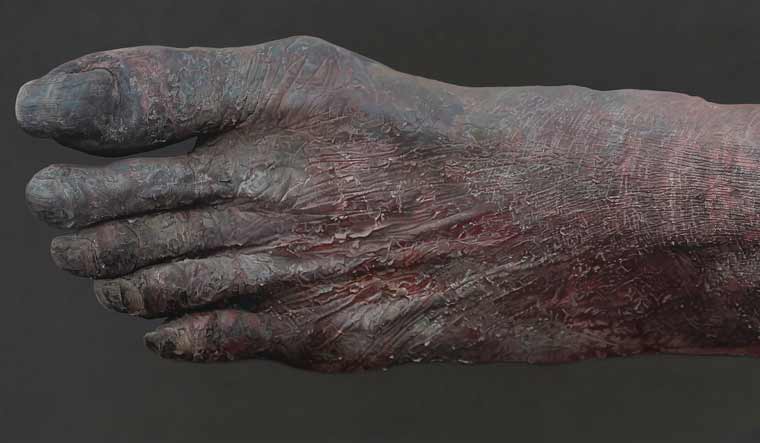 Midhun Mohan responds to M.H. Illias's 'Dubai Elsewhere' project that sheds light on the theme of migration. He also discusses the Indian Ocean, along with the various objects, concepts, and individuals who traveled through oceans. "I've looked through the boundless and unrestrained oceanic perspective to bring the concept into the painting," explains the artist. His paintings, such as 'Kappiri,' have also been influenced by Indian Ocean legends and motifs. His migration-themed paintings focus on the aspirations of people who traveled to the Gulf nations, which contrasted with the lifestyles that they lived there. The piece 'Man Holding His Dreams' depicts the lives, identity, and dysphoria of migrants, which caused them to imitate foreign culture in their own country after returning.
Other notable works that contribute to the project's central concept include Sumedh Rajendran's installations and T.V. Santhosh's work focusing on the long-lasting impact of colonisation in the cultural and linguistic dimensions of our society, among many more.
With extended events in Kozhikode,'Sea: A Boiling Vessel' hosts discussions, dialogues, and presentations simultaneously. This art event is truly an experience to discover Kerala's cultural origins from a different perspective.