I first met Raghunath Mohapatra ji in Bhubaneswar in 1981. I had then been commissioned to design The Oberoi Hotel in Bhubaneswar. To contextualise the interior architecture and the interiors, I was in search of a traditional master sculptor to work with me on the 7,000 sqft lobby. I made extensive inquiries and eventually "found" Mohapatra ji.
We started a dialogue and quickly built a rapport. I explained to him that within the contemporary architecture of this hotel, designed by the late architect Satish Grover, I wanted to use timeless elements of Odisha's great stone craft traditions, but without any exact replicas. In Odisha, people would often ask sthapatis to predictably sculpt items like the Konark wheel. I wanted to use these craft skills, but not in a clichéd fashion. The layout of the lobby took the form of a mandir – from the mandap to the maha-mandap, to the antralaya and finally to the garbha-griha, the sanctum sanctorum.
I remember Mohapatra ji was very pleased with this architectural layout and was enthused to work along with me. From there began a 40-year relationship, which was both as a working colleague as well as that of being my guru-bhai.
After many deliberations and conceptual drawings exchanged between us, we were both finally on the same track. By this time, one had, of course, visited every single major heritage site in Odisha. This was in keeping with one's deeply researched way of designing. There was one sculpture which Mohapatra ji wanted to make for one part of the lobby. This, he said, would be carved out of white wood and be a depiction of Arjuna receiving the Bhagavad Gita from Lord Krishna, as they rode to battle in a chariot, in the Great War of the Mahabharata. I remember so well, Raghunath ji saying to me, "You trust me on this and I will make every part of it with my own hands". What he produced was a sculpture of exquisite beauty! When The Oberoi was completed – with its double-height lobby, its katha coloured terrazzo flooring with its central medallion in white marble of a graphic plan of the ceiling of the Mukteshwar Temple, its buff-coloured sculptured columns and balustrades in Konarak stone, its low relief window outlines all sculpted by Mohapatra ji; together with the specially commissioned cluster of bronze hanging temple bells used as the central ceiling light, the ikat fabrics woven by master weavers and the collection of sepia pen and ink sectional drawings of some Odisha temples – made the Taj Magazine write about it as "the prettiest new hotel in India". That's a rival group writing about The Oberois (laughs).
Since then, the Lobby has remained unchanged. Shortly after it was completed, a Japanese film-making group chanced upon this hotel and shot a film on it. Subsequently, Mohapatra ji was invited to Japan where he went on to sculpt a massive Buddha statue there. He spent his lifetime creating many stunning temples in India and the US. He always told his family and me that I was a sister of his from a previous lifetime. When I had met him he had already received the Padma Shri in 1975. He was conferred the Padma Vibhushan in 2013, the first sthapathi ever to be given this great civilian award. We went on to work together on many projects, including the Indian restaurant at The Oberoi Grand Hotel in Kolkata; the leitmotif of which was a series of columns carved in jade-like khiching stone, all made by Mohapatra ji.
Even in the courtyard of our own home in Delhi in Golf Links, he carved a stunning statue of Surya which is an exact replica of the Surya in Konark Temple. He also sculpted a small mandir in Konark sandstone which is a scaled down replica of the mandir in the centre of the tank of the great Lingaraja Temple. For the entrance to the Prime Minister's Office in South Block in New Delhi, I commissioned Mohapatra ji in 1985 to make a pair of superb and handsome 6-feet high diyas. I commissioned many beautiful sculptures for several private clients, including magnificent Anantshayi Vishnus in Odisha's black granite. I remember he once made an eight-foot Krishna statue for another client; it was a monolithic sculpture which took him six to eight months to complete. As part of the iconography of this sculpture, he had carved chains, but these were separate to the body and each link of the chain was moveable.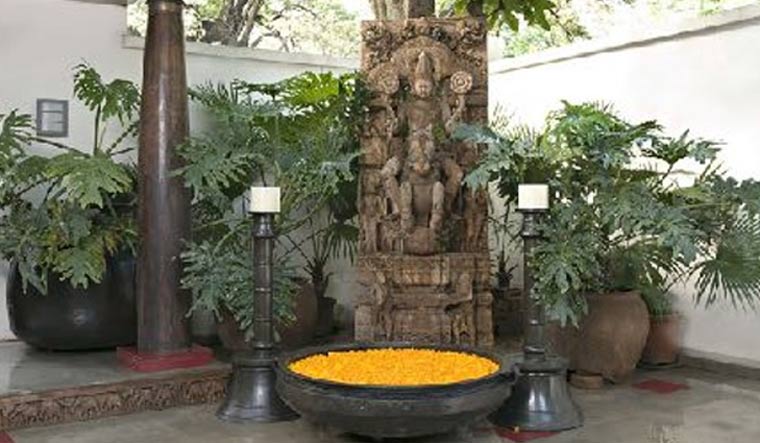 He had supreme virtuosity, and was superbly gifted. Of course, he was descended from a long line of sthapatis. His forefathers had worked on the temples of Puri and Konark. Mohapatra ji could work on many scales simultaneously. As he was a traditional architect, he could design and make massive temples and at the same time carve exquisite small figurines.
In 2008 I had commissioned him to make 24 small panels in deep bas relief, each panel depicting a significant episode in the life of the Buddha. This five-foot by five-foot sculpture was placed by my architect daughter, Kohelika, in a very contemporary house that she had designed in Jorbagh in New Delhi.
When Mohapatra ji was conferred the Padma Vibhushan there was a lot of media interest. He was asked, "What will you do now?". He had replied that he would build a second Konark! He had even bought the land for it. He told me, "I don't want to depend on the government and all. God has been very kind to me".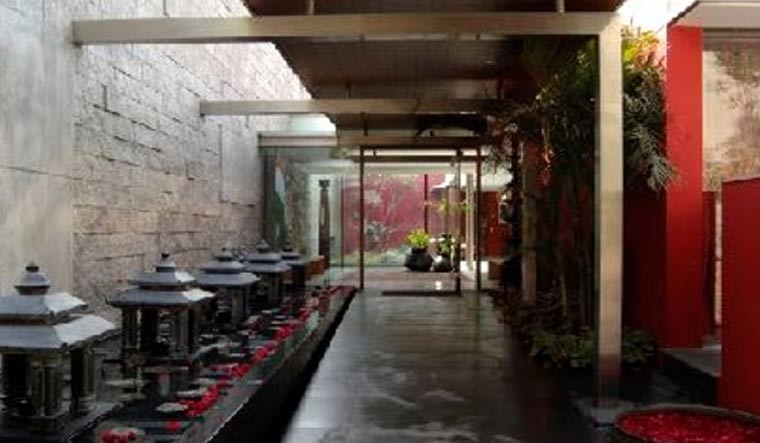 Mohapatra ji was a deeply spiritual man. From that font sprang the greatness of his art. His knowledge of the scriptures and of Indian mythology was encyclopaedic. Mohapatra ji introduced me to his guru who is now over a 100 years old. He lives in Cuttack and we call him babaji. Mohapatra has been devoted to him and his welfare. He once told me the story of how, when he was a young boy of 12, he left home and went to the Himalayas in search of a guru. He roamed there for some 10 to 12 years. He said, "Little did I realise that the guru I was searching for was in my own state, in Odisha."
Every time Mohapatra called me, he would never say pranam or a similar salutation. He would greet me with an entire prayer and a blessing. He had introduced me to Babaji twenty years ago, at a time when our eldest daughter was going through a very traumatic period. He had said to me, "My Guruji will help you." Meeting Babaji has been one of the most life affirming events of my life. Babaji is a guru for the poor. Everyday he wakes up at 4am to cook food for 150 people from whom he does not take a single paisa. The last time I spoke to Mohapatra, which was about a month ago, was actually to inquire about Babaji's health. Mohapatra ji always checked-up on my family as he knew that my husband was seriously unwell. He always said, "if my sister is dukhi then how can her brother be happy?" He also inquired about Kohelika of whom he was very proud. He always said that she and his sons would carry on the legacy of their parents.
Mohapatra ji's one regret was that he was not formally educated. He was not conversant in English. But, he made sure that his children got the best education. It is such a tragedy that both his sons, Prashant and Jashobanta, also died due to COVID-19, a few days before his own death. Earlier, he had lost another son to a fatal cardiac arrest on a train. I have known his sons since they were little boys-known them for years and years because they too worked with their father. In the '90s, Mohapatra was so thrilled because our dog had produced a litter, from which I had presented him with two pups for his children. From time to time he would show me photographs.
Mohapatra ji is, perhaps the greatest of the sthapathis, "a national treasure" that we have lost. He was a brilliant traditional architect and master craftsman. Yes, he had constructed huge temples. Yes, he had carved huge Buddhas. And yes, he had carved thousands of statues, both large and small. But, what will remain is that he taught his craft to others.
When I first met him, he only had two sthapathis working for him. Over these 40 years that I have known him, he has trained over 2,000 sthapathis. That will be his greatest legacy.
As told to Sneha Bhura